close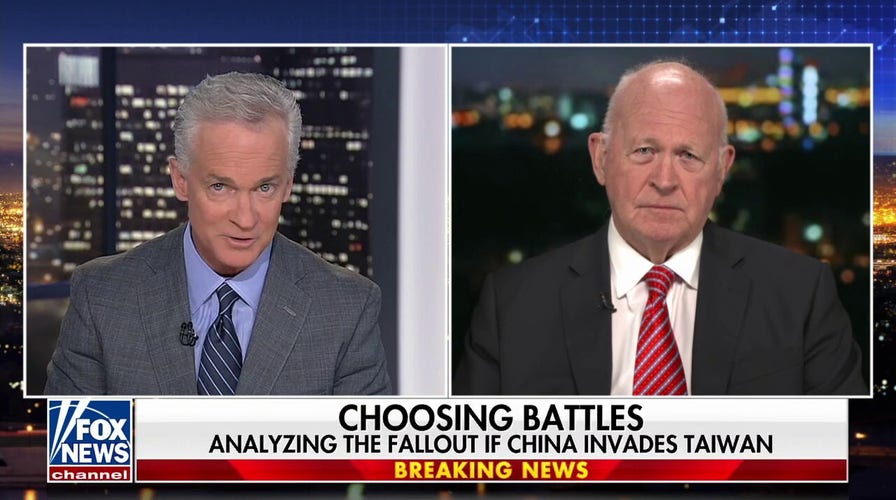 Video
Study analyzing the fallout if China invades Taiwan is 'scary': Michael Pillsbury
Hudson Institute senior fellow Michael Pillsbury says war games conducted by the Center for Strategic & International Studies (CSIS) on a Chinese invasion of Taiwan is 'all the more reason to try to deter' an invasion on 'Fox News @ Night.'
Chinese military vessels and aircraft were detected around Taiwanese waters and airspace on Monday morning, according to defense officials, as tensions continue to grow between the two nations.
Taiwan's Ministry of Defense tweeted that nine aircraft from the People's Liberation Army, or PLA, and four vessels from the People's Liberation Army Navy, or PLAN, were detected at 6 a.m. (UTC+8) on Monday.
"R.O.C. Armed Forces have monitored the situation and tasked CAP aircraft, Navy Vessels, and land-based missile systems to respond [to] these activities," the tweet read.
CHINESE MILITARY AIRCRAFT, VESSELS ENTER TAIWANESE WATERS, AIRSPACE FOR AT LEAST EIGHTH TIME IN ONE WEEK
For a third consecutive week, China has reportedly sent military aircraft and vessels toward Taiwan, oftentimes crossing over the median line of the Taiwan Strait, an unofficial buffer zone separating Taiwan from China.
The incursions by the Chinese military are turning into a daily occurrence. In fact, the Ministry of National Defense tweeted yesterday that 10 PLA aircraft and 4 PLAN vessels were detected near Taiwan, and on Friday Taiwanese officials reported 14 PLA aircraft and three PLAN vessels in the area.
On Thursday, there were 31 PLA aircraft and four PLAN vessels near Taiwan, and the Ministry of Defense reported that 12 of the aircraft crossed over the median line of the Taiwan Strait.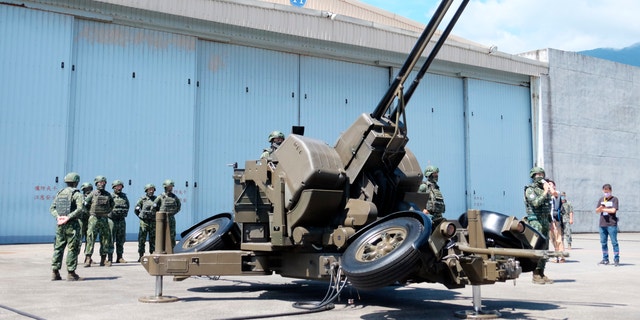 Taiwan is staging military exercises to show its ability to resist Chinese pressure to accept Beijing's political control over the island. 
(AP Photo/Johnson Lai)
Beijing renewed threats against the island nation last week, warning foreign politicians who interact with the self-governing island are "playing with fire."
CHINA'S XI WARY OF RURAL COVID CASES, BUT SAYS 'LIGHT AHEAD'
A spokesperson for China's Taiwan Affairs Office said the country was recommitted in the new year to "safeguarding sovereignty and territorial integrity" and "smashing plots for Taiwan independence" on the self-governing democracy that separated from mainland China in 1949.
Last week, Taiwan's military staged drills intended to reassure the public of its ability to counter threats from China, ahead of the Lunar New Year holiday.
China has responded to foreign visits by holding large-scale military exercises seen by some as a rehearsal for a blockade or invasion. Beijing sends airplanes and warships toward Taiwan on a near-daily basis, often crossing the midline of the 100 miles Taiwan Strait dividing the sides.
CLICK HERE TO GET THE FOX NEWS APP
At the end of December, China sent a record 71 planes and seven ships toward Taiwan — the largest such scale exercise in 2022.
Fox News' Bradford Betz contributed to this report.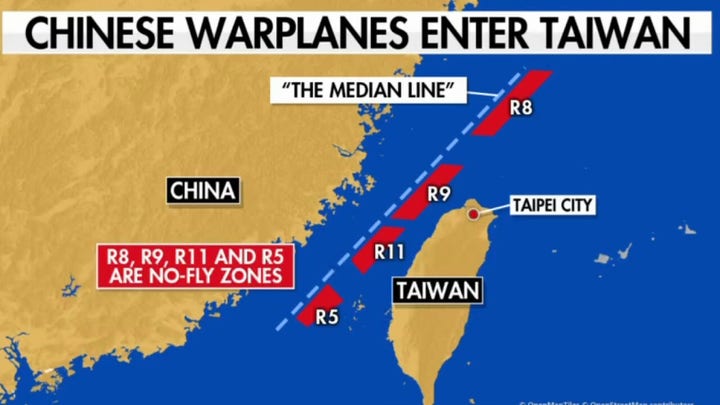 Video
Greg Wehner is a breaking news reporter for Fox News Digital.