close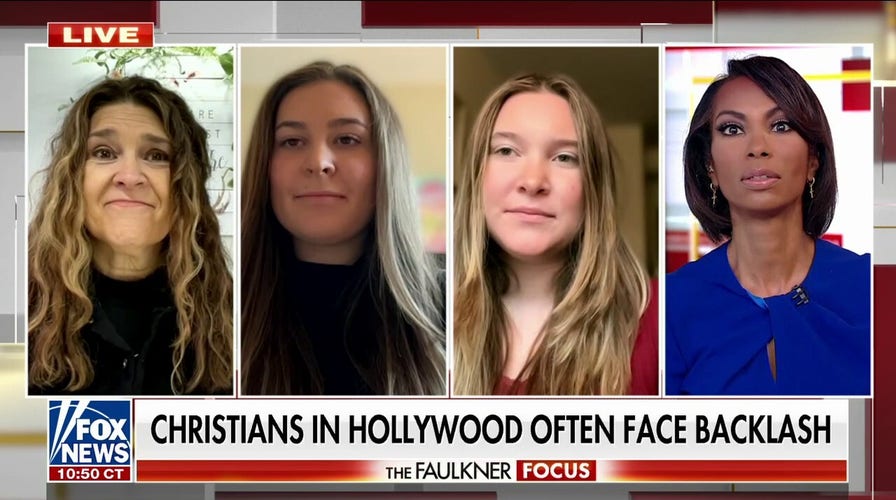 Video
Growing number of Americans moving away from Christianity: report
'Coffee & Bible Time' podcast hosts Ellen Krause, Taylor Krause and Ashley Armijo react to Christians facing backlash from Hollywood and discuss a Pew research poll showing a growing number of Americans are rejecting Christianity.
The Church of England issued a formal apology to LGBTQ members of the Anglican Communion who have felt excluded by the institution even as officials decided to continue to bar same-sex marriages in its churches.
"We want to apologize for the ways in which the Church of England has treated LGBTQI+ people — both those who worship in our churches and those who do not," the bishops of the church wrote in "Living in Love and Faith," a report released Friday following a six-year consultation period about identity, sexuality, relationships and marriage.
"For the times we have rejected or excluded you, and those you love, we are deeply sorry," the statement continued. "The occasions on which you have received a hostile and homophobic response in our churches are shameful and for this we repent.
"As we have listened, we have been told time and time again how we have failed LGBTQI+ people. We have not loved you as God loves you, and that is profoundly wrong. We affirm, publicly and unequivocally, that LGBTQI+ people are welcome and valued: we are all children of God."
CHURCH OF ENGLAND BISHOPS SLATED TO UPHOLD BAN ON SAME-SEX MARRIAGE, WILL ISSUE APOLOGY TO LGBTQI+ PEOPLE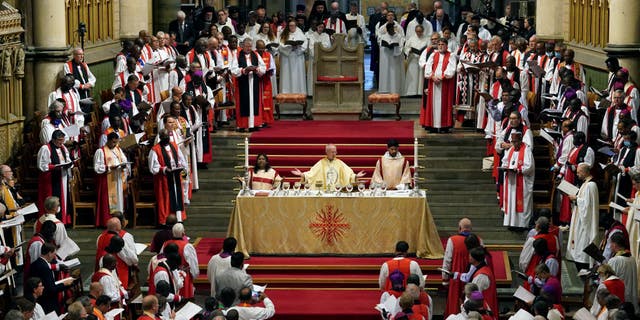 The Archbishop of Canterbury Justin Welby leads the opening service of the 15th Lambeth Conference at Canterbury Cathedral in Kent on July 31, 2022.
(Gareth Fuller/PA Images via Getty Images)
The apology came days after the church announced that bishops would uphold its historical teaching that marriage is between one man and one woman during their general synod in London next month.
Bishops instead offered proposals urging "prayers of dedication, thanksgiving or for God's blessing" on same-sex couples, according to a recent press release.
The proposals include "a range of draft prayers" that clergy can use to bless same-sex couples "who have marked a significant stage of their relationship such as a civil marriage or civil partnership," the release said.
CONSERVATIVE ANGLICANS WARN CHURCH OF ENGLAND IS CRATERING IN ATTEMPT TO STAY RELEVANT: 'THE CHURCH IS DYING'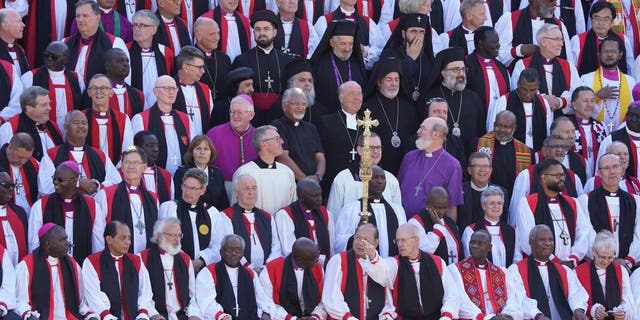 Archbishop of Canterbury Justin Welby (front, 4th from right) with bishops from around the world at University of Kent in Canterbury during a group photo during the 15th Lambeth Conference on July 29, 2022.
(Gareth Fuller/PA Images via Getty Images)
Archbishop of Canterbury Justin Welby said he would not be using the new prayers, which clergy are permitted to use at their discretion.
"Because of my pastoral care and responsibility in being a focus of unity for the whole Communion, I will — while being extremely, joyfully celebratory of these new resources — I will not personally use them in order not to compromise that pastoral care," Welby said during a Friday press conference.
Calvin Robinson, an Anglican deacon in the separatist Free Church of England who recently has claimed that his ordination in the Church of England was "snatched away" because of his conservative theological views, condemned the recent proposals from the bishops as "a clear fudging of the law" in a statement to Fox News Digital.
FIRST 'GENDER-QUEER' PRIEST IN CHURCH OF ENGLAND EXPRESSES DESIRE FOR 'NORMALIZING' IDENTITY AMONG CHILDREN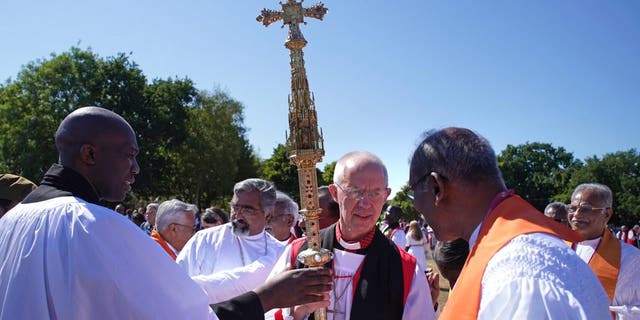 Archbishop of Canterbury Justin Welby (center right) with bishops from around the world gather at University of Kent in Canterbury for a group photo during the 15th Lambeth Conference on July 29, 2022.
(Gareth Fuller/PA Images via Getty Images)
"In the secular world, there are many options for people living alternative lifestyles—civil partnerships, gay marriage, etc. There is no 'equality' or 'rights' issue here," said Robinson, who explained his belief is that the Bible and Christian teaching are "quite clear" that marriage was instituted by God as between one man and one woman to form a basis for families.
"The bishops understand this; instead of proposing to alter doctrine, they are attempting to skirt it," Robinson said. "Allowing the 'blessing' of same-sex relationships is essentially enabling the blessing of sin; that is dark. Christ taught us that we are all sinners but that we should repent, ask his forgiveness, and turn away from our sins. The Church is now attempting to undermine the Word of God by encouraging people to live in sin."
CLICK HERE TO GET THE FOX NEWS APP
Robinson predicted that the Church of England's position "will not end well."
Jon Brown is a writer for Fox News Digital. Story tips can be sent to [email protected].