Former Brazilian President Jair Bolsonaro may cut short his post-election Florida vacation after facing hospitalization and growing calls for his extradition.
Bolsonaro was originally scheduled to return to Brazil in late January, but the attack on the Brazilian capital by thousands of his supporters appears to have changed his plans. He told Brazilian media he may leave earlier, crediting the possibility to his hospitalization last week for complications related to his 2018 stabbing.
The defeated president is also facing growing calls from Democrats in Washington to extradite him to Brazil, where he faces accusations of inciting the capital attack.
"I came to stay until the end of the month, but I intend to bring forward my return," he told Brazilian media.
GEORGE SANTOS FACES REVIVED FRAUD CASE IN BRAZIL AMID TURMOIL IN WASHINGTON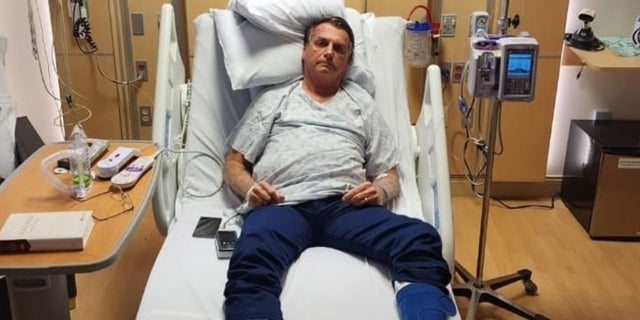 Former Brazilian President Jair Bolsonaro was treated at a hospital in Central Florida Monday for abdominal pains. 
(Twitter/@jairbolsonaro)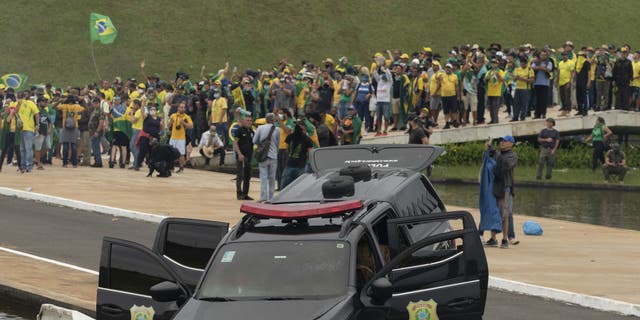 A view of damaged police car as supporters of former President Jair Bolsonaro clash with security forces after raiding the National Congress in Brasilia, Brazil, 08 January 2023. (Joedson Alves/Anadolu Agency via Getty Images)
Brazilian authorities have already detained over 1,500 rioters who participated in the attack, which saw thousands of Bolsonaro's supporters ransack the country's Congress, Presidential Palace and Supreme court.
Bolsonaro offered meager criticism of the riots Sunday evening and denied any involvement in inciting them. Democrats have compared the attack to the pro-Trump storming of the U.S. Capitol in January 2021. Like former President Donald Trump, Bolsonaro refused to concede to Brazilian President Luiz Inácio Lula da Silva and did not attend his inauguration.
BRAZIL'S LULA INAUGURATED AS NEW PRESIDENT AFTER BOLSONARO REPORTEDLY FLED TO FLORIDA HOME OF MMA FIGHTER
"Two years ago out Capitol was attacked by fanatics, now we are watching it happen in Brazil," Rep. Ilhan Omar, D-Minn., tweeted Sunday "Solidarity with [President] Lula and the Brazilian people. Democracies around the world must stand united to condemn this attack on democracy."
"Bolsonaro should not be given refuge in Florida," she added.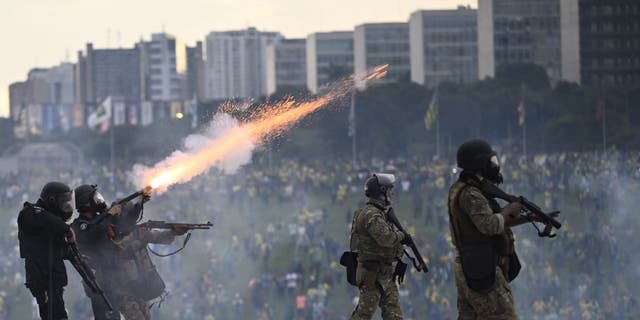 Supporters of former President Jair Bolsonaro supporters clash with security forces as they raid the National Congress in Brasilia, Brazil, 08 January 2023.
(Mateus Bonomi/Anadolu Agency via Getty Images)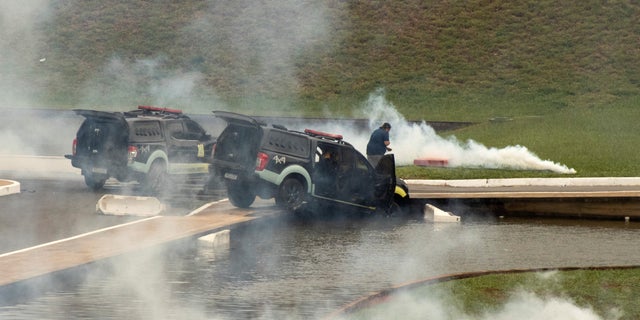 Police cars are pictured amidst tear gas after being pushed off the road by supporter of Brazil's far-right former President Jair Bolsonaro who dispute the election of leftist President Luiz Inacio Lula da Silva, during protests, in Brasilia, Brazil January 8, 2023. REUTERS/Antonio Cascio NO RESALES. NO ARCHIVES
Reps. Alexandria Ocasio-Cortez, D-NY, and Joaquin Castro, D-Texas, echoed the call.
"The U.S. must cease granting refuge to Bolsonaro in Florida," Ocasio-Cortez wrote.
Castro also called for Bolsonaro to be extradited to Brazil during an appearance on CNN. Omar's office did not immediately respond when asked whether she supported such a move.
CLICK HERE TO GET THE FOX NEWS APP
Brazilian President Lula da Silva has named him personally responsible for the attack, though no formal investigation or charges have been made.
"He didn't just provoke this or encourage this—he's still encouraging this via social media," Da Silva said Sunday.