House Speaker Kevin McCarthy, R-Calif., will reportedly keep his promise to block three headline-grabbing Democrats from their committee assignments in the 118th Congress.
McCarthy told Punchbowl News in an interview published Tuesday that he will act to prevent Reps. Adam Schiff, D-Calif., and Eric Swalwell, D-Calif., from sitting on the House Intelligence Committee. He will also seek to remove Rep. Ilhan Omar, D-Minn., from the House Foreign Affairs Committee.
"Swalwell can't get a security clearance in the private sector. I'm not going to give him a government security clearance," McCarthy said, echoing statements he made to Fox News in November. "Schiff has lied too many times to the American public. He should not be on Intel."
As for Omar, McCarthy has previously argued she should be stripped of her committee seat for her outspoken criticism of Israel, which critics say is borderline antisemitic.
HOUSE DEMOCRATS INTEND TO SIT ON ALL REPUBLICAN SELECT COMMITTEES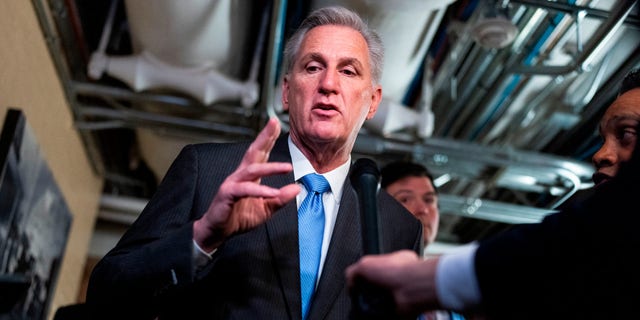 Speaker of the House Kevin McCarthy, R-Calif., addresses the media outside a House Republican Steering Committee meeting in the U.S. Capitol on Wednesday, Jan. 11, 2023 about classified documents found at an office once used by President Biden.
(Tom Williams/CQ-Roll Call, Inc via Getty Images)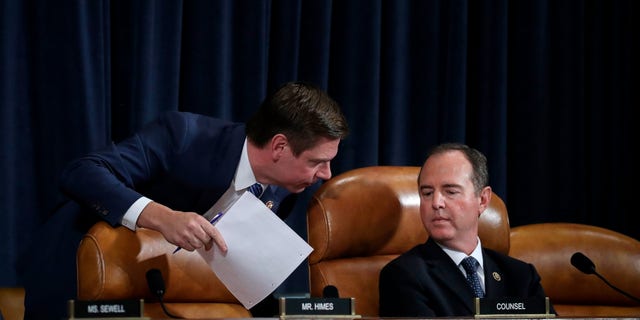 Rep. Eric Swalwell (D-CA), left, confers with committee chairman Rep. Adam Schiff (D-CA) as they listen to former National Security Council Senior Director for European and Russian Affairs Tim Morrison and former State Department special envoy to Ukraine Kurt Volker testify before the House Intelligence Committee in the Longworth House Office Building on Capitol Hill Nov. 19, 2019 in Washington, D.C.
(Drew Angerer/Getty Images)
REPORTER THREATENS LEGAL ACTION AGAINST ADAM SCHIFF AFTER TWITTER FILES BOMBSHELL
"I made all [three] cases before. It's not like it's anything new … Remember, this is what Nancy Pelosi, this is the type of Congress she wanted to have," he added.
In the last Congress, then-House Speaker Nancy Pelosi, D-Calif., removed Reps Marjorie Taylor Greene, R-Ga., and Paul Gosar, R-Ariz., from their committees after separate controversies involving each lawmaker.
The House voted in 2021 to oust Greene from the Committee on Education and Labor and the House Budget Committee after she made several conspiratorial posts on social media and shared a picture of herself holding a gun alongside images of Reps. Omar, Rashida Tlaib, D-Mich., and Alexandria Ocasio-Cortez, D-N.Y. Greene has since renounced some of the conspiracy theories she once espoused.
Gosar was censured by the House and stripped his committee assignments after posting a video of an animated cartoon that showed him killing Ocasio-Cortez and attacking President Biden.
MCCARTHY, GOP, DEMS UNITE BEHIND NEW CHINA COMMITTEE: 'THE ERA OF TRUSTING COMMUNIST CHINA IS OVER'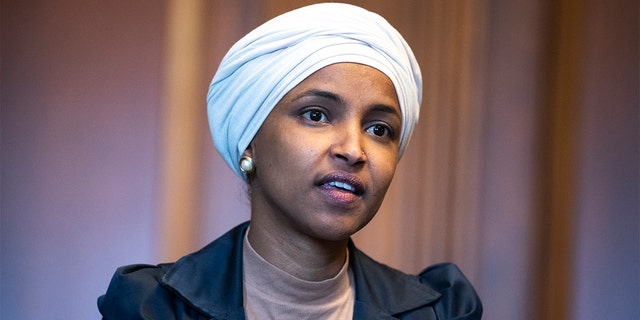 Rep. Ilhan Omar, D-Minn., is seen in the U.S. Capitols Rayburn Room during a group photo with the Congressional Black Caucus, on Wednesday, April 6, 2022.
(Tom Williams/CQ-Roll Call, Inc via Getty Images)
At each time, Republicans said Democrats were setting a dangerous precedent by kicking members of the minority off their committees. McCarthy had promised that if Republicans captured the House majority in 2022, Greene and Gosar would get their committee assignments back, and he would block the three Democrats from being seated on their committees.
Fox News reached out to McCarthy for comment, as well as the three Democrats in question, but did not immediately receive a response. Omar's office pointed to a statement she made in November on McCarthy's "threat."
CLICK HERE TO GET THE FOX NEWS APP
"McCarthy's effort to repeatedly single me out for scorn and hatred—including threatening to strip me from my committee—does nothing to address the issues our constituents deal with. It does nothing to address inflation, healthcare, or solve the climate crisis," Omar said in November.
Swalwell tweeted that McCarthy was acting "purely out of vengeance."