Bill Engvall is saying goodbye to the world of stand-up comedy.
Engvall told Fox News Digital why he thinks now is the right time take a step back and how the death of his friend and fellow comedian Bob Saget led him to think about what else is out there for him.
"I had a friend of mine call me the other night, 'what do you retire for you're at the top of your game?' And I said, 'that's when I want to go out.' I never wanted to be that act that people watching go, 'you should have stopped last year,'" Engvall said.
He said retirement "is a good thing," because he has already "achieved every goal (he) set" for himself, including starring on his own sitcom and appearing on other popular sitcoms. Engvall said "there's really nothing left for me to do."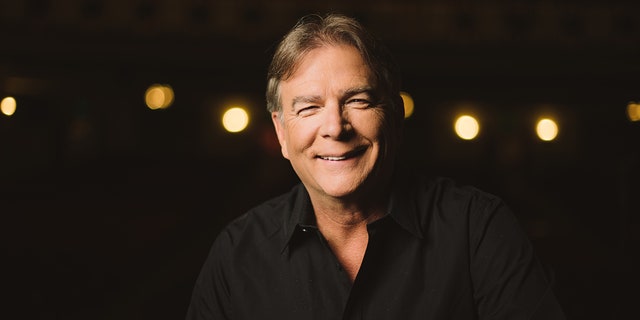 Bill Engvall discusses his decision to retire, saying he has achieved everything he set out for himself at the start of his career.
(Bill Engvall)
BILL ENGVALL ON HIS GREATEST PERSONAL ACHIEVEMENT: I'M PROUD THAT MY KIDS GREW UP AND THEY'RE GOOD PEOPLE
"I used to tell my wife that one of my fears of was dying on the road, and when we lost Bob Saget and some of these other guys, I (thought), the longer you do this, the odds are greater that's going to happen. We're never able to cheat death, but I've I got grandkids now, and I want to be a part of their life," Engvall explained. "There's just more out there for me to do. And listen, it's been a 42-year blast journey. I loved every moment of it, and that was why I wanted to go out loving it too, not hating it."
One of the reasons Engvall decided now was a good time to retire was the shift in comedy in recent years, most notably after the incident at the 2022 Academy Awards ceremony between Will Smith and Chris Rock.
"I don't think he has any idea what ball he set in motion, but when Will Smith walked on stage and slapped…Chris Rock, he unleashed this box that people feel like they can do anything now," Engvall explained. "There didn't used to be this fear in the back of your head of like, 'is someone going to come out of the darkness of the stage or the theater or something?'"
He shared a scary moment when he was on stage last year telling a joke about a time he gifted his son a Swiss Army knife, and someone came up and placed a knife on the stage. "I was just flabbergasted," Engvall said about the incident, leaving him wondering, "at what point did he go, 'this would be funny'?"
"I could have had him thrown out of the theater or anything, but I didn't. I just said, 'well, you know, you don't toss stuff on stage.' It's like you almost have to talk to him like a little kid," he said. "Especially now, you can't even make any jokes politically if just because they're just ready to pounce."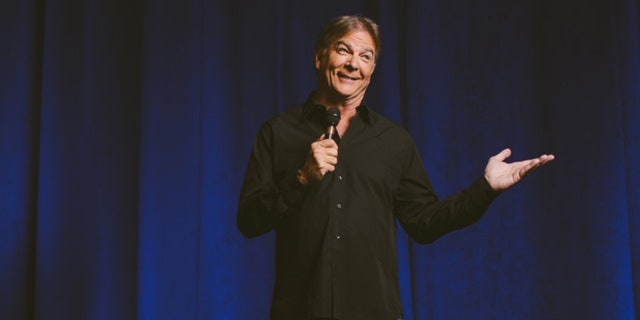 Bill Engvall said comedy has changed since he first started, and audiences seem like they are waiting for the comedian to say something that will offend them.
(Bill Engvall)
It is especially tough for comedians, Engvall explained, because when they are on stage, they can only see the first two rows, and everything beyond is just darkness. By the time they notice something coming at them, they may not have enough time to react properly.
"My job is to make you laugh, make you feel better than you did when you got there, and if I can't do that because I'm stressed or scared that somebody is going to do something crazy, then you know, then it's time to get out," he explained.
"When I first started back in '80s, you know, comedy was just booming. I mean, people wanted to go to the clubs. They were laughing and stuff. And then recently there's been a shift in the world, and I don't know where it started," he explained. "I always say that comedy used to be the release valve, and now it's become the instigator. It's almost like people go to shows wanting you to say something that's going to offend them or give them some reason."
Engvall said pretty soon, comedians are going to be expected to share their jokes with a review board prior to shows to make sure there is nothing that could offend people, saying when that happens, "I guess it's time to call it in."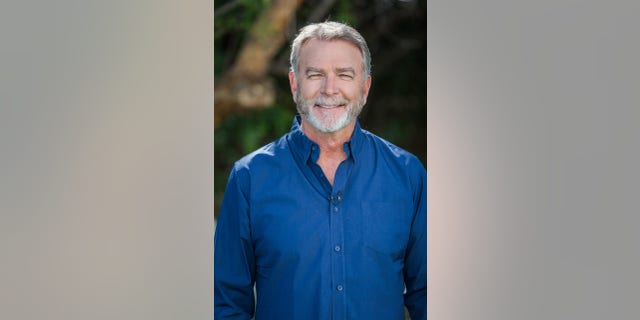 Growing up, Bill Engvall looked up to comedians like Bob Newhart, Steve Martin, George Carlin and Richard Pryor. 
(Bill Engvall)
Throughout his career, Engvall has made it a priority to keep his act clean, saying that while people may enjoy "edgy comedy" and hearing "a dirty joke, they don't want to hear 90 minutes of it." After starting his career "way dirtier than (he) needed to be," he soon realized he would need to branch out in order to appeal to everyone.
"I always tried to write my act in a way that, 'would my wife sit through this for 90 minutes,' because, and I also think after a while, an audience member goes, 'can you do anything else'?" Engvall said. "I looked at guys like Bob Newhart and Steve Martin and these guys, they feel there's nothing wrong with being clean. And the other thing is to be relatable. People want to know you're like them."
'DANCING WITH THE STARS' RECAP: KEYSHAWN JOHNSON AND BILL ENGVALL STRUGGLE IN THE BOTTOM TWO
Newhart and Martin are some of the comedians Engvall looked up to growing up, along with George Carlin and Richard Pryor. However, once he started in the business, he looked up to Jerry Seinfeld, Garry Shandling and Jay Leno, saying "I was fortunate and blessed enough to grow up comedically with them."
"Those guys were the ones that taught me how to write and act, how to put together a show. And so I really got to learn from the best and that that was very helpful to me," Engvall said. "That was one of the things that I always was grateful for, was that they kind of, I wouldn't say they necessarily took me under their wing, but I could talk to them, and they would tell me this and that."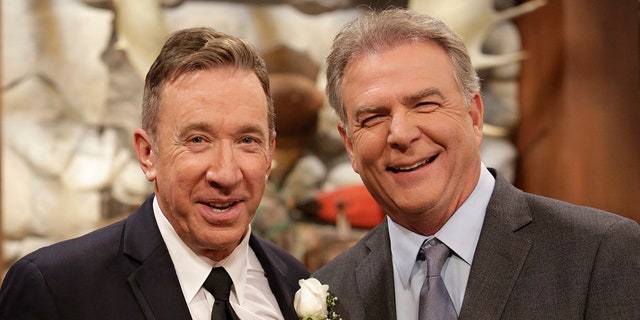 Bill Engvall appeared on Tim Allen's sitcom "Last Man Standing" in a recurring role, something he wants to continue doing after retiring from stand-up comedy.
(Nicole Wilder/Disney General Entertainment Content via Getty Images)
More recently, Engvall worked with Tim Allen on his sitcom, "Last Man Standing," playing Reverend Paul, saying he "had a blast doing that." He said he and Allen have been friends since "the club days," adding that "while we're two completely different personalities, we seem to hit it off on camera."
"The dream job would be to get another gig like that where I'm like five out of ten episodes and I fly and do my stuff and leave. That would be great. I would love that," he explained. "I learned a lot from Tim, even on the acting side of it, just how to be yourself, on your build your character and that that Reverend Paul was just such a fun character."
CLICK HERE TO SIGN UP FOR THE ENTERTAINMENT NEWSLETTER
Although Engvall is retiring from stand-up comedy, he told Fox News Digital he would like to continue doing guest appearances in the future. During the COVID-19 lockdown, Engvall said he realized he "wasn't missing the road" and that he "never thought (he) would do this for the rest of (his) life."
Engvall's final stand-up show took place on Dec. 31 at Eccles Theater in Salt Lake City, and he admitted he is emotional about that part of his career coming to an end. However, while there are parts of the job he is going to miss, he is happy to put it all behind him.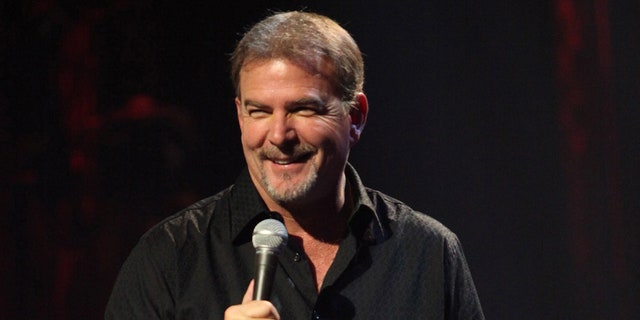 Bill Engvall said there is no better feeling than being on stage and watching the audience react to his jokes.
(Photo by Barry Brecheisen/WireImage)
CLICK HERE TO GET THE FOX NEWS APP
"There's nothing better than when you're on stage, and you and the audience are on the same wavelength, and you're just pounding them and just the rolls of laughter that were coming on that," Engvall explained. "I'll miss that rush, but I won't miss being in a hotel for 23 and a half hours while I'm waiting to go on stage. That gets old."