President Biden and his son Hunter have made history as the first president-son duo to be simultaneously – but separately – under federal investigation.
Attorney General Merrick Garland last week appointed former U.S. Attorney Robert Hur as special counsel to investigate the president's possible unauthorized removal and improper retention of classified documents and records discovered at the Penn Biden Center in Washington D.C., and in his private residence in Wilmington, Delaware.
Separately, Hunter Biden has been under federal investigation since 2018 for his tax affairs – an investigation that was predicated, in part, by suspicious activity reports (SARs) regarding some foreign transactions. Those SARs, according to sources familiar with the investigation, involved funds from "China and other foreign nations."
WHITE HOUSE REFUSES TO SAY IF BIDEN WOULD SIT FOR INTERVIEW WITH SPECIAL COUNSEL IN CLASSIFIED RECORDS PROBE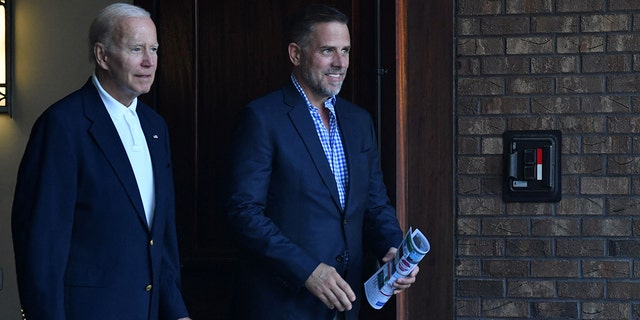 President Joe Biden and his son Hunter Biden are both under federal investigation, a presidential first.
(Nicholas Kamm/AFP via Getty Images)
"This is the first time that in American history we have a sitting president and one of his children – in this case, his son – who are under formal investigation in the United States," Heritage Foundation President Dr. Kevin Roberts, a historian of early American history, told Fox News Digital. "In thinking about this, investigating it, and putting all politics aside, I cannot think of an example that even gets close to this."
"I think it is important that as Americans strive to get out of the morass of current politics, and especially the unethical nature it seems of this current administration, that we realize the truth first," Roberts continued. "And in this case, the truth hurts."
It is also the first time in presidential history that a sitting president – Biden – and a former president – Donald Trump, who is running again for the White House in 2024 – are separately, but at the same time, under special counsel investigation for the same matter: retention of classified records.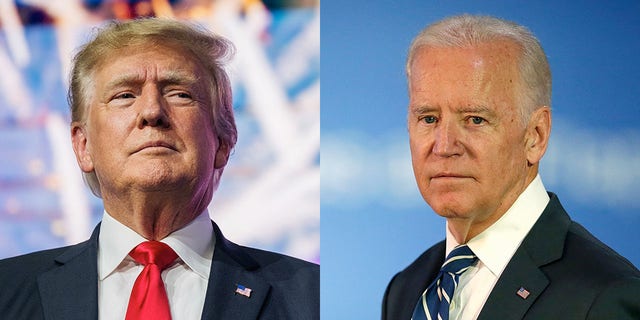 Former President Trump and President Joe Biden
(Getty Images)
In November, Garland appointed former DOJ official Jack Smith as special counsel to investigate Trump's retention of classified records at his Mar-a-Lago home in Palm Beach, Florida, after the FBI conducted an unprecedented raid, seizing documents bearing classification markings, some of which were "top secret."
"It speaks to the era we're in," Roberts said.
TEAM INVESTIGATING TRUMP CLASSIFIED DOCS INCLUDES SEASONED DOJ OFFICIALS WHO PROSECUTED HIS TOP ALLIES
This is the second time Trump has been at the center of a special counsel investigation. During his administration, Special Counsel Robert Mueller was chosen to investigate whether the Trump campaign colluded with Russia to influence the 2016 presidential election.
Trump's eldest son, Donald Trump Jr., faced criticism for a meeting he held at Trump Tower in New York City with Russian lawyer Natalia Veselnitskaya in the summer of 2016.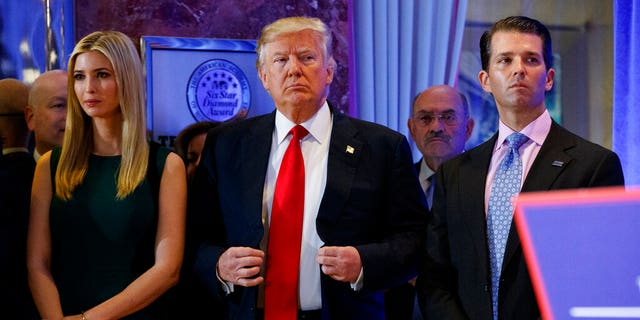 President-elect Donald Trump, Donald Trump Jr. and Ivanka Trump at a news conference in the lobby of Trump Tower in New York. (AP Photo/Evan Vucci)
Music publicist Rob Golstone offered to broker the get-together with Veselnitskaya, writing in an email that she could provide "very high level and sensitive information" or "dirt" compromising former Secretary of State Hillary Clinton's election chances.
"If it's what you say, I love it," Trump Jr. wrote in response.
That meeting came under scrutiny in Mueller's investigation. But Trump Jr. was never named a subject or target of that special counsel probe, which, after nearly two years of investigating, yielded no evidence of criminal conspiracy or coordination between the Trump campaign and Russian officials during the 2016 presidential election.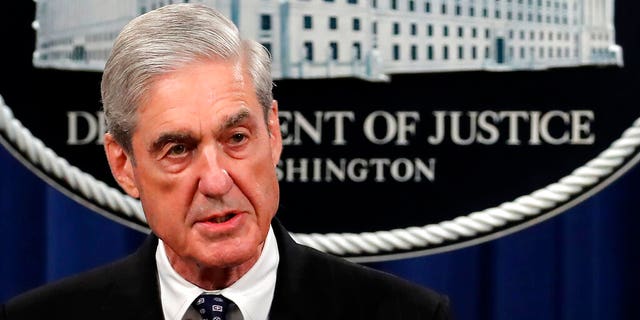 Special Counsel Robert Mueller investigated alleged collusion between President Trump and Russia. (AP Photo/Carolyn Kaster, File)
"I say this not as a partisan, or as an ideologue, but just as someone who specializes in reading the facts, there are two gigantic differences, and the first is that Donald Trump Jr. was not formally implicated, and Hunter has been," Roberts said. "The second is that so much of the origins of Mueller's investigation were not only inaccurate, but they were spurious."
He added: "I see them as qualitatively different."
TRUMP TARGETED: A LOOK AT THE INVESTIGATIONS INVOLVING THE FORMER PRESIDENT; FROM RUSSIA TO MAR-A-LAGO
Former U.S. Attorney for Connecticut John Durham was appointed as special counsel in the spring of 2019 to investigate the origins of the Trump-Russia probe. Durham's investigation is ongoing.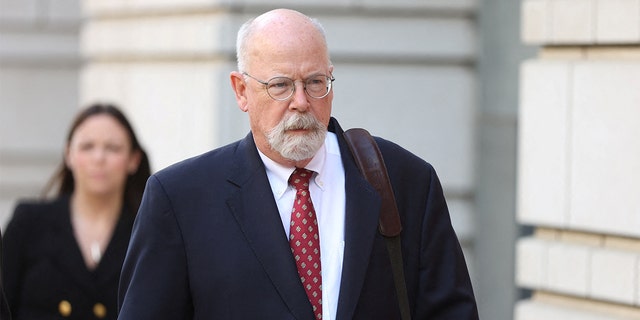 Special Counsel John Durham
(Reuters/Julia Nikhinson)
As for President Biden, Roberts said Americans are "miffed, mostly by his unwillingness and apparent inability to defend himself."
"It only creates more suspicion that, not unlike the situation in Watergate, not unlike the situation in President Harding's administration in the 1920s, not unlike the situation with President Grant in the 1870s – there could be even more to the story," Roberts said. "I think a lot of Americans are expecting the other shoe to drop, which may be even worse than what the former vice president – current president – apparently did with classified documents."
HUNTER BIDEN PROBE: 2022 MARKED FOURTH YEAR — AND COUNTING — OF INVESTIGATION
Roberts suggested that "shoe" could be a link from the Biden classified records investigation to Hunter's completely separate federal investigation into his foreign business dealings.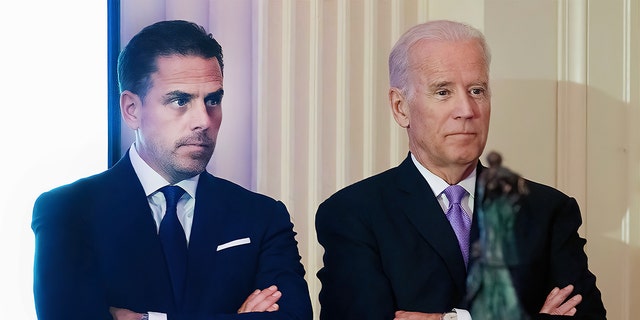 The investigations into President Biden and his son mark the first time this has happened to a sitting president. (Kris Connor/WireImage)
"Every time you encounter a Joe Biden problem, Hunter is at least in the background, if not directly involved, and every time you encounter Hunter, the opposite is true – his father, the president, is involved almost always," Roberts said, adding that there could be a "connecting of dots between being financially compromised and conflicted with the Chinese Communist Party."
Classified records were found inside the Washington, D.C., offices of the Penn Biden Center think tank on Nov. 2, 2022, but the discovery was only disclosed to the public last week. A second stash of classified documents were also found inside the president's garage at his home in Delaware, and over the weekend, additional classified records were found inside the president's home in Delaware.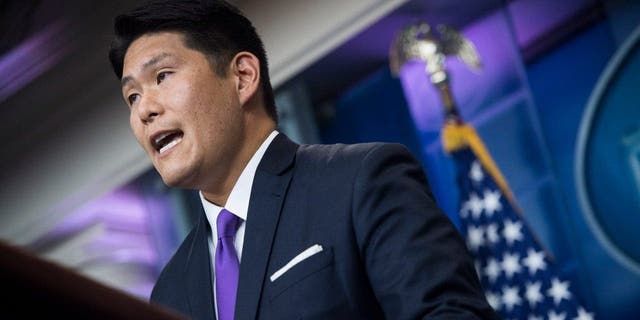 Robert Hur was named special counsel to investigate the classified documents found in Biden's former office and home.
(Jabin Botsford/The Washington Post via Getty Images)
The White House has said it was cooperating with that DOJ review, and maintains it will continue its full cooperation with Special Counsel Hur's investigation.
The White House has been peppered with questions about the number of classified documents found, the level of classification of the documents, and whether the content of the documents had anything to do with foreign nations – specifically whether they could relate to the president's son Hunter Biden, and his business dealings with China and other foreign nations.
JOE BIDEN 'WAS AWARE' AND POTENTIALLY 'INVOLVED' IN SON HUNTER'S CRONY BUSINESS DEALINGS: WHISTLEBLOWERS
The questions intensified amid revelations that Hunter spent a significant amount of time living at the Wilmington home in the last several years and could have had access to the records.
The White House has repeatedly declined to comment on the contents of the classified records, as well as the levels of the classification, because the records "have been turned over to proper authorities and will be part of the ongoing investigation."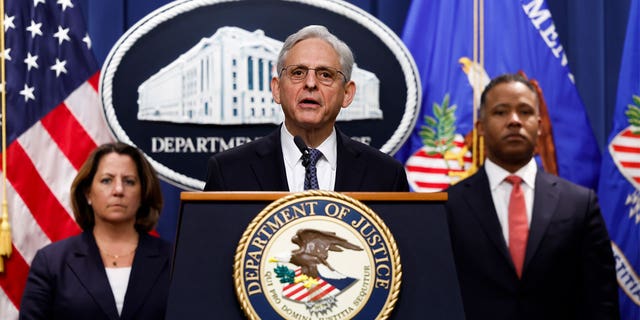 Attorney General Merrick Garland appointed a special counsel to oversee the Justice Department's investigation into former President Donald Trump and his handling of classified documents.
(Anna Moneymaker/Getty Images)
Throughout Biden's time in office, the White House has fielded questions about Hunter's suspicious foreign business dealings and the investigation, which is being led by David Weiss, the U.S. attorney for Delaware.
The president has repeatedly denied speaking to his son about those business ventures. Biden has also denied, since the 2020 campaign, having any knowledge about or involvement in his son's business ventures.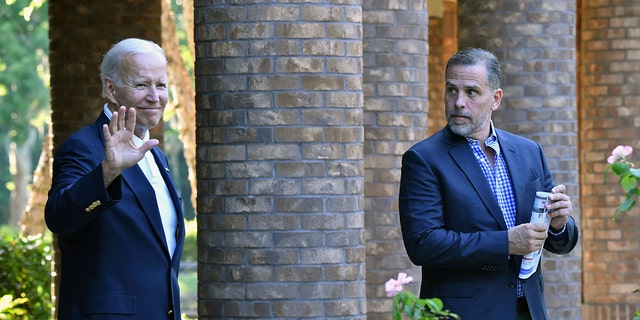 President Biden waves alongside his son Hunter Biden after attending Mass at Holy Spirit Catholic Church in Johns Island, South Carolina, on Aug. 13, 2022.
(Nicholas Kamm/AFP via Getty Images)
Fox News first reported the existence of some type of investigation involving Hunter Biden in October 2020, ahead of the last presidential election. It became known then that the FBI had subpoenaed the laptop purportedly belonging to Hunter Biden in the course of an existing money laundering investigation.
Hunter Biden confirmed the investigation into his "tax affairs" in December 2020, after his father was elected president.
Fox News reported in July that the federal grand jury looking into Hunter Biden's business dealings wrapped up its latest term in June of this year and had expired. A source told Fox News at the time that no charges had been filed.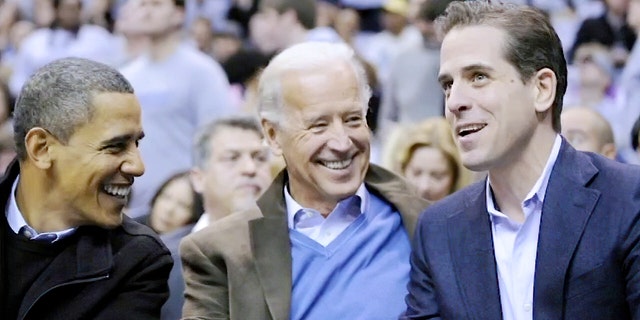 President Obama, Vice President Joe Biden, and Biden's son Hunter (AP Photo/Nick Wass, File)
A former senior Justice Department official told Fox News at the time, however, that the government does not need to have an active grand jury in order to file charges as part of a plea agreement. Sources told Fox News last fall that federal investigators were weighing whether to charge Hunter with various tax and foreign lobbying violations, false statements and more.
CLICK HERE TO GET THE FOX NEWS APP
As for the historic nature of a sitting president and the first son being under investigation, Roberts said:
"I lament that this is true for the sake of the republic, but if we're going to fix it, we've got to call it out," he said. "And hopefully, we will never return to another example like this because it says a lot about the state of American politics."