EXCLUSIVE: House Armed Services Committee Chairman Mike Rogers is demanding answers from the Pentagon on whether President Biden's improper storage of classified information resulted in any "damage to national security," and information on whether Defense Department officials are working in coordination with the U.S. attorney assigned to review the matter.
Rogers' letter, exclusively obtained by Fox News, comes after the White House on Monday revealed the discovery of classified records from Biden's time as vice president at the Penn Biden Center.
BIDEN AIDES DISCOVER SECOND BATCH OF CLASSIFIED DOCS AT ANOTHER LOCATION
On Wednesday evening, Fox News confirmed that Biden aides had found at least one more batch of classified documents, kept at a separate location from the Penn Biden Center office in Washington, D.C., which was a space he used in the years after he was vice president.
Rogers wrote to the Undersecretary of Defense for Intelligence and Security Ronald Moultrie, and Director of the Defense Counterintelligence and Security Agency William Lietzau, asking whether they have been asked to cooperate with U.S. Attorney John Lausch, who is investigating the matter.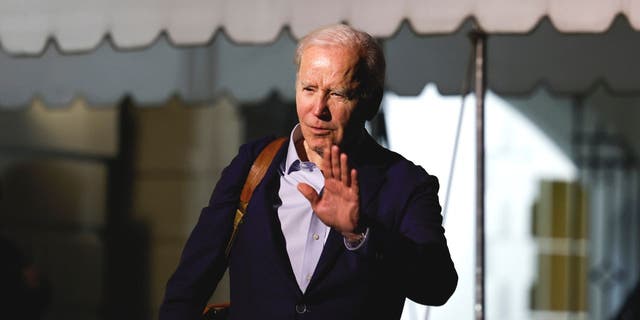 President Biden's lawyers are working with officials after classified documents were found in space Biden used before his 2020 campaign.
(Anna Moneymaker)
Lausch, a Trump appointee who serves as the U.S. attorney for the Northern District of Illinois, was assigned in 2018 to handle the Justice Department's interactions with Congress concerning former Secretary of State Hillary Clinton's "improper handling of classified information," Rogers wrote Wednesday night. He said that material included emails found on her private email server that were classified at a "higher level than Top Secret," as well as "highly classified information that requires exceptional controls to protect unauthorized disclosure."
Rogers wrote that the two officials and their agencies "maintain particular expertise to evaluate intelligence and counterintelligence threats posed by individuals and insight into the proper means of handling classified material."
"I write to inquire whether you have been contacted to cooperate with U.S. Attorney Lausch's review and/or are conducting an independent investigation based on your own authorities," Rogers wrote. He said it is "critical to assess whether possible national security damage, particularly to DOD equities, resulted from any improper storage, handling, or disclosure of classified information stored in a closet of a non-governmental entity like the Biden Center."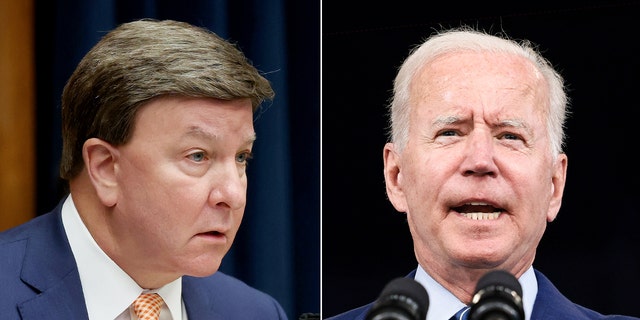 Representative Mike Rogers, a Republican from Alabama, is demanding answers from the Pentagon on their assessment of classified documents improperly stored by President Biden's team.
(Chip Somodevilla/Getty Images/Bloomberg | Photo by Anna Moneymaker/Getty Images)
Rogers said it is "necessary to determine whether highly classified material found in the closet have potentially placed Americans in harm's way if disclosed to those without the requisite clearance or need to know or accessed by individuals intending malfeasance or worse."
"It is imperative this Committee be kept informed about the nature of the classified date if it touches upon service members' safety, DOD's operations, or the protection of DOD assets," Rogers wrote.
CLASSIFIED DOCUMENTS FROM BIDEN'S TIME AS VICE PRESIDENT DISCOVERED AT PENN BIDEN CENTER, WHITE HOUSE SAYS
Rogers gave the officials a Jan. 25 deadline to provide a description of the subject matter of the classified documents and their classification level; whether any of the material was provided by or pertained to the Pentagon or associated defense intelligence agencies; and any access control records for the documents while they were in Biden's possession as vice president.
Rogers also asked for a list of people the Pentagon has identified with knowledge of the location of the storage of the classified information at issue, including any DOD personnel, and any documentation concerning the transfer of the records or information on who was present when the classified documents were found.
Rogers also asked for the status of the Defense officials' communications with Lausch.
Lausch has been leading the investigation into the classified documents, which were discovered by the president's personal attorneys on Nov. 2, 2022.
Fox News has learned that investigation is at "an inflection point," and has taken place over several weeks.
A source told Fox News that the next steps in the matter are at the discretion of Attorney General Merrick Garland.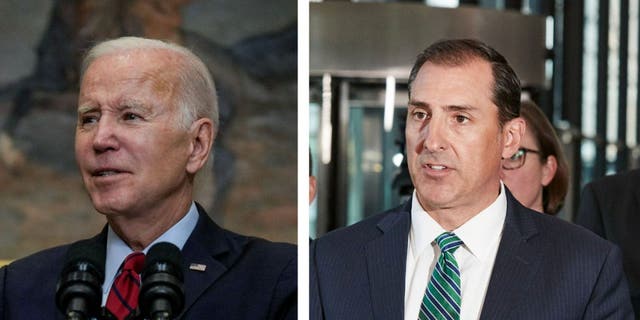 President Biden and U.S. Attorney John Lausch
(Photo by Drew Angerer/Getty Images / Photo by Mustafa Hussain/Getty Images)
The attorneys found the documents in a locked closet while preparing to vacate office space at the center, which the president used from mid-2017 until he began the 2020 campaign.
US ATTORNEY INVESTIGATION INTO BIDEN CLASSIFIED DOCS AT AN 'INFLECTION POINT,' NEXT STEPS UP TO AG GARLAND
White House Counsel Richard Sauber said Monday that the National Archives were notified of the findings and took possession of the documents on Nov. 3, 2022.
"The documents were not the subject of any previous request or inquiry by the Archives," Sauber said in a statement. "Since that discovery, the President's personal attorneys have cooperated with he Archives and the Department of Justice in process to ensure that any Obama-Biden Administration records are appropriately in the possession of the Archives."
Garland appointed Lausch to review the matter.
The discovery of the records comes just months after the FBI conducted an unprecedented raid on former President Trump's Mar-a-Lago home in Palm Beach, Florida, and seized classified documents.
Biden, at the time, slammed Trump for being "irresponsible" for keeping classified documents.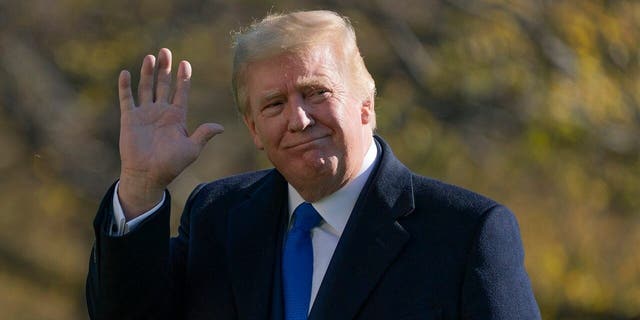 Former President Trump.
(AP Photo/Patrick Semansky)
Under the Presidential Records Act, all documents from a president's administration and staff must be turned over to the National Archives.
Jack Smith, a former assistant U.S. attorney and chief to the DOJ's public integrity section, was appointed as special counsel to investigate the records seized from Mar-a-Lago.
CLICK HERE TO GET THE FOX NEWS APP
Trump, who launched his 2024 White House bid in November, told Fox News that he will not cooperate with that special counsel investigation.
"When is the FBI going to raid the many homes of Joe Biden, perhaps even the White House?" Trump wrote on Truth Social on Monday. "These documents were definitely not declassified."