Republican Gov. Brian Kemp will spotlight his record and his agenda when he's sworn in Tuesday for a second four-year term as governor of the swing state of Georgia.
Kemp, who defeated a Donald Trump-backed challenger in last spring's GOP gubernatorial primary before comfortably topping Democratic star and voting reform activist Stacey Abrams in November's general election, will give his inaugural address at Georgia State University's convocation center, just a couple of blocks from the state Capitol in downtown Atlanta.
The governor's advisers say Kemp's inaugural address will focus on his record of economic success in his first term and cast a vision for his second-term priorities, which they say include "inflation relief, helping students overcome learning loss and continuing to bolster economic growth in rural, suburban and urban areas throughout the state."
While steering Georgia is priority No. 1 for the governor, Kemp is also looking to have an impact outside the Peach State. Kemp, a former state senator who later won election as secretary of state before winning the governorship in 2018, raised eyebrows last year by forming a federal political action committee.
KEMP TELLS FOX NEWS HE ISN'T RULING ANYTHING OUT WHEN IT COMES TO HIS POLITICAL FUTURE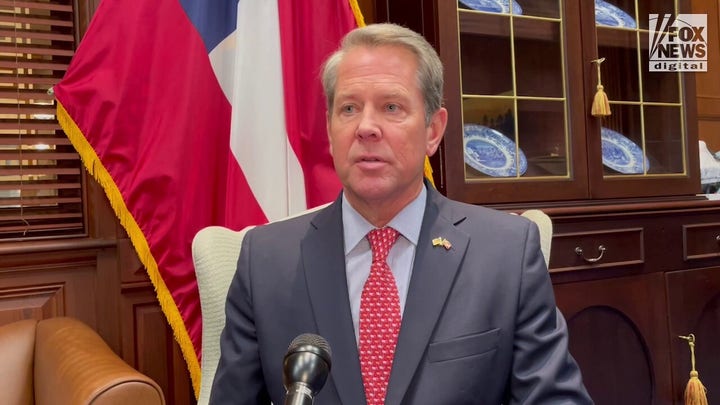 Video
"We just want to have an impact federally if we can to be helpful for good Republicans that are running for office," Kemp said in an interview with Fox News Digital last month. "We built something pretty special here in the state with the ground game that we haven't had in our state. And we want to be helpful in the future, and this gives us an avenue to do that for federal candidates."
BRIAN KEMP WINS RE-ELECTION, BESTING STACEY ABRAMS IN REMATCH OF THE 2018 GEORGIA GUBERNATORIAL BATTLE
The new PAC could also be used to lay the groundwork for a possible Senate run in 2026, when the term-limited Kemp's eight years as governor come to a conclusion. First-term Democratic Sen. Jon Ossoff of Georgia will be up for re-election in 2026.
Asked about a potential Senate run in 2026, Kemp said, "I'm concerned with getting our state budget put together, getting ready for a legislative session." But, he added, "I haven't ruled in or out anything."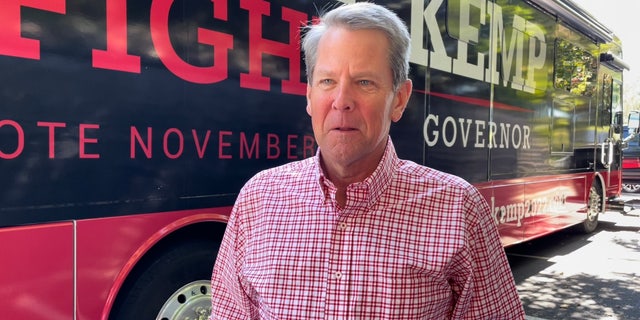 Republican Gov. Brian Kemp of Georgia is interviewed by Fox News Digital Sept. 27, 2022, in Alpharetta, Ga.
(Fox News )
Ralph Reed, the founder of the evangelical Christian political group Faith and Freedom Coalition and a past chair of the Georgia GOP, told Fox News: "I've worked every statewide race in Georgia for over 40 years, and Brian Kemp is one of the most formidable and effective politicians and elected officials I've ever seen in my career."
Reed, who was state party chair when Kemp first won election to the state Senate two decades ago, pointed to Kemp's growing stature nationally.
"I think he's a major player in the party, and he's going to have a voice and I think it will be a valuable one," Reed predicted.
Veteran Republican strategist Jesse Hunt, pointing to what he said is the governor's track record of "methodically taking on the big issues rather than just talking about them," argued that "the Brian Kemp model is one that, moving forward, more Republicans need to try to replicate."
"There's a certain segment of politician that believes that merely fighting about it on social media or cable news is sufficient in our voters' minds," Hunt said. "The reason you saw such an impressive performance by Brian Kemp in the primary and in the general election is because he actually got things done," which Hunt said was attractive to independent and apolitical voters.
But Hunt, a former top communications official at the Republican Governors Association and the GOP's House and Senate campaign committees, emphasized that Kemp also "championed issues that are near and dear to conservative hearts."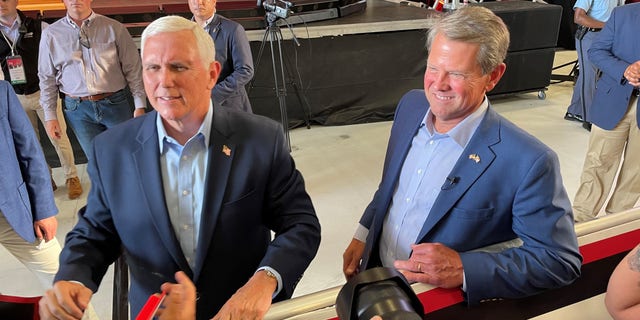 Former Vice President Mike Pence and Republican Gov. Brian Kemp of Georgia shake hands with supporters after Pence headlined a primary eve rally for Kemp May 23, 2022, in Cobb County, Ga. 
(Fox News )
Kemp's PAC could also allow the governor to play a role in the burgeoning GOP presidential nomination race. Two months ago, former President Trump launched this third campaign for the White House.
Four years ago, with the support of Trump, Kemp narrowly defeated Abrams to win the governorship. But Kemp earned Trump's ire starting in late 2020, after the governor certified President Biden's narrow victory in Georgia in the presidential election following multiple recounts of the vote.
CLICK HERE TO GET FOX NEWS APP
Trump, who had unsuccessfully urged the governor and other top Republican officials in the state to overturn the results, returned to Georgia twice to campaign against Kemp. But in last May's GOP primary, the governor crushed former Sen. David Perdue, who Trump had backed in hopes of ousting Kemp.
After noting that his focus is far from the 2024 presidential race, Kemp added there's "going to be a lot of great Republicans running for higher office all around the country, I think, in 2024 — a lot of people I know. And I think they'll have certainly a lot to bring to that table. We'll just have to see, you know, which ones that ends up being."