Former Vice President Mike Pence is staking a position on abortion to the right of his old running-mate and declared 2024 presidential candidate Donald Trump, siding firmly with conservative groups who criticized Trump for blaming GOP midterm election losses on pro-lifers.
In an interview with The Hill published Thursday morning, Pence contested Trump's claim on Truth Social that it was the "'abortion issue,' poorly handled by many Republicans, especially those that firmly insisted on No Exceptions, even in the case of Rape, Incest, or Life of the Mother, that lost large numbers of Voters."
Pence, who was staunchly loyal to Trump during their four years in office, disagreed and told The Hill that Republican candidates who expressed a clear view on protecting the rights of unborn children outperformed GOP candidates who ran away from the issue after the U.S. Supreme Court overturned Roe v. Wade, ending the constitutional right to abortion.
"I think going forward, it's going to be incumbent on the men and women on our party to stand without apology for the sanctity of human life, to stand on that principle of the unalienable right to life, but also to express compassion for women that are facing crisis pregnancies," Pence said.
TRUMP BLAMES PRO-LIFE REPUBLICANS FOR MIDTERM LOSS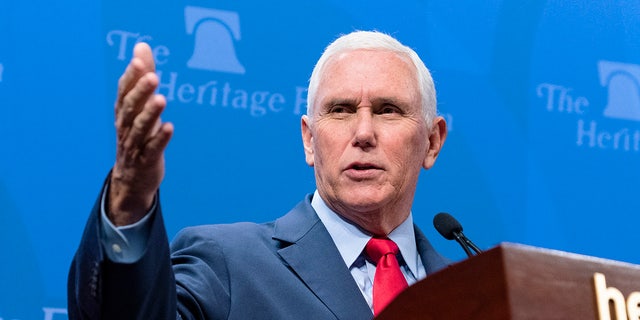 Former Vice President Mike Pence delivers a speech at The Heritage Foundation titled The Freedom Agenda and America's Future, in Washington, D.C., on Wednesday, Oct. 19, 2022. 
(Tom Williams/CQ-Roll Call, Inc via Getty Images)
Pence, who is on a national tour promoting his new memoir, "So Help Me God," is widely believed to be mulling a 2024 run for the White House. Were he to get into the race, he would face former President Trump in a Republican primary, where pro-life conservatives represent a significant bloc of support for any would-be GOP nominee.
His comment contrasts with Trump, who was widely criticized by pro-life groups last week after blaming the pro-life cause for GOP election losses. It was a stunning statement from Trump, who had vowed to appoint pro-life justices to the Supreme Court who would overturn Roe v. Wade, a promise he kept.
"The approach to winning on abortion in federal races, proven for a decade is this: state clearly the ambitious consensus pro-life position and contrast that with the extreme view of Democrat opponents," Susan B. Anthony Pro-Life America said in response to Trump's comment. "We look forward to hearing that position fully articulated by Mr. Trump and all presidential candidates."
"Well said," Pence tweeted on Jan.2, quoting the pro-life group's statement.
'LOSING' STRAGETY: ABORTION GROUPS ON LEFT AND RIGHT BLAST TRUMP FOR BLAMING MIDTERM LOSSES ON PRO-LIFERS
Former President Trump speaks at the Conservative Political Action Conference at the Hilton Anatole on Aug. 6, 2022 in Dallas.
(Brandon Bell/Getty Images)
Pence has long been a champion on pro-life issues and has insisted that abortion should be outlawed in every state in America.
"Now that Roe v. Wade has been consigned to the ash heap of history, a new arena in the cause of life has emerged, and it is incumbent on all who cherish the sanctity of life to resolve that we will take the defense of the unborn and the support for women in crisis pregnancy centers to every state in America," Pence said in a June interview with Breitbart News. "Having been given this second chance for Life, we must not rest and must not relent until the sanctity of life is restored to the center of American law in every state in the land."
PENCE SIDES WITH PRO-LIFE GROUP HITTING BACK AT TRUMP FOR BLAMING LOSSES ON PRO-LIFE REPUBLICANS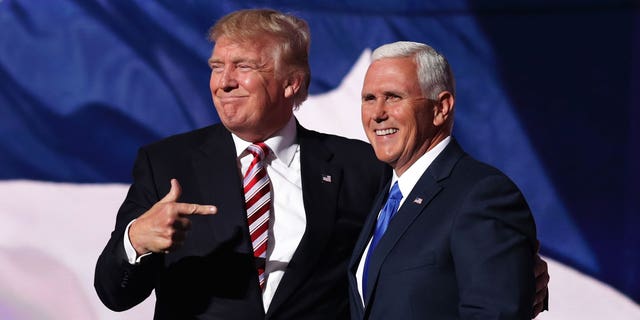 Donald Trump and Mike Pence pose together on a stage. 
(Getty Images)
Pence's relationship with Trump deteriorated after he refused the former president's demands to overturn the 2020 election results. Trump has accused Pence of lacking "courage," while Pence, when asked about 2024, has consistently said the country is ready for "new leadership" and that Republicans will have "better choices come 2024."
While the former vice president has not officially announced a 2024 presidential campaign, he has consistently hinted at doing so, particularly as he's visited early primary states on his book tour.
CLICK HERE TO GET THE FOX NEWS APP
"Over the coming months, we're going to continue to travel," Pence told The Hill, speaking from his Washington, D.C., office. "We're going to continue to listen very intently, and we'll make a decision I'm sure that in the months ahead about what role we might play, whether it be as a national candidate or as a voice for our conservative values."
Fox News' Kyle Morris contributed to this report.