An artificial intelligence algorithm developed by DARPA's Air Combat Evolution (ACE) program flew a modified F-16 fighter jet for over 17 hours in December, officials announced this week.
The jet, a Variable In-flight Simulation Test Aircraft (VISTA), took off from Edwards Air Force Base in California, marking the first time that artificial intelligence has been used to fly a tactical aircraft.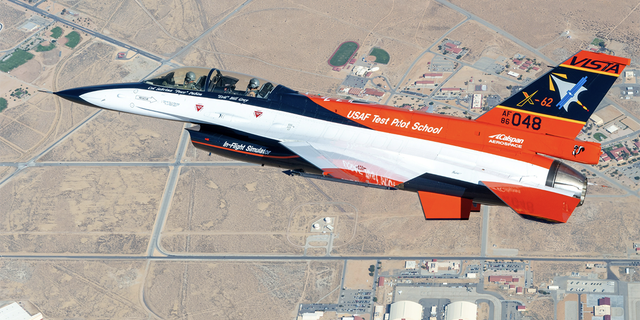 A Variable In-flight Simulation Test Aircraft being controlled by artificial intelligence in a flight over California.  (Kyle Brasier, U.S. Air Force)
"We conducted multiple sorties [takeoffs and landings] with numerous test points performed on each sortie to test the algorithms under varying starting conditions, against various simulated adversaries, and with simulated weapons capabilities," Air Force Lt. Col. Ryan "Hal" Hefron, the DARPA program manager for ACE, said in a statement.
"We didn't run into any major issues but did encounter some differences compared to simulation-based results, which is to be expected when transitioning from virtual to live."
US AIR FORCE'S NEW F-15EX BREAKS KEY RECORD AS THREATS AGAINST AMERICA GROW
VISTA was developed by Lockheed Martin Skunk Works and the Calspan Corporation for the U.S. Air Force's Test Pilot School.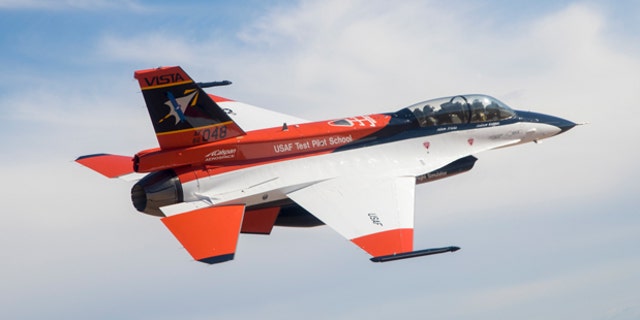 A modified F-16D Block 30 Peace Marble Il aircraft being flowing by an artificial intelligence program.  (Defense Advanced Research Projects Agency)
The aircraft is a modified F-16D Block 30 Peace Marble Il aircraft, which began development in 2019 with the launch of ACE.
CLICK HERE TO GET THE FOX NEWS APP
"VISTA will allow us to parallelize the development and test of cutting-edge artificial intelligence techniques with new uncrewed vehicle designs," Dr. M. Christopher Cotting, the director of research at the U.S. Air Force Test Pilot School, said on Monday.