A group of international scientists have uncovered an Earth-sized exoplanet just over 70 light-years away from us.
In new research reported in a Feb. 1 paper published on the arXiv pre-print server, the team used data from NASA's inoperative Kepler spacecraft, its secondary mission K2 and the Transiting Exoplanet Survey Satellite (TESS) to identify K2-415b.
The exoplanet orbits the red dwarf star K2-415 and the confirmation of the exoplanet makes it the closest planet-hosting star from Earth identified by Kepler and K2 missions.
Notably, K2-515b is around three times more massive than Earth.
NEW HUBBLE TELESCOPE IMAGE OF SATURN REVEALS MYSTERIOUS FEATURES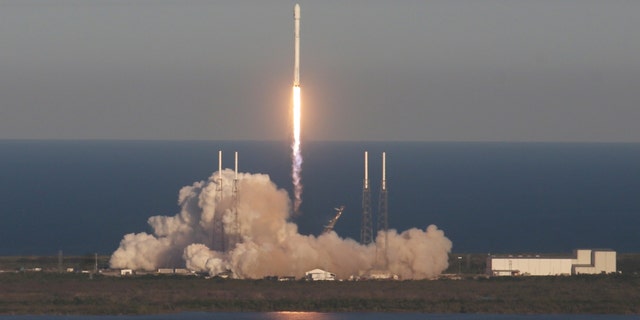 A SpaceX Falcon 9 rocket carrying a TESS spacecraft lifts off on Wednesday, April 18, 2018, from Space Launch Complex 40 at Cape Canaveral Air Force Station in Florida. TESS, which stands for Transiting Exoplanet Survey Satellite, is a telescope/camera that's mission is hunting for undiscovered worlds around nearby stars, NASA says. (Red Huber/Orlando Sentinel/Tribune News Service via Getty Images)
"Being one of the lowest mass stars known to host an Earth-sized transiting planet, K2-415 will be an interesting target for further follow-up observations, including additional radial velocity monitoring and transit spectroscopy," the authors said.
In a Tuesday interview with Space.com, lead author Teruyuki Hirano, of the Graduate University for Advanced Studies (SOKENDAI) in Japan, explained that the system is unique because K2-415 is one of the coolest, or lowest-mass stars to host an exoplanet.
METEOROID EXPECTED TO SAFELY STRIKE EARTH'S ATMOSPHERE SUNDAY EVENING OVER FRANCE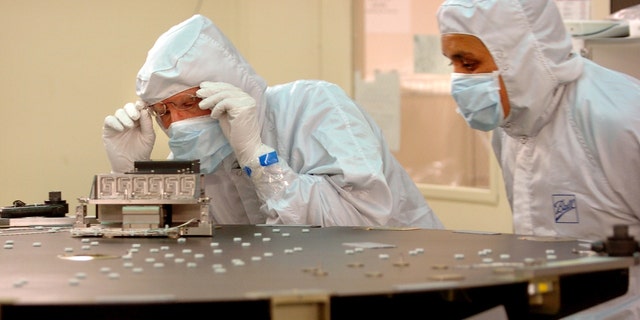 Ball Aerospace & Technologies Corp. engineers Greg Hillen (left) and Raul Martinez work on the back plate for the Schmidt corrector plate, a lens used to correct spherical aberration in a reflecting telescope in NASA's Kepler Mission.  (Cyrus McCrimmon/The Denver Post via Getty Images)
"One motivation for investigating the planets around such low-mass stars is to understand and clarify whether those planets form and evolve just like the planets around solar-type stars," Hirano said.
He noted that while K2-415b is not in the habitable zone of its star – or the distance at which liquid water can exist on a world's surface – "there is a possibility that there is another planet lurking in the system that sits inside the habitable zone."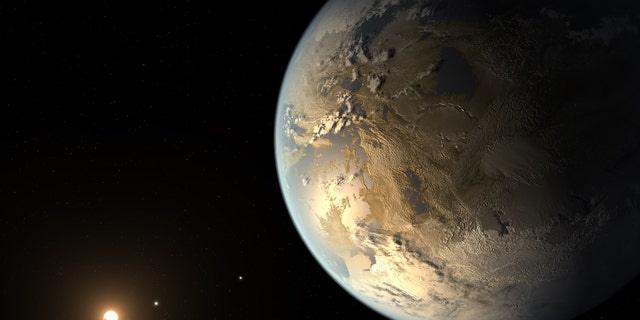 This artist's concept obtained October 30, 2018, courtesy of NASA/Ames/JPL-Caltech/T. Pyle shows Kepler-186f, the first Earth-size planet in the habitable zone.  (NASA/JPL-CALTECH/T. PYLE/AFP via Getty Images)
CLICK HERE TO GET THE FOX NEWS APP
According to NASA, there are more than 5,250 confirmed exoplanets and 9,208 candidates. Exoplanets are any planet beyond our solar system.
Most of the exoplanets discovered thus far in are in a relatively small region of the Milky Way and, per the Kepler Space Telescope, astronomers know there are more planets than stars in the galaxy. The first exoplanets were discovered in the 1990s.