The drama surrounding Republican leader Kevin McCarthy's stalled bid to become the next speaker of the House has garnered nationwide attention, and now, those who oppose McCarthy's nomination, including one prominent Democrat, are asking their supporters for financial support.
The House of Representatives headed into its eleventh vote to determine the House speaker on Thursday night as 21 Republicans continue to withhold their support for GOP Leader Kevin McCarthy of California.
Of the 21 Republicans, at least two – Florida GOP Rep. Matt Gaetz and Arizona GOP Rep. Andy Biggs – have issued emails to supporters calling for donations amid their fight to prevent McCarthy from obtaining the speaker's gavel.
In a Thursday evening email from Gaetz, who has seemingly led the GOP movement against McCarthy in the House, the congressman wrote: "Maybe the right person for the job of Speaker of the House isn't someone who has sold shares of himself for more than a decade to get it…"
HOUSE SPEAKER VOTE: HERE ARE THE 21 REPUBLICANS WHO AREN'T VOTING FOR MCCARTHY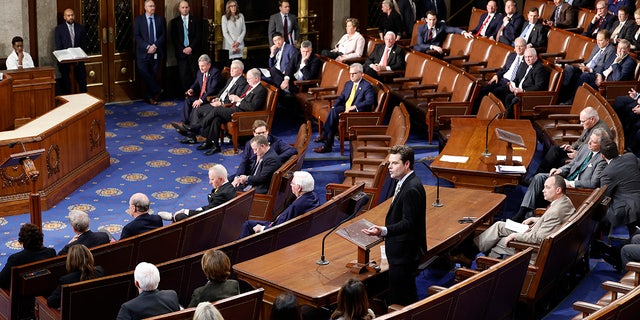 Rep. Matt Gaetz R-Fla., delivers remarks in the House Chamber during the third day of elections for Speaker of the House at the U.S. Capitol Building on January 05, 2023 in Washington, DC.
(Anna Moneymaker/Getty Images)
"If you want to Drain the Swamp, you CANNOT put the biggest alligator in charge of the exercise," Gaetz told his supporters in the email. "But that's exactly what we would get with a McCarthy Speakership…"
"I need to know if you'll stand with me on this. Consider this your opportunity to show how the MAGA Base feels about a Cavin' McCarthy Speakership. If you're a "NO" Vote like I am… Please make that LOUD AND CLEAR by clicking the button below," he said, including a link to his campaign donation page.
Like Gaetz, Biggs, who has strongly opposed McCarthy's bid for speaker, also sent out a campaign email requesting financial assistance from his supporters, according to New York Times reporter Nick Confessore.
"We BLOCKED Kevin McCarthy from becoming Speaker of the House," Biggs reportedly wrote in the email. "…but now, we conservatives must lead the fight to get the leadership we deserve. Saving this country from Joe Biden and the Left is going to be tough. That's why we need a leader who has the record, skill, and ferocity to lead the House GOP."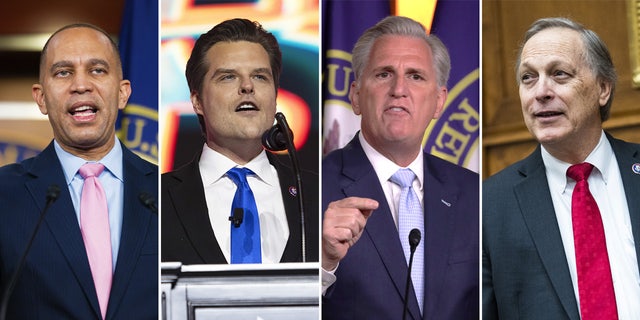 From left to right: Reps. Democrat Hakeem Jeffries of New York, Republican Matt Gaetz of Florida, Kevin McCarthy of California, and Republican Andy Biggs of Arizona.
(Nathan Howard, Joe Raedle, Alex Wong, Tom Williams/CQ-Roll Call, Inc via Getty Images )
THE VOTE FOR HOUSE SPEAKER
"But I am running out of time to win over my colleagues. Can I count on your support as I fight for a conservative Speaker…and finally put the Establishment on notice," Biggs added, including a link where donations could be made.
Democrats are also using the holdup in the House by Republicans to fundraise.
In an email titled "embarrassing chaos" – which was sent Thursday evening by incoming Democratic leader Hakeem Jeffries – the newly elected Democratic leader told his supporters that he lacks the total number of donations to "show that Democrats are united and ready to lead our country."
"Republicans have now failed 6 times to elect a Speaker of the House. This hasn't happened in over 100 years," Jeffries said in the campaign email. "I'll be blunt: Republicans are incapable of governing. And they're putting politics over the American people. But if Democrats stick together in this historic moment, we have an opportunity to show how powerful we are."
Jeffries' email also contained a list of links where his supporters could make donations.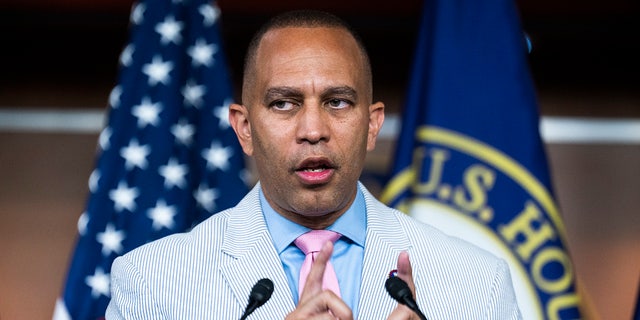 Rep. Hakeem Jeffries, D-N.Y., conducts a news conference after a meeting of the House Democratic Caucus in the Capitol Visitor Center on July 13, 2022.
(Tom Williams/CQ-Roll Call, Inc via Getty Images)
CLICK HERE TO GET THE FOX NEWS APP
Twenty of the GOP members-elect have voted for other candidates while one has voted present – or not voting for any candidate – amid the tumultuous votes.
The 21 House Republicans who haven't voted for McCarthy are Reps.-elect Andy Biggs of Arizona, Dan Bishop of North Carolina, Lauren Boebert of Colorado, Josh Bechreen of Oklahoma, Michael Cloud of Texas, Andrew Clyde of Georgia, Eli Crane of Arizona, Matt Gaetz of Florida, Bob Good of Virginia, Paul Gosar of Arizona, Andy Harris of Maryland, Ana Paulina Luna of Florida, Mary Miller of Illinois, Ralph Norman of South Carolina, Andy Ogles of Tennessee, Scott Perry of Pennsylvania, Matt Rosendale of Montana, Chip Roy of Texas, Keith Self of Texas, Byron Donalds of Florida and Victoria Spartz of Indiana.
Spartz – who has voted present in recent rounds after initially backing McCarthy – is the one Republican of the 21 who has yet to vote for a McCarthy opponent.
Fox News' Houston Keene contributed to this report.