The likelihood of the eruption of Alaska's Tanaga volcano, located in the Aleutians, increased over the past two days.
The Alaska Volcano Observatory said late Thursday that earthquake activity had become more frequent and had continued. The volcano alert level was raised from advisory to watch.
"Over the past 48 hours, earthquake activity near Tanaga and Takawangha volcanoes has been elevated and continues," it said in a Facebook post. "This sustained activity indicates an increased potential for eruption on Tanaga Island."
ALASKA VOLCANO DORMANT FOR A CENTURY DELIVERING OMINOUS WARNING SIGNS: 'SIGNIFICANT UNREST'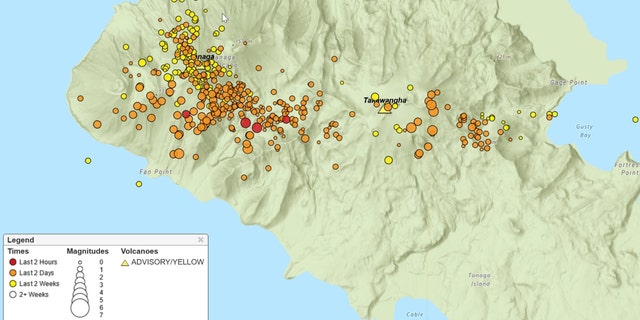 A hypocenter plot for Tanaga Volcano and Takawangha volcano showing earthquakes located over the past two weeks. (Tim Orr/Alaska Volcano Observatory / U.S. Geological Survey )
It also raised the advisory for Takawangha volcano.
"If an eruption were to occur, it is uncertain at this stage if it would come from Tanaga or Takawangha," it added.
NORTHERN LIGHTS DAZZLE ALASKA IN COLORFUL DISPLAY SEEN ON VIDEO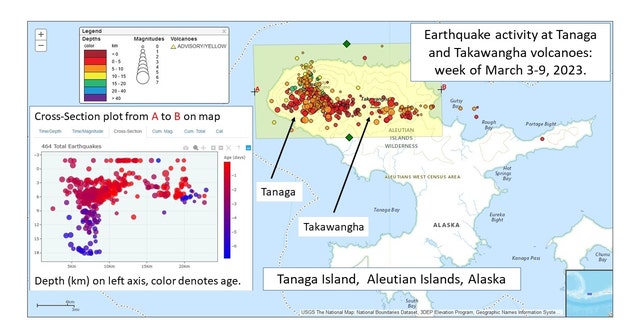 A figure showing recent earthquake activity under Tanaga Island. (Max Kaufman/Alaska Volcano Observatory / University of Alaska Fairbanks, Geophysical Institute )
Analysts are continuing to monitor the situation, including earthquakes under Tanaga Island. The seismic events are occurring at a rate of up to several per minute, with the largest event being a 3.9 magnitude quake under the Tanaga volcano.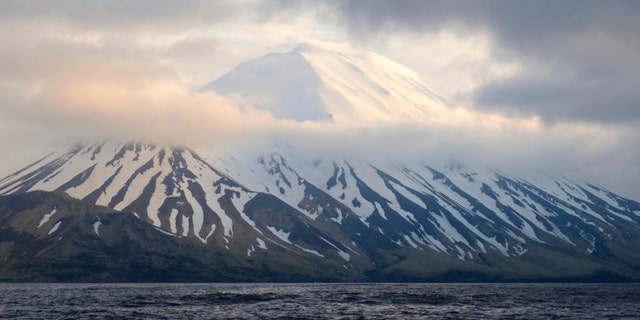 In this photo provided by the Alaska Volcano Observatory/U.S. Geological Survey is the Tanaga Volcano near Adak, Alaska, on May 23, 2021.  ((Matt Loewen/Alaska Volcano Observatory/U.S. Geological Survey via AP))
CLICK HERE TO GET THE FOX NEWS APP
No eruptive activity or signs of unrest have been detected in satellite or other monitoring data. Tanaga is monitored with a local seismic network, a single local infrasound sensor, regional infrasound and lightning sensors and satellite imagery.