close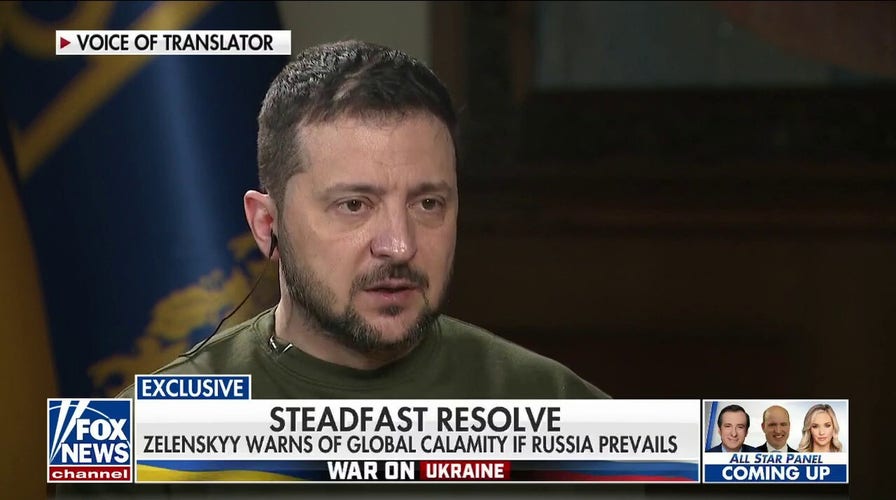 Video
Zelenskyy: If Ukraine falls, it would be the start of World War 3
Ukrainian President Zelenskyy sits down with Fox News correspondent Trey Yingst to discuss the war on 'Special Report.'
Ukrainian President Volodymyr Zelenskyy is set to visit the United Kingdom on Wednesday, his first trip to the area since Russia invaded Ukraine on Feb. 24, 2022.
The British government said Zelenskyy would first visit Britain, where he will meet with Prime Minister Rishi Sunak and make an address to Parliament.
The U.K. remains a top contributor to Ukraine amid the ongoing invasion, as it has sent the country more than $2.5 billion in military weapons and equipment.
The contributions include a pledge to send Ukraine Challenger 2 tanks, which British Prime Minister Rishi Sunak announced Saturday, along with additional artillery systems following a call with Zelenskyy.
MATT GAETZ RIPS 'BIPARTISAN COALITION' THAT FAVORS WAR IN UKRAINE: 'HOW MUCH MORE?'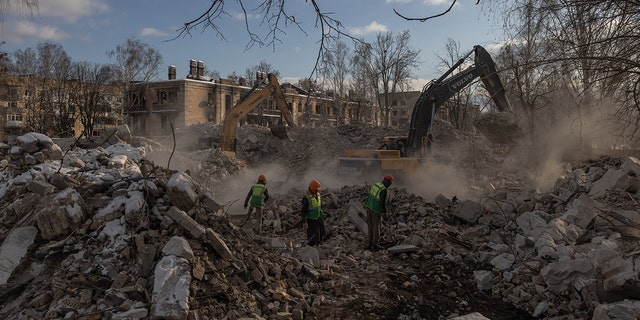 Demolition employees work on a site of a demolished residential building that was heavily damaged during Russian attacks, on Feb. 7, 2023, in Hostomel, Ukraine.  (Roman Pilipey/Getty Images)
The two leaders "agreed on the need to seize on this moment with an acceleration of global military and diplomatic support to Ukraine," according to a readout of the call from the British government.
France, Poland, Germany, and the United States have similarly agreed to send tanks.
UKRAINE: RUSSIA HAS SUFFERED RECORD 1,030 TROOP DEATHS IN A 24-HOUR SPAN
Following a consolidation by Russian forces, Ukraine's war has ramped up in recent months and, Russia and Ukraine look to bolster their own forces.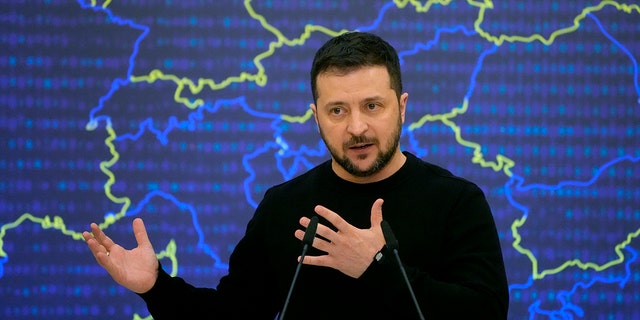 Ukrainian President Volodymyr Zelenskyy addresses a media conference after the EU-Ukraine summit in Kyiv, Ukraine, Friday, Feb. 3, 2023.  (AP Photo/Efrem Lukatsky)
The current battle remains in the Donbas, where intense fighting continues along a 50-mile region from Bakhmut and Soledar in Donetsk to Kremmina in Luhansk.
RUSSIA-UKRAINE WAR: WESTERN NATIONS SENDING TANKS 'PROLONGS THE WAR, CROATIA'S PRESIDENT SAYS
Zelenskyy's visit to the U.K. comes as Britain announced it will train Ukrainian pilots on "NATO-standard fighter jets." The U.K. has said it will not send U.K. planes.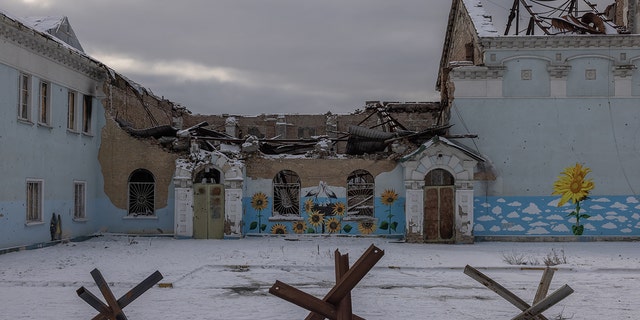 Paintings are seen on a wall of a heavily damaged during Russian attacks House of Culture, on Feb 7, 2023 in Irpin, Ukraine.  (Roman Pilipey/Getty Images)
CLICK HERE GO GET THE FOX NEWS APP
The visit will be Zelenskyy's second international trip since Russia launched the invasion, as he visited the U.S. in December last year.
Fox News' Caitlin McFall and The Associated Press contributed to this report.