close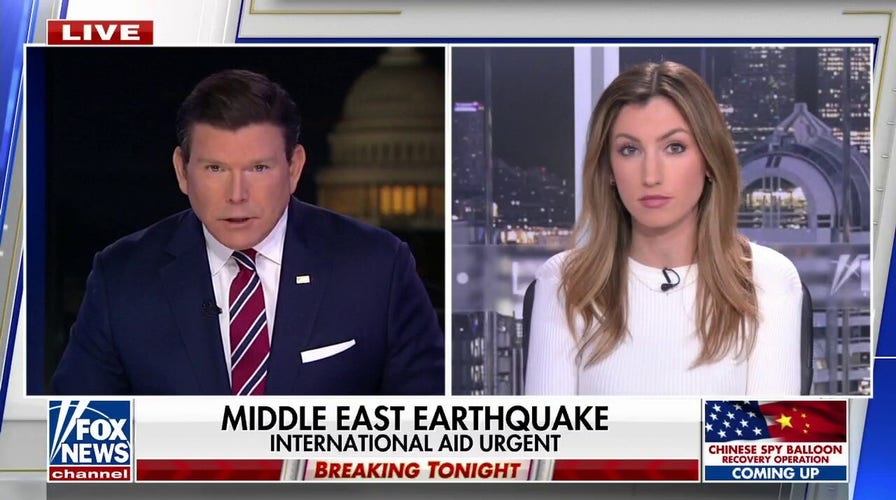 Video
Massive earthquake strikes Syria and Turkey
WARNING: Graphic Footage – Correspondent Alex Hogan reports on the Middle East earthquake that stunned the region on Monday morning, killing thousands on 'Special Report.'
The earthquake in Turkey and Syria has killed more than 9,400 people, making it the deadliest seismic event in more than a decade.
Turkish authorities updated the country's death toll on Wednesday to 6,957. In Syria's government-controlled area, the country's officials reported 1,250 deaths. The White Helmets, volunteer first responders in a rebel-held enclave of Syria, have reported 1,280 deaths.
More than 30,000 people have been injured from the Monday morning 7.8 magnitude earthquake, and the death toll is expected to continue to rise as rescue workers search for survivors underneath the rubble.
The quake is the world's deadliest seismic event since 2011, when a 9.0 magnitude quake off the northeast coast of Japan triggered a tsunami, killing nearly 20,000 people.
RESCUERS SEARCH FOR SURVIVORS IN TURKEY, SYRIA AFTER EARTHQUAKE LEAVES MORE THAN 5,000 DEAD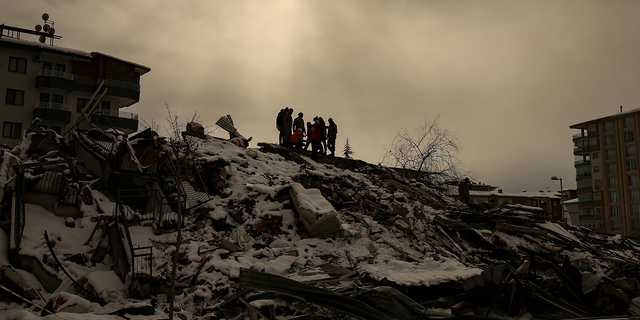 People try to reach people trapped under the debris of a collapsed building in Malatya, Turkey, Tuesday, Feb. 7, 2023.
Turkish President Recep Tayyip Erdogan will travel on Wednesday to the town of Pazarcik, the epicenter of the quake, and to the worst-hit province of Hatay. He has faced calls to send more support to the disaster areas. The country now has roughly 60,000 aid personnel in the quake-hit zone, but many people are still awaiting help since such a wide area was impacted.
The quake toppled thousands of buildings, and frigid temperatures and ongoing aftershocks have complicated rescue efforts.
Search teams from more than two dozen countries have been sent to help Turkey's emergency personnel, and the country has received numerous promises of aid.
In Syria, the quake knocked over thousands of buildings in the latest devastation to a country dealing with a 12-year civil war and refugee crisis.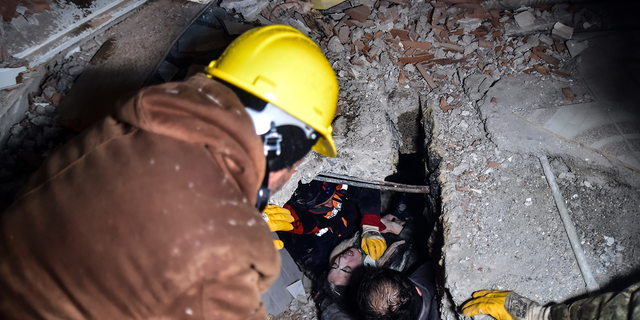 Emergency workers and medics rescue a woman out of the debris of a collapsed building in Elbistan, Kahramanmaras, in southern Turkey, Tuesday, Feb. 7, 2023.
MORE THAN 2,300 DEAD IN TURKEY, SYRIA AFTER 7.8 MAGNITUDE EARTHQUAKE
Turkey is home to millions of refugees from the war. The area in Syria impacted by the quake is divided between government-controlled territory and the country's last opposition-held enclave.
According to Adelheid Marschang, a senior emergencies officer with the World Health Organization, as many as 23 million people could be affected in the region struck by the quake.
Many survivors in Turkey have had to sleep in cars, outside or in government shelters after the quake forced them out of their homes.
People remove furniture and household appliances out of a collapsed building after a devastating earthquake rocked Syria and Turkey in the town of Jinderis, Aleppo province, Syria, Tuesday, Feb. 7, 2023.
CLICK TO GET THE FOX NEWS APP
Erdogan said 13 million people were in Turkey were affected. He declared a state of emergency in 10 provinces.
More than 8,000 people have been pulled from the debris in Turkey, and roughly 380,000 have taken refuge in government shelters or hotels, according to authorities.
In Syria, aid efforts have been hindered by the war and the isolation of the rebel-held region along the border. The United Nations said it was "exploring all avenues" to deliver supplies to the rebel-held northwest.
The Associated Press contributed to this report