Gen Z and teens probably don't remember much about the simpler times of using older technology like digital photo and video cameras.
CLICK TO GET KURT'S CYBERGUY NEWSLETTER WITH QUICK TIPS, TECH REVIEWS, SECURITY ALERTS AND EASY HOW-TO'S TO MAKE YOU SMARTER
However, they are undoubtedly responsible for bringing them back on the market as sales are skyrocketing across the internet on popular sites like Etsy and eBay, all from people ages 25 and younger.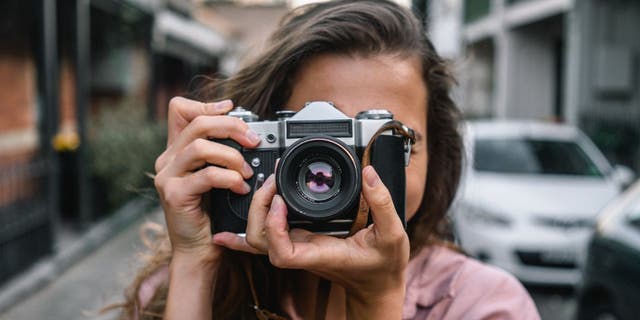 Digital cameras are starting to become popular again, for taking photos and video. (CyberGuy.com)
HOW TO RECORD THE SCREEN ON YOUR PHONE, TABLET OR COMPUTER
Why are digital cameras coming back? 
Similar to the comeback of turn-of-the-century fashion, digital cameras are gaining more and more popularity, especially among younger people. The oldest people within Gen-Z were born in 1997, 1998 and 1999, which would have made them elementary school-aged when digital cameras were at their peak popularity before smartphone cameras took over.
It has opened up a world of nostalgia for these younger folks, as many of them may not remember digital cameras at all or were at least too young to be able to appreciate them. Plus, it's making them work a little harder to get a decent photo, as the quality of these cameras is not as clean and crisp as the smartphones they're used to.
Where are Gen-Z people finding these cameras? 
In the last three months of 2022 alone, eBay saw a 13% rise in search traffic for "vintage digital camera" and a 52% rise for "refurbished camera."
Etsy has also seen a significant increase in the last six months, with more than 19,000 items currently linked to digital cameras listed online.
And perhaps the most popular platform people are viewing the cameras on is the widely used social media app TikTok. Within the last year, videos with the hashtag #digitalcamera have amassed more than 220 million views on the platform.
HOW TO SHARE YOUR WIFI PASSWORD WITH GUESTS
Where else can I buy a vintage digital camera? 
Amazon has a few great options for older digital cameras from various popular brands. Here are three options that we've found for you.
Sony (DSCW800) 20.1 MP Digital Camera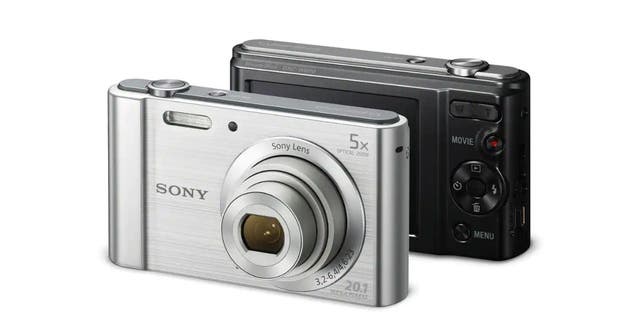 Two Sony Digital Cameras (Sony)
This Sony camera has a Sony Lens with 5x Optical Zoom, 720p HD Movie mode to capture any videos you want to take and a simplified camera menu with Easy Mode. Plus, you can reduce blur with SteadyShot Image stabilization. At the time of publishing, this product had over 1,300 global reviews with 58% giving It 5 stars. 
Get Sony (DSCW800) 20.1 MP Digital Camera
Kodak FZ53-BL Point and Shoot Digital Camera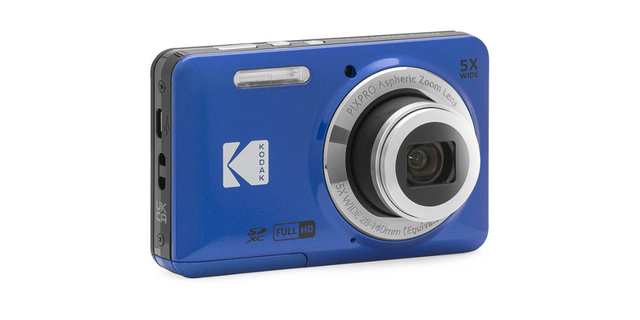 A blue Kodak Digital Camera (Kodak)
HOW TO LOOK BETTER IN SELFIES AND GROUP PHOTOS
This Kodak camera gives you a 16.1-Megapixel CCD sensor that allows you to enlarge, zoom and crop to your heart's content without losing out on life-like clarity or quality. The 28mm wide-angle lens lets you step up to a bigger frame and fit more of your subject without having to step back. And it takes a standard SD/SDHC memory card that is at least Class 4 and no larger than 32GB. At the time of publishing, this product had over 3,500 global reviews with 64% of consumers giving it 5 stars. 
Get Kodak FZ53-BL Point and Shoot Digital Camera
Samsung WB350F Smart WiFi & NFC Digital Camera
A Samsung Camera (Samsung)
This Samsung camera allows you to share your best photos instantly with family and friends with built-in WiFi with NFC. It also has other smart features, including social media uploading, email and more. It has 21x optical zoom for great shots up front or from a distance. At the time of publishing, this product had over 1,200 global reviews with 58% of consumers giving it 5 stars. 
Get Samsung Smart WiFi & NFC Digital Camera
Will you be purchasing a vintage digital camera this year? Let us know which one you buy.
CLICK HERE TO GET THE FOX NEWS APP
For more of my tips, subscribe to my free CyberGuy Report Newsletter by clicking the "Free newsletter" link at the top of my website.
Copyright 2023 CyberGuy.com. All rights reserved. CyberGuy.com articles and content may contain affiliate links that earn a commission when purchases are made.