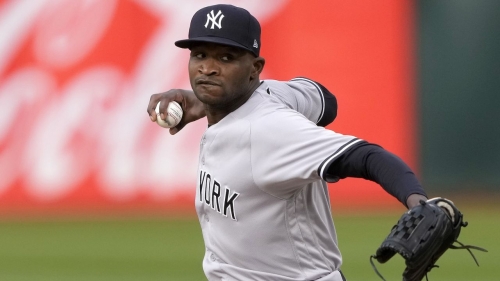 Domingo Germán threw a perfect game against the Oakland Athletics on June 28.
Thearon W. Henderson/Getty Images

CNN
—
New York Yankees pitcher Domingo Germán, who was on top of the baseball world after throwing a perfect game in June, has voluntarily agreed to enter inpatient treatment for alcohol abuse and was placed on the MLB's restricted list, the team announced Wednesday.
Germán has dealt with alcohol abuse in the past and said a "more recent situation emerged" Tuesday, Yankees general manager Brian Cashman said.
Cashman did not provide details about the situation but called it a "serious issue."
"Hopefully the steps that are being taken today will benefit him for the remaining part of his life. … I'm just worried right now for the person and for the immediate family," Cashman told reporters before the team's game against the Tampa Bay Rays on Wednesday.
Germán is not expected to pitch again this season, Cashman added.
"He's dealing with the most important issues right in front of him now," Cashman said.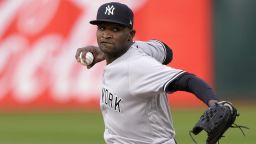 OAKLAND, CALIFORNIA – JUNE 28: Domingo German #0 of the New York Yankees pitches against the Oakland Athletics in the bottom of the first inning at RingCentral Coliseum on June 28, 2023 in Oakland, California. (Photo by Thearon W. Henderson/Getty Images)
Thearon W. Henderson/Getty Images
New York Yankees pitcher Domingo Germán throws 24th perfect game in MLB history
In June, 30-year-old Germán pitched his way into the record book, tossing MLB's first perfect game in nearly 11 years during the Yankees' 11-0 win over the Oakland Athletics.
It was just the 24th perfect game in major league history, and the first since Seattle Mariners pitcher Félix Hernández threw one against the Rays on August 15, 2012.
Germán pitched Monday against the Tampa Bay Rays, entering the game in relief after getting scratched from the start before first pitch. He threw five scoreless innings in the team's 5-1 loss.
Germán has a 5-7 record with a 4.56 ERA in 19 starts this season.
"It is critical that Domingo completely focuses on addressing his health and well-being. We will respect his privacy as he begins this process," the Yankees said in a statement.