close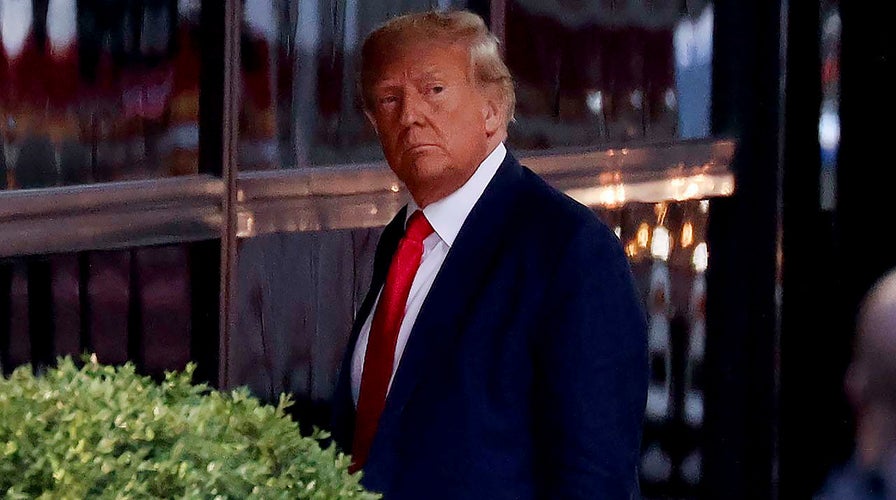 Video
WATCH LIVE: Follow along as former President Donald Trump is arraigned at a NYC courthouse
A grand jury indicted the former president last week.
World leaders have been notably quiet on the historical indictment of former U.S. President Donald Trump as he prepares to head into a Manhattan courtroom Tuesday, though the same cannot be said for world news outlets.
Despite the almost ambivalent response to Trump's arraignment from international leaders, social media and traditional media outlets have been racing to keep up with the flurry of click-worthy news for readers abroad.
France's top publication Le Monde on Tuesday broke down what Trump has been investigated for in a case that has been five years in the making in a report dubbed "Trump: The main investigations threatening the former US president."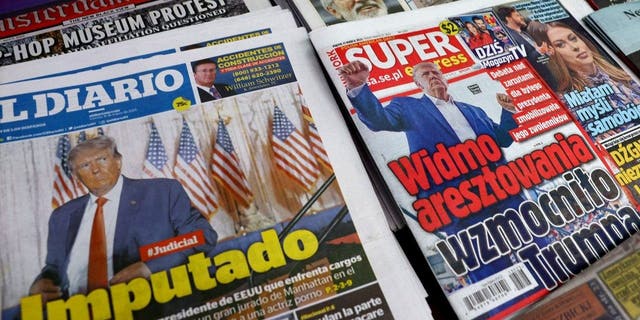 International newspapers are displayed at a newsstand following former President Donald Trump's indictment by a Manhattan grand jury in New York City, March 31, 2023. (Reuters/Mike Segar)
TRUMP'S INDICTMENT PUTS HIM IN SAME COMPANY AS BERLUSCONI, NETANYAHU, OTHER WORLD LEADERS
The French outlet has been covering Trump's case since he was first indicted last week, with one editorial report calling it "A new test for an American democracy under strain."
But France is not the only European nation to take an immediate interest in the former president's historical indictment.
Germany's DW dedicated an entire front page sector, positioned right below its top breaking news headlines, to Trump's legal woes.
The Times of London on Tuesday similarly had a live portion of its website dedicated to Trump updates headlined, "New York braced for protests as Trump to face court."
The BBC's top link was titled, "Tight security as Trump due to surrender to New York court" and once clicked on it led to a plethora of related Trump indictment stories.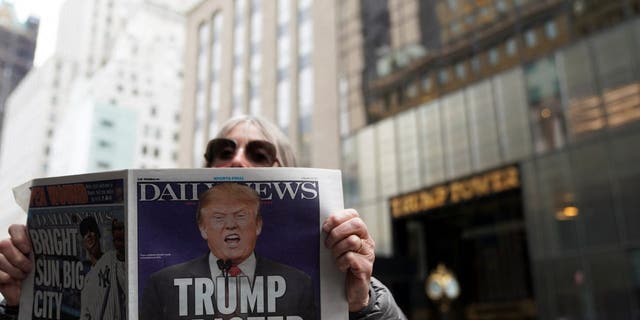 A person poses with a newspaper outside Trump Tower, after his indictment by a Manhattan grand jury, in New York City, March 31, 2023. (Reuters/David 'Dee' Delgado)
HUNGARIAN PM PICKS A SIDE AFTER MANHATTAN GRAND JURY INDICTS TRUMP: 'KEEP ON FIGHTING'
Publications across Israel, Turkey, South Korea, Japan and Australia had Trump's face splashed across their news sites Tuesday as viewers worldwide wait to see what will come out of the day's proceedings.
Since his indictment was announced last week, world leaders have been notably silent on the case that has rankled the former president's GOP supporters, who have accused the New York judicial system of being weaponized for political aims.
But Russian spokesperson Dmitry Peskov, who does not typically mince words, told Russian media outlet TASS that the issue was an "internal U.S. [process] that we do not consider necessary to comment on."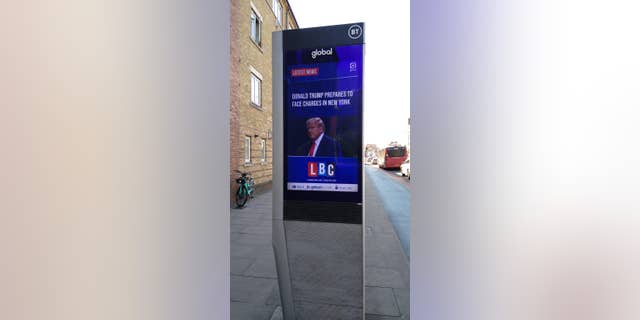 A billboard for U.K. radio station LBC with the latest news on Donald Trump's indictment.
TASS, like other European outlets, has tracked the Trump legal saga, but it has released roughly one story a day since the indictment, as opposed to the numerous reports produced by other international outlets.
The Chinese government has also not addressed the issue in any of its daily press briefings since the indictment was announced last week.
Though Trump did see some backing from supporters in China, who took to the Twitter-like Weibo platform to voice their frustration with the indictment, reported Business Insider.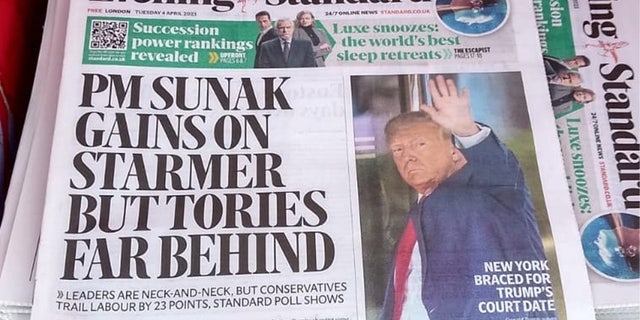 The U.K.'s Evening Standard awaits arraignment of Donald Trump.
CLICK HERE TO GET THE FOX NEWS APP
"Donald Trump, don't back down. America is big enough to be split into two. Do what you need to do, MAGA!" one commenter reportedly said.
While another posted, ""If Trump is arrested, it will signal the corruption of the American spirit."
Caitlin McFall is a Reporter at Fox News Digital covering Politics, U.S. and World news.