close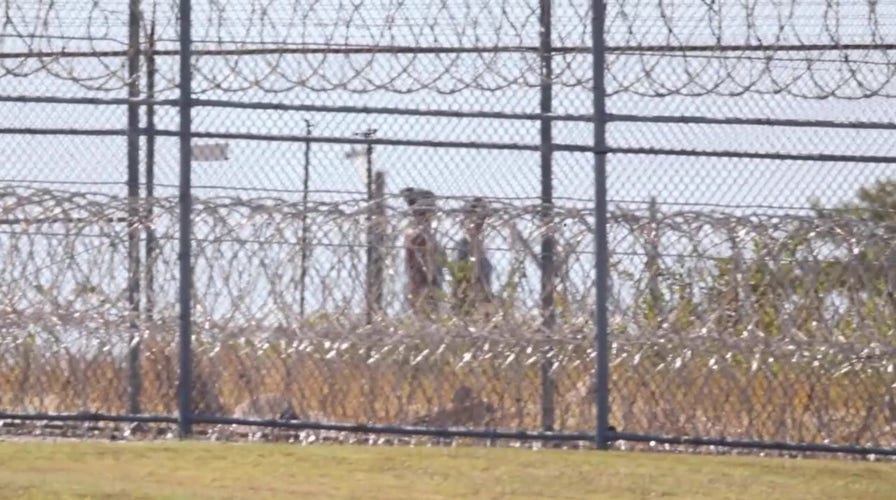 Video
Ghislaine Maxwell exercises with buddy at Florida prison
Jefferey Epstein's former lover and cohort Ghislaine Maxwell was spotted exercising and socializing in a gray prison uniform this week.
At least 18 female guards in the U.K.'s "cushiest prison" have reportedly been fired or resigned amid a flurry of sordid sexual accusations — including claims of sex inside cells and one guard smuggling her underwear to an inmate.
HMP Berwyn, which is also Britain's largest facility, has been hit with various claims of illicit affairs and inappropriate relationships between guards and inmates since it opened in 2017, with three former workers sentenced in a 2019 scandal, the Mirror reported.
The publication obtained documents about the exits obtained through information requests showed the inappropriate relationships were more widespread than had been publicly known.
British outlets are reporting that the 18 women who were fired or resigned from a single jail is a "record," noting that since 2019, a total of 31 women across England and Wales have been fired from jails for intimate relationships with inmates.
EX-TENNESSEE COP AT CENTER OF 'COPS GONE WILD' SCANDAL CLAIMS SHE WAS SEXUALLY 'GROOMED' IN NEW LAWSUIT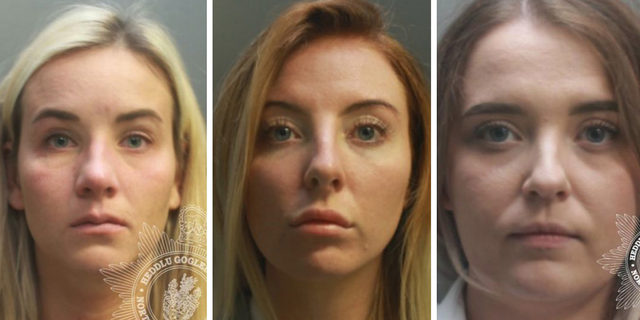 Mugshots for former prison guards Emily Watson, Ayshea Gunn and Jennifer Gavan .  (View Finder Pictures)
Former HMP Berwyn guard Jennifer Gavan, for example, was sentenced to eight months in jail last year after pleading guilty to misconduct. She accepted £150 — or about $180 — from inmate Alex Coxon to smuggle him a cellphone, which they later used to exchange raunchy photos, according to the Mirror. Coxon was in prison for robbery.
Mark Fairhurst, chair of the Prison Officers' Association, pinned blame on the recent spate of affairs and firings on "the wrong kind of women" getting hired.
"Staff being recruited don't have face-to-face interviews… it's all done on Zoom," Fairhurst told the Mirror. "A lot of people getting these jobs don't have enough life experience and are susceptible to conditioning from prisoners."
TENNESSEE SEX-ROMP COP SCANDAL: POLICE CHIEF FIRED AFTER CITY DISCOVERS HE KNEW OF ESCAPADES AMONG OFFICERS
"Your figures just prove what we've been warning the employer about for years."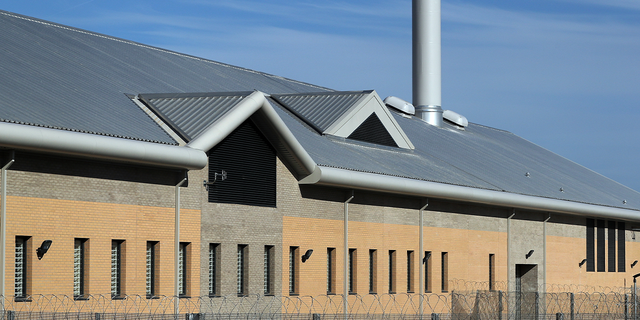 A general view of HMP Berwyn on March 15, 2017 in Wrexham, Wales. The mainly category C prison is one of the biggest jails in Europe capable of housing around to 2,100 inmates. (Dan Kitwood/Getty Images)
Another former guard, Emily Watson, was jailed for a year after having a fling with an inmate, John McGee, who was put behind bars for eight years for "causing death by dangerous driving," according to the Mirror. McGee was also described as a drug dealer.
TENNESSEE POLICE OFFICERS FIRED AFTER WILD ACCUSATIONS OF COP THREESOME, ON-DUTY SEXUAL ESCAPADES
She was jailed for performing a sex act on the inmate in his cell.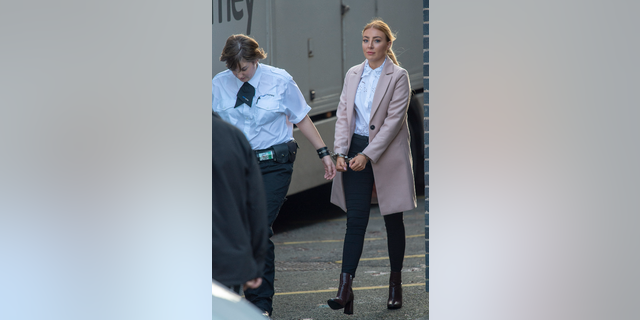 Former prison guard Ayshea Gunn in handcuffs.  (Andrew Price/View Finder Picture)
Another former guard, Ayshea Gunn, was jailed for one year back in 2019 after having a sexual relationship with inmate Khuram Razaq, who was serving a 12-year sentence for conspiracy to rob, according to Yahoo! News.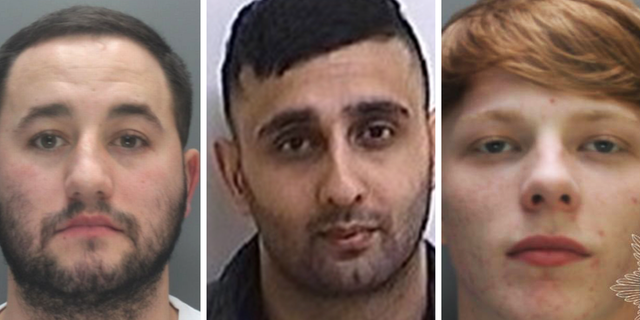 Booking photos for John McGee, Khuram Razaq, and Alex Coxon  (View Finder Pictures)
In court proceedings, Gunn was accused of smuggling a pair of her underwear to Razaq, and investigators found photos of Gunn and Razaq kissing among the former guard's possessions.
DETROIT COP RESIGNS AFTER RACY ONLYFANS PAGE DISCOVERED BY DEPARTMENT
Current staff at the prison were put through new corruption prevention training in a bid to curb the affairs, reports from earlier this year show.
"The overwhelming majority of Prison Service staff are hardworking and dedicated and we will not hesitate to punish those who break the rules," a Prison Service spokesman told Yahoo! News in January.
CLICK HERE TO GET THE FOX NEWS APP
"Over 500 members of staff at HMP Berwyn have undertaken corruption prevention training in the last 18 months and our enhanced security is protecting the prison against attempts to smuggle illicit items inside."