close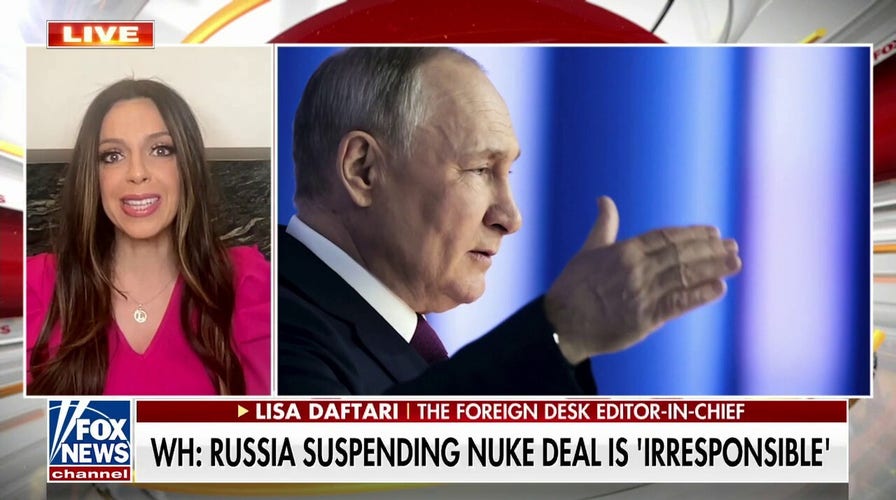 Video
Biden to meet with NATO allies in Poland as Russia suspends nuke deal
Foreign policy expert Lisa Daftari discusses Russia freezing nuclear treaty on 'Fox & Friends First.'
As war between Russia and Ukraine rages next door, Poland has been ramping up defense spending and modernizing its outdated military equipment.
Worried they could one day be in the crosshairs of the Kremlin, Poland aims to spend 4% of its GDP on defense this year. That's double the NATO requirement and would make Poland the biggest spender per capita on defense in the military alliance.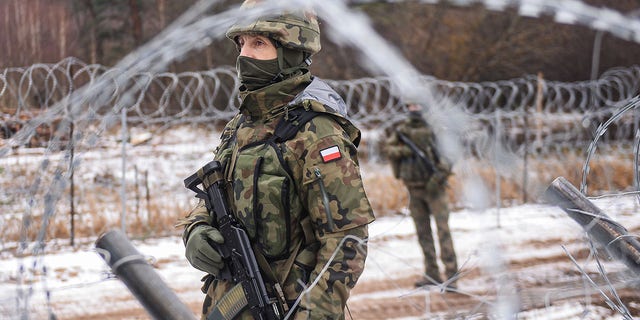 FILE: Polish army soldiers take part in a patrol by the barbed wire fence at the Polish Belarusian border during a media trip to the militarized area on January 13, 2022 in Kuznica, Poland.  (Omar Marques/Getty Images)
Plans to modernize its equipment were underway before Russian forces invaded Ukraine in February 2022. But the invasion sped up that process.
"The criminal assault carried out by the Russian Federation, targeting Ukraine, and the unpredictable nature of Putin means that we need to accelerate the equipment modernization even further," Mariusz Blaszczak, Poland's defense minister, told the Defence24portal.
POLAND, SLOVAKIA MAKE PLEA FOR FIGHTER JET SHIPMENTS TO UKRAINE
"It is of key importance to increase the levels of security as fast as possible for Poland. We can do this only by creating a strong military. Strong enough to deter any potential aggressor from deciding to attack."
Poland has ordered 1,000 K2 main battle tanks from South Korea and 250 M1A2 SEPv3 Abram Tanks from the U.S., The Telegraph reported. Another 600 K9s, 18 HIMARS launchers and 288 K239 Chunmoo MRL systems from South Korea are expected to arrive.
Meanwhile, the country is planning to more than double the size of its army to 300,000 troops – effectively making it the largest military – in terms of manpower – west of Ukraine.
"We are perceived as those who guarantee security on NATO's eastern flank," Poland's Prime Minister Mateusz Morawiecki commented at recent NATO training.
CLICK HERE TO GET THE FOX NEWS APP
"This is why our efforts to strengthen the army through arms purchases go hand-in-hand with strengthening NATO's presence on the eastern flank."
Bradford Betz is a Fox News Digital breaking reporter covering crime, political issues, and much more.