Your kitchen will soon be savvier than every other room in your house. An oven with AI tech to keep food from burning, a smart mixer that does the work for you, and a color-changing fridge are standouts for the kitchen of the future from the 2023 Consumer Electronics Show in Las Vegas.
CLICK TO GET KURT'S CYBERGUY NEWSLETTER WITH QUICK TIPS, TECH REVIEWS, SECURITY ALERTS AND EASY HOW-TO'S TO MAKE YOU SMARTER
Innovative new technology coming in 2023 is transforming the way we prepare, assemble and cook a meal. While we've often talked about how you can make your home smarter by switching out gadgets for "smarter" ones, these new products are taking everyone's favorite room in the house to the next level.
Team CyberGuy is on the ground in Las Vegas at the Consumer Electronics Show 2023. We're scouting all the new tech coming this year and in the future, and trust us – your kitchen is about to be heating up.
Kitchen tech wants to change how we think
Bespoke AI oven won't let you burn dinner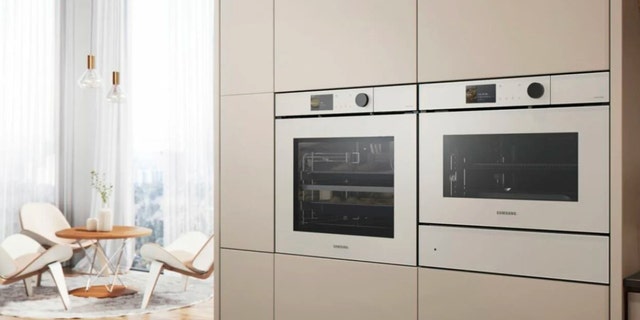 Check out the Bespoke AI Oven.
(Samsung)
Have you ever wanted to see a live image of your food while it's cooking inside the oven? Maybe not. However, Samsung is bringing us the ability to peek-a-boo at any temperature every time you bake. They are debuting their new Bespoke Lineup kitchen appliances, including this smart oven with a camera inside, so you no longer have to open the door and let out the heat to check how the food is looking as it cooks.
HOW TO CLEAR CACHE ON YOUR IPHONE TO SPEED UP YOUR DEVICE
The AI Oven includes a pro cooking system that uses a camera inside of it to tell when your food is burning or ready to be taken out. You can also integrate your oven with the Samsung SmartThings Cooking app to get recipes recommended based on your diet goals or the ingredients you have at home, making cooking even more of a breeze.
The Bespoke AI Oven will be available in the U.S. in late 2023 and is already available for order in Europe.
GE profile smart mixer with auto sense measures every ingredient
Here are some smart mixers with new capabilities.
(GE)
Baking is arguably the most difficult skill in the kitchen. It requires exactness in the kitchen like no other cooking task. Measuring ingredients becomes way more important, and timing is everything. GE is ready to make it easier for everyone with their new gadget they are calling the Smartest Mixer in the USA.
The mixer has a built-in smart scale so you can get the precise weight of ingredients to ensure your measurements are exact. The Auto Sense technology can not only tell when your measurements are precise – it can also tell exactly how long to mix the ingredients. Imagine using a normal mixing stand to make whipped cream and accidentally letting it go for too long and ending up with butter.
5 APPS THAT WILL HELP YOU STICK TO YOUR NEW YEAR'S RESOLUTIONS
This mixer takes that guessing away and is intended for hands-free use, giving you more time to work on other projects in the kitchen. You can control options and follow step-by-step instructions on your smartphone, making the machine's buttons more seamless and straightforward. The GE Profile Smart Mixer is priced at just under $1,000 and is now available to order as of January 2023.
LG's MoodUP color-changing fridge can boldly jump out or fade into the background
Check out this color-changing refrigerator.
Another appliance you may not have even known you wanted is a color-changing fridge. LG wants to not only change your kitchen's aesthetic, but they are also hoping to change your mood at the same time. The fridge has 4 panels you can select the colors for or choose a theme like "season" or "healing."
HOW TO CLEAR CACHE ON AN ANDROID FOR IMPROVED PERFORMANCE
If having a colorful fridge is not your style, you can opt for the Lux Grey/Lux White combo instead and just use the fridge for its features, like the built-in Bluetooth speaker or voice recognition. The colors are a way more fun option, though, if you want them to change along with the beat of the music playing from your fridge through the Wi-Fi and Bluetooth connections.
The fridge's lights also allow fun features like blinking when someone enters the kitchen or alerting you with flashing lights if the fridge door was left open accidentally. The MoodUP name pays homage to the soothing colors you can choose to change the ambiance of your kitchen to a more relaxing vibe. And speaking of vibe, the fridge comes with LG's craft ice maker, so you can cool down your cocktail with a perfectly round, large ice cube. The MoodUP fridge is expected to go on sale later this spring in the U.S.
CLICK HERE TO GET THE FOX NEWS APP
For more of my Tech tips, head over to CyberGuy.com and be sure to subscribe to my free CyberGuy Report Newsletter by clicking the "Free newsletter" link at the top of my website.
Copyright 2023 CyberGuy.com. All rights reserved. CyberGuy.com articles and content may contain affiliate links that earn a commission when purchases are made.