Tom Brady may be officially retiring (again), but his co-stars in the new movie "80 for Brady," Jane Fonda, Lily Tomlin, Sally Field and Rita Moreno, are still in the game.
In the comedy, based on a true story, Fonda, Tomlin, Field and Moreno play Brady-obsessed football fans who travel to Super Bowl LI in 2017, when the quarterback was still with the New England Patriots, in hopes of seeing him play in person.
"I'm a sports fan, and I think people, audiences, the world underestimates the huge sports audience that older women are," Field said in an interview for the film.
Brady also serves as a producer on the movie, and the cast couldn't help but be in awe of the titular quarterback's all-around appeal. In an interview, Field gushed, "Just being around him is fabulous. He's a terrific guy, and let's face it, he is one of the most dazzling athletes who's ever lived. It'll be a long time before another quarterback comes along to top his accomplishments."
TOM BRADY LEAVES '80 FOR BRADY' CO-STARS WANTING MORE: 'YOUR JAW DROPS'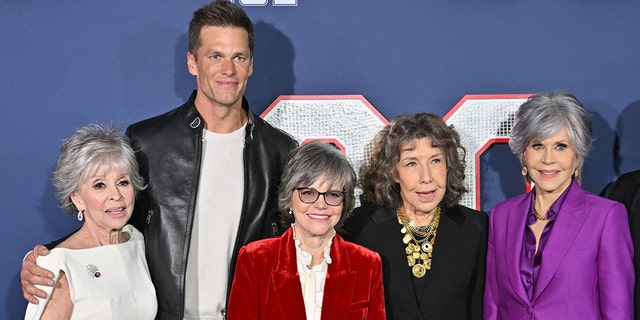 From left, Rita Moreno, Tom Brady, Sally Field, Lily Tomlin and Jane Fonda attend the Los Angeles premiere screening of Paramount Pictures' "80 For Brady."
(Axelle / Bauer-Griffin / FilmMagic / File)
The 45-year-old shared just as much admiration for his co-stars, saying in an interview, "It's really a once in a lifetime opportunity for me to be in their presence, to see them act. They are really the G.O.A.T.s in what they do."
"G.O.A.T" of course stands for "Greatest of all time," something the NFL legend has been dubbed on many occasions. And it's no surprise, given his seven Super Bowl rings. But Brady's trophy case barely holds a candle to the combined winning power of the movie's star cast.
Between the four of them, Fonda, Tomlin, Field and Moreno share 12 Emmys, five Oscars, three Tonys and two Grammys. Moreno can boast at least one of all four trophies that make up an EGOT, and she is the first Latina woman to do so.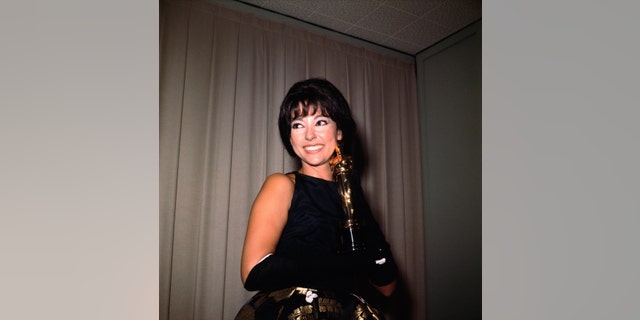 Rita Moreno won her Academy Award in 1962.
(Bettmann / Contributor)
Despite their incredible careers, "80 for Brady" marks the first time all four iconic actresses are together on-screen. For Fonda, who described it as a "fortuitous" opportunity, it was also a chance to work with women she calls friends.
TOM BRADY GETS RETIREMENT WELL-WISHES FROM GISELE BÜNDCHEN: 'ONLY WONDERFUL THINGS'
Fonda and Tomlin have most recently starred together in Netflix's "Grace and Frankie," a comedy about two women who form an unlikely friendship later in life. But the pair have known each other for more than 40 years, going back to when they first teamed up for the classic workplace comedy "9 to 5."
Of her fellow iconic castmates, Tomlin said, "Jane and I, people have just remarked so often over the chemistry we had on 'Grace and Frankie,' and I suppose it harks all the way back to '9 to 5.'"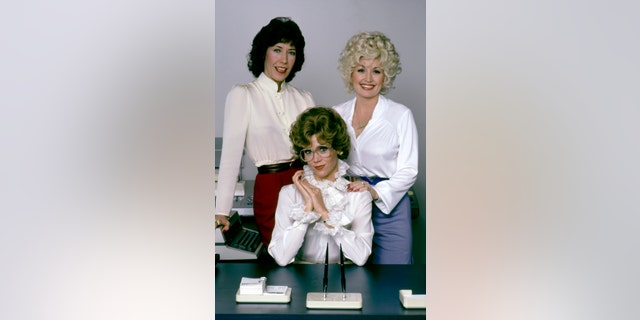 Lily Tomlin, left, Jane Fonda and Dolly Parton are shown on the set of "9 to 5."
(Twentieth Century Fox Film Corporation / Sunset Boulevard / Corbis via Getty Images / File)
She continued, "I have great admiration for her. And I love the other two women, too. I mean, they've had incredible careers, and they're just all around very accessible, sweet, very kind, very irreverent. So, they're all the elements of a good time on the set."
"9 to 5" also starred Dolly Parton, who wrote and performed the movie's iconic song of the same name, and she serves as an unexpected focal point for all four stars to cross paths.
For example, Moreno wasn't in the movie "9 to 5," but she was in the ABC sitcom based off of the film, where she met Parton, who re-recorded the song for the series.
As for how Field ties into this web, she and Parton starred together in another classic female-led film, 1989's "Steel Magnolias."
TOM BRADY RESPONDS TO ROB GRONKOWSKI'S SUGGESTION THAT HE DATE SALLY FIELD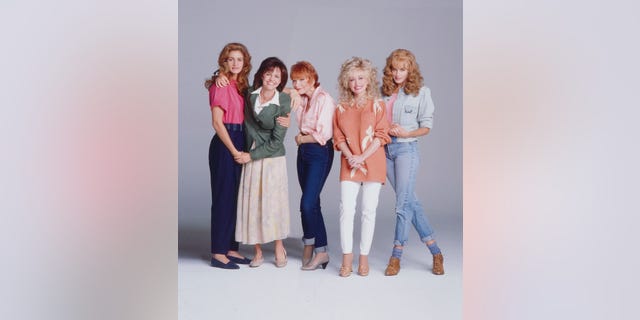 The cast of "Steel Magnolias" includes, from left, Julia Roberts, Sally Field, Shirley MacLaine, Dolly Parton and Daryl Hannah.
(Aaron Rapoport / Corbis / Getty Images / File)
When it comes to "80 for Brady," Parton doesn't appear in the movie, but she does perform alongside another super group of singers made up of Belinda Carlisle, Cyndi Lauper, Gloria Estefan and Debbie Harry on the original song for the film, "Gonna Be You."
The song was written by 14-time Oscar-nominee Diane Warren, who wanted to assemble a dream team of singers.
"Since 80 was in the title I got a crazy idea, why not get some of the most iconic singers from the 80s, who are still amazing and always will be, to all sing it?!!!!" Warren said in a press release for the film.
CLICK HERE TO SIGN UP FOR THE ENTERTAINMENT NEWSLETTER
But "80 for Brady" isn't just about bringing together iconic stars from Hollywood, sports and music. As Moreno explained in an interview, "[It's] a movie about friendship."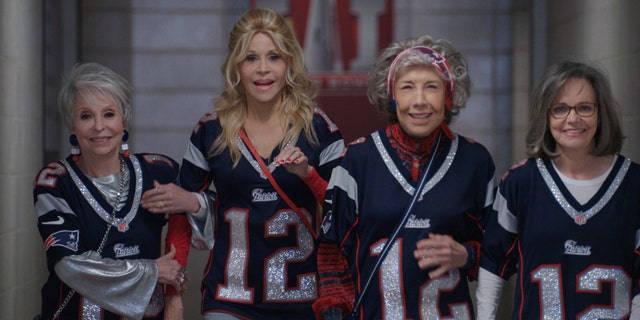 Rita Moreno, left, Jane Fonda, Lily Tomlin and Sally Field star in "80 for Brady."
(Paramount Pictures)
In fact, the story is actually inspired by a real-life group of older women who bonded over a shared love for Tom Brady.
Elaine St. Martin, Betty Pensavalle and three other friends, Anita, Pat and Claire, made watching Brady play a regular Sunday activity, according to "CBS News Sunday Morning." Though Brady moved to the Tampa Bay Buccaneers and is now retiring, the women continue to check in on each other.
"Good friends stick together and stay together and do for each other," Pensavalle told the outlet.
CLICK HERE TO GET THE FOX NEWS APP
That bond translates on screen with the stars of the movie, who are also excited to highlight older women. As Moreno said, "I think what it does that is most unusual is that it enlightens the audience about what it's like to be an older person, an older woman. You just don't usually see that."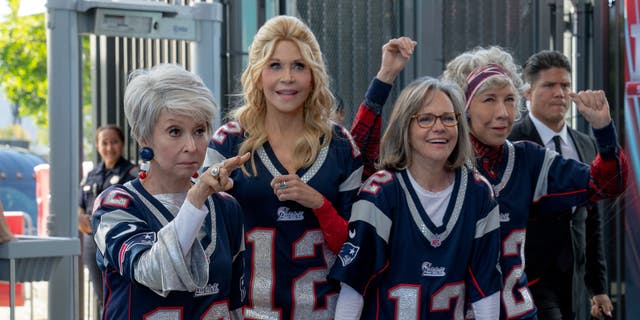 Rita Moreno, left, Jane Fonda, Sally Field and Lily Tomlin showcase their friendship in "80 for Brady."
(Scott Garfield / Paramount Pictures)
Fonda continued the idea that aging doesn't have to stop life's joy in an interview with AARP the Magazine.
"I think as you get older, you get better at almost everything," she said. "I love my work more than ever, and it feels more balanced now. I take things in stride more than I once did. Things are a little simpler."
"80 for Brady" is in theaters on Feb. 3.