Former President Trump's Fourth of July celebration at the Mount Rushmore monument in 2020 sparked calls to alter or even tear down the monument that are still having a political impact years later.
Just this week, Rep. Dusty Johnson, R-S.D., introduced the Mount Rushmore Protection Act, which would prohibit the use of federal funds to change, destroy or rename the Mount Rushmore National Memorial. That bill is aimed at heading off a renewed push from protesters and activists who oppose the memorial, which features the busts of Presidents George Washington, Thomas Jefferson, Theodore Roosevelt and Abraham Lincoln.
Historically, those protesters have been Native American tribes who have argued that the monument was built on sacred land that was stolen from them after gold was discovered.
NOEM VISITS MOUNT RUSHMORE, SLAMS BIDEN ADMINISTRATION FOR BLOCKING FIREWORKS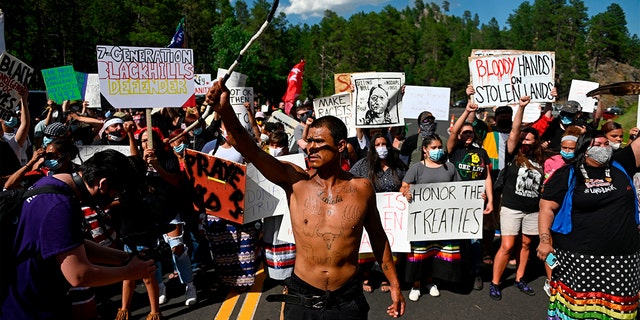 Activists and members of different tribes from the region block the road to Mount Rushmore National Monument as they protest in Keystone, South Dakota, on July 3, 2020, during the visit of former President Donald Trump. 
GOP MOVES TO PROTECT MOUNT RUSHMORE FROM ACTIVISTS LOOKING TO RENAME IT OR TEAR IT DOWN
"Nothing stands as a greater reminder to the Great Sioux Nation of a country that cannot keep a promise of treaty than the faces carved into our sacred land on what the United States calls Mount Rushmore," Harold Frazier, chairman of the Cheyenne River Sioux Tribe in South Dakota, said at the time of Trump's visit.
"The United States of America wishes for all of us to be citizens and a family of their republic, yet when they get bored of looking at those faces we are left looking at our molesters," Frazier wrote. "We are the ones who live under the stare of those who have wronged us while others have the privilege to look away and move on, we cannot."
Julian Bear Runner, president of the Ogala Sioux tribe, echoed that sentiment around the time when Trump's visit was being discussed, and advocated for the monument to be torn down.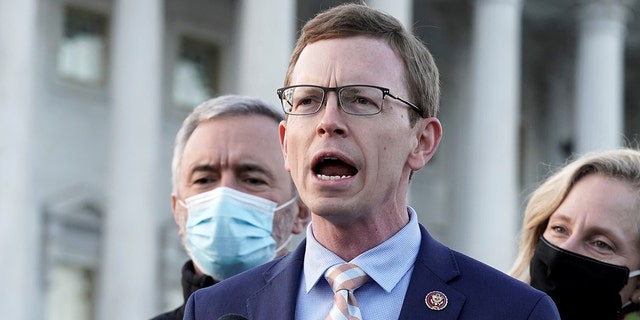 Rep. Dusty Johnson, R-S.D., introduced a bill this week to preserve Mount Rushmore 
(REUTERS/Ken Cedeno)
KRISITI NOEM SAYS BIDEN ADMIN BLOCKED JULY 4 MT. RUSHMORE FIREWORKS FOR THIRD STRAIGHT YEAR
"I don't believe it should be blown up, because it would cause more damage to the land," he said, according to a report in the Argus Leader. "But there are other methods to take down the monument that would have less environmental impact."
"Removed but not blown up," he said.
The controversy dissipated some after Trump left office, but last year, former NBA player Jalen Rose called on people to retire the term "Mount Rushmore," because the monument sits on land that was "stolen . . . when it was discovered that it contained gold."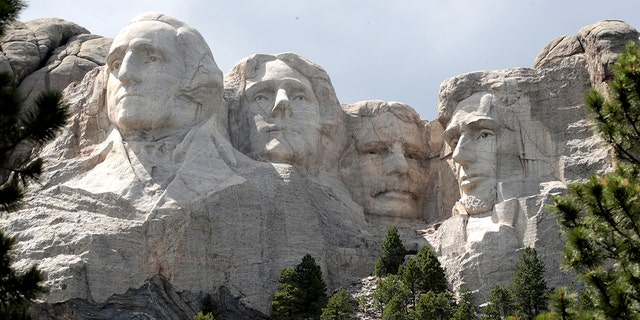 The busts of U.S. presidents George Washington, Thomas Jefferson, Theodore Roosevelt and Abraham Lincoln tower over the Black Hills at Mount Rushmore National Monument on July 1, 2020 in Keystone, South Dakota. 
(Scott Olson/Getty Images)
Johnson's bill, cosponsored by several House Republicans, acknowledged this week that "our nation's history is not without its flaws."
"But there is no doubt the faces on Mount Rushmore represent democracy, freedom and the great American experiment," Johnson said. "Removing or changing Mount Rushmore will not change the past and will not move us forward as a country. We must protect Mount Rushmore for generations to come."
It's likely Johnson's bill will be met with opposition from those tribes and other organizations who are advocating for the monument's removal if House Republicans try to move it this year.
CLICK HERE TO GET THE FOX NEWS APP
Meanwhile, the monument is wrapped up in another controversy. Earlier this month, South Dakota Republican governor Kristi Noem announced that the Biden administration, through the National Parks Service, had rejected her request for a July 4, 2023, fireworks display at the historic monument in the Black Hills for the third year in a row.
The Ogala Sioux and Cheyenne River Sioux Tribes did not immediately return Fox News Digital's request for comment on the new legislation.