close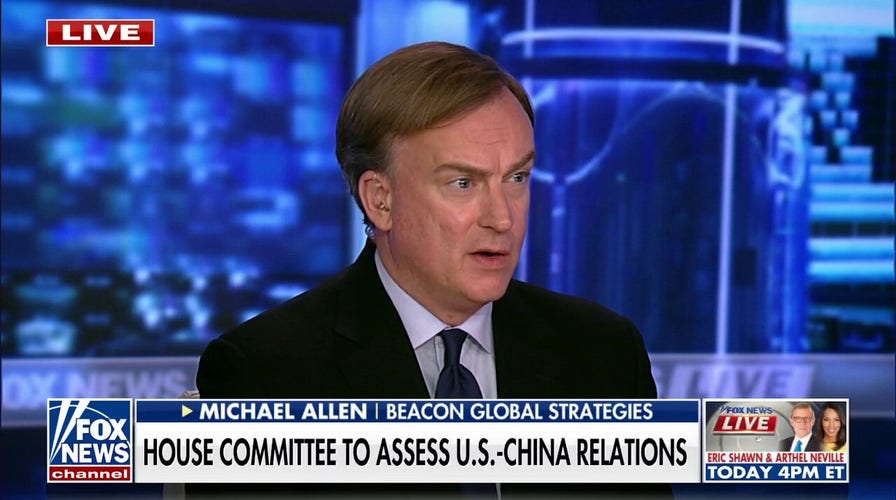 Video
Monitoring China is a 'terrific initiative' by Kevin McCarthy: Michael Allen
Beacon Global Strategies managing director Michael Allen breaks down why House members should take a closer look at America's relationship with China on 'Fox News Live.'
The World Health Organization is urging China to keep releasing COVID-19 data after Beijing on Saturday reported nearly 60,000 coronavirus-related deaths since Dec. 8.
Beijing's announcement was the first official death toll since the ruling Communist Party abruptly dropped antivirus restrictions in December despite a surge in infections that flooded hospitals. That left the WHO and other governments appealing for information, while the United States, South Korea and other countries imposed controls on Chinese visitors.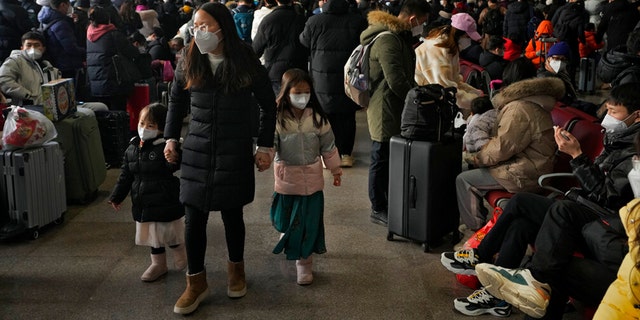 A woman and children wearing face masks walk by masked travelers wait at a departure hall to catch their trains at the West Railway Station in Beijing, Sunday, Jan. 15, 2023.
(AP Photo/Andy Wong)
Previously the Chinese Center for Disease Control and Prevention had only reported 36 deaths from Dec. 7 and Jan. 8, according to the Washington Post.
In the revised death toll, Beijing said 5,503 people died of respiratory failure caused by COVID-19 and there were 54,435 fatalities from cancer, heart disease and other ailments combined with COVID-19 between Dec. 8 and Jan. 12.
OMICRON SUBVARIANT XBB.1.5 POSSIBLY MORE LIKELY TO INFECT THOSE WHO ARE VACCINATED, OFFICIALS SAY
The latest figures marked a significant increase from the previous dubiously-low death total of 10,775 since the disease was first discovered in Wuhan in 2019.
The WHO said Beijing's announcement on Saturday "allows for a better understanding of the epidemiological situation."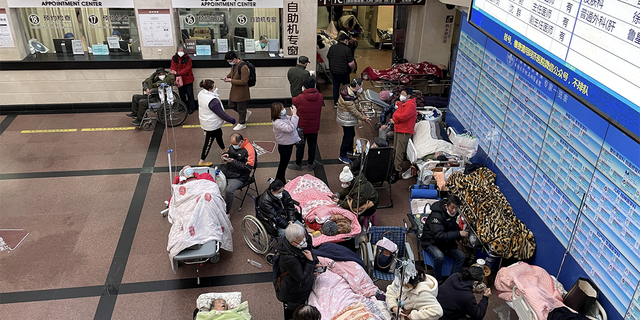 Patients lie on beds and stretchers in a hallway in the emergency department of a hospital, amid the coronavirus outbreak in Shanghai, China January 4, 2023. 
It said the WHO director-general, Tedros Adhanom Ghebreyesus, talked by phone with Health Minister Ma Xiaowei.
"WHO requested that this type of detailed information continued to be shared with us and the public," the agency said.
The National Health Commission said only deaths in hospitals were counted, which means anyone who died at home wouldn't be included. It gave no indication of when or whether it might release updated numbers.
CHINA STRUGGLES TO DISMANTLE CONTROVERSIAL 'ZERO COVID' POLICIES
A health official said the "national emergency peak has passed" based on an 83% decline in the daily number of people going to fever clinics from a Dec. 23 high.
China has counted only deaths from pneumonia or respiratory failure in its official toll, which excludes many fatalities that might be attributed to the virus in other countries.
Meanwhile, high-speed train service resumed Sunday between China's mainland and Hong Kong under restrictions that allow 5,000 passengers from each side to make the trip daily and require a negative virus test within the previous 48 hours.
CLICK HERE TO GET THE FOX NEWS APP
The two sides are reopening travel links that were suspended under Beijing's "zero-COVID" strategy, which aimed to keep the virus out of China. Hong Kong imposed different but similarly severe restrictions that blocked most international travel.
The Associated Press contributed to this report.
Bradford Betz is a Fox News Digital breaking reporter covering crime, political issues, and much more.