The White House on Monday had no comment on whether it will pursue additional law enforcement accountability measures in the wake of video that showed five police officers beating Tyre Nichols, who later died from his injuries.
President Biden last year signed an executive order that he said would "deliver the most significant police reform in decades." But White House officials did not respond to a Fox News Digital inquiry on how that order reformed police departments since its implementation, and whether he will pursue additional action himself.
The president signed the executive order in May after Congress was unable to pass police reform in response to the death of George Floyd at the hands of police. The executive order banned choke holds and limited the use of no-knock warrants for federal officers. It also required reports to a database of misconduct from federal officers, and encouraged, but did not require, similar reports from local law enforcement agencies.
TYRE NICHOLS' PARENTS, MONTEREY PARK SHOOTING HERO BRANDON TSAY INVITED TO STATE OF THE UNION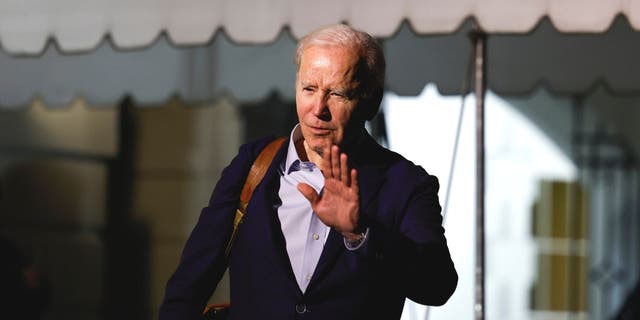 President Joe Biden told Congress to pass police reforms.
(Anna Moneymaker)
In his statement on the death of Nichols, Biden said "we must do everything in our power" to improve the criminal justice system, but offered no concrete ideas either through legislation, regulation or executive order to address the problem of police officers who abuse their authority.
"Real and lasting change will only come if we take action to prevent tragedies like this from ever happening again," Biden said. "That is why I called on Congress to send the George Floyd Justice in Policing Act to my desk. When Senate Republicans blocked that bill, I signed an executive order that mandated stricter use of force standards and accountability provisions for federal law enforcement, as well as measures to strengthen accountability at the state and local level."
TYRE NICHOLS' MOM SAYS MEMPHIS OFFICERS 'SHAMED THEIR FAMILIES'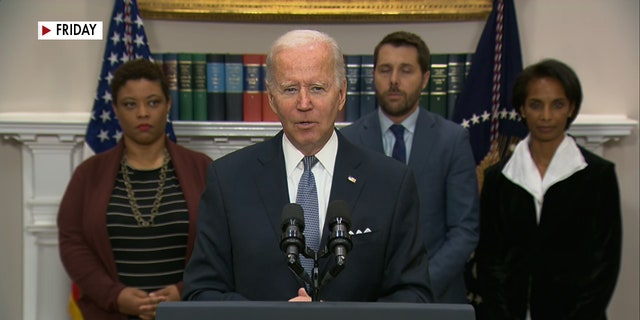 The White House has not promised any additional action on police reform after the death of Tyre Nichols.
(Fox News)
Negotiations for the George Floyd Justice in Policing Act stalled over whether to overhaul qualified immunity for police officers – a call from leading progressive groups on the issue such as the American Civil Rights Union and the Center for American Progress. Qualified immunity protects officers from lawsuits against misconduct or violent actions they take on the job.
The Washington Post tracker of fatal police shootings hit its highest level in 2022 at 1,096, despite Biden's executive order. Police have dealt with historic levels of violent crime since 2020.
Biden's executive order included plans to provide grants for local law enforcement reforms, as well as limitations on what military grade equipment can be purchased with federal dollars for police.
CALIFORNIA MASS SHOOTING: GUNMAN HUU CAN TRAN DIDN'T KNOW MONTEREY PARK DANCE HALL VICTIMS, SHERIFF SAYS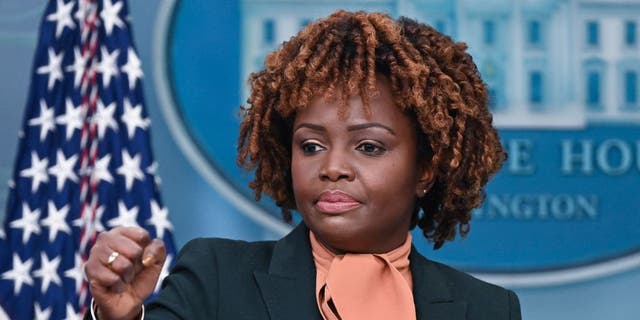 White House press secretary Karine Jean-Pierre said President Biden did what he could within his power to reform police enforcement.
(Andrew Caballero-Reynolds/AFP via Getty Images)
CLICK HERE TO GET THE FOX NEWS APP
White House press secretary Karine Jean-Pierre reiterated much of the president's statement on Nichols' death when asked if the White House would push for more police reform.
"Last year, the president called on Congress to send the George Floyd Justice in Policing Act to his desk," Jean-Pierre said. "When they didn't, he signed an executive order that included stricter use-of-force standards and accountability, provisions for federal law enforcement, as well as measures to strengthen accountability at the state and local level."