White House press secretary Karine Jean-Pierre on Friday refused to answer reporter's questions about the classified documents found at President Biden's Delaware home or the president's comment that he has "no regrets" about his handling of these materials.
During a press briefing, Jean-Pierre announced Biden is retreating to his home in Rehoboth Beach for the weekend. But when she was asked if his trip home had anything to do with the classified documents that were found at his Wilmington residence, Jean-Pierre dodged the question and referred reporters to the White House counsel's office or the Department of Justice for new developments.
"I'm not going to comment on that piece at all from here. I'm just going to continue to be prudent and consistent and respect the Department of Justice process," Jean-Pierre said.
Another reporter asked a follow-up question about a statement Biden made while touring California to observe storm recovery efforts on Thursday.
BIDEN, HUNTER MAKE PRESIDENTIAL HISTORY AS FIRST FATHER-SON DUO UNDER SEPARATE INVESTIGATIONS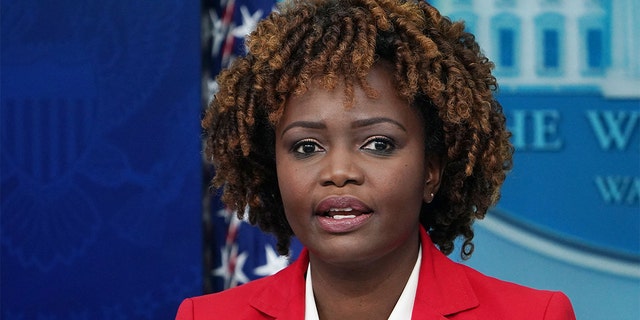 White House press secretary Karine Jean-Pierre speaks during the daily press briefing in the Brady Briefing Room of the White House in Washington, D.C., on Jan. 20, 2023. 
(MANDEL NGAN/AFP via Getty Images)
"We found a handful of documents were filed in the wrong place," Biden said. "We immediately turned them over to the Archives and the Justice Department. We're fully cooperating and looking forward to getting this resolved quickly."
He added: "I think you're going to find there's nothing there. I have no regrets. I'm following what the lawyers have told me they want me to do. It's exactly what we're doing. There's no there there."
BIDEN SLAMMED FOR SAYING HE HAS 'NO REGRETS' ABOUT CLASSIFIED DOCUMENTS: 'WHITE HOUSE KEEPS STONEWALLING'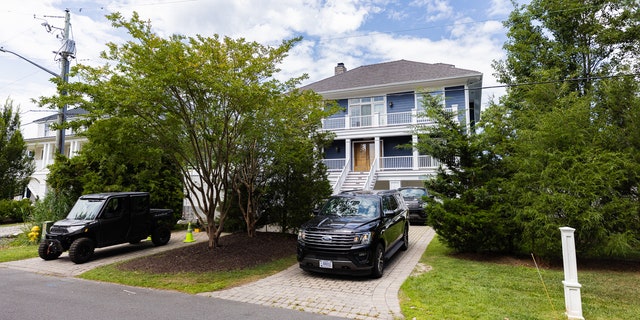 Rehoboth Beach, USA – JULY 19, 2022: President Biden's Delaware vacation home. Fox News Photo/Joshua Comins
(Fox News Photo/Joshua Comins)
Asked what he meant, Jean-Pierre refused to comment further.
"I'm not going to get into specifics, or I'm not going to go beyond what the president has said," she told reporters.
WHITE HOUSE PREVIEWS BIDEN RE-ELECTION MESSAGE ON TWO-YEAR ANNIVERSARY OF INAUGURATION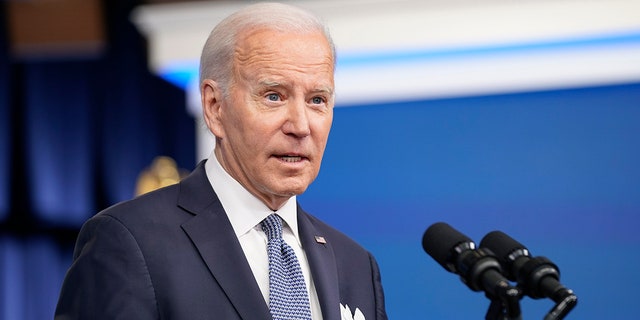 President Biden responds to questions from reporters after speaking about the economy in the South Court Auditorium in the Eisenhower Executive Office Building on the White House Campus, Thursday, Jan. 12, 2023, in Washington.
(AP Photo/Andrew Harnik, File)
"I will reiterate from here … basically what he said to all of you, many times at this point, that he does indeed take classified information seriously, he does indeed take classified documents seriously. I'm just not going to go beyond that," she added.
Jean-Pierre refused to comment on additional follow-up questions, letting "the president's words stand for itself."
The White House said Biden attorneys discovered classified documents and official records on four separate occasions — on Nov. 2 at the offices of the Penn Biden Center in Washington, on Dec. 20 in the garage of the president's Wilmington, Delaware, home, and on Nov. 11 and 12 in the president's home library.
CLICK HERE TO GET THE FOX NEWS APP
Biden previously lambasted his predecessor over his possession of such sensitive records.
Attorney General Merrick Garland last week appointed Robert Hur, a former Maryland U.S. attorney, to serve as special counsel to oversee the Justice Department's inquiry into the documents.
Fox News' Bradford Betz contributed to this report.