FIRST ON FOX: The White House is firing back at a call by Texas Republican lawmakers to reimburse the state for border efforts in the state, pointing to efforts by the Biden administration to secure money from Congress that have met with Republican opposition.
"If you want federal funds for border security, maybe next time don't vote against federal funds for border security?" White House assistant press secretary Abdullah Hasan told Fox News Digital.
The Texas Republican delegation had written to President Biden this week, calling on him to reimburse the Lone Star state for Operation Lone Star, by which the Texas government has surged resources to the border, built its own border wall and began bussing thousands of migrants to cities across the U.S.
"For the last two years, the State of Texas has been forced to take unprecedented steps to address this crisis," the 25 members of the GOP delegation, led by Reps. August Pfluger, Pat Fallon, Jody Arrington, Chip Roy and Tony Gonzales, said in the letter to Biden.
TEXAS REPUBLICANS DEMAND BIDEN REIMBURSE STATE FOR BORDER EFFORTS, SEEK MEETING ON ENDING CRISIS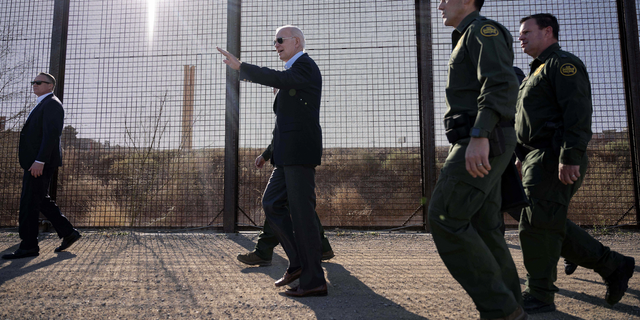 President Biden walks along the border wall at El Paso, Texas, on Jan. 8, 2023. 
Republicans have blamed the crisis on the Biden administration's rollback of Trump-era border policies. The Biden administration, in turn, has blamed Republicans for not funding border measures and for not passing a massive immigration reform bill introduced on Day One of the administration. Hasan, in his statement, was referring to the funding for border security in the FY 22 and FY 23 omnibus packages, which Republicans voted against, as well as a $4 billion request for additional funds for the border in December.
Fox News reported at that time that the funding, requested ahead of an expected end to Title 42 on Dec. 21 that was subsequently delayed, would have included funding for soft-sided facilities, migrant care, transportation, processing and the Emergency Food and Shelter program.
FY 2021 saw more than 1.7 million migrant encounters, topped in FY 2022 with a record 2.3 million encounters. So far, FY 23 has exceeded those numbers for the same period last year, with more than 250,000 migrant encounters in December alone.
OVER QUARTER OF A MILLION MIGRANT ENCOUNTERS IN DECEMBER ALONE, CBP CONFIRMS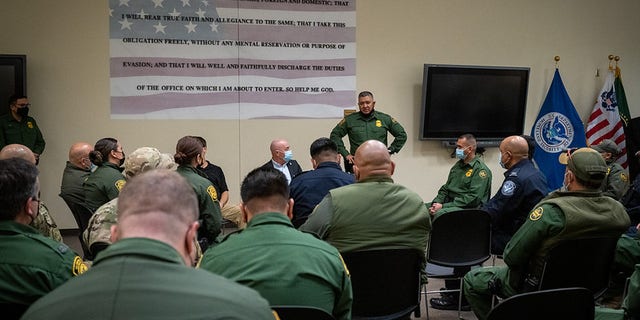 Homeland Security Secretary Alejandro Mayorkas visited the U.S. Customs and Border Protection unit in El Paso, Texas on Tuesday.
(Fox News)
The delegation's letter says the crisis was brought upon "by your administration's failed policies" and pointed to a flood of drugs, including fentanyl, and dead migrants being located in the state. "These towns should not be forced to reallocate their already exhausted resources to secure their communities."
The lawmakers urged Biden to "work with the Texas Delegation to pay Texas back for the resources expended through Operation Lone Star" and to work with the delegation to stop the migrant flow across the border. They also request a meeting "to discuss the border crisis and the solutions proposed by Members of the Texas Delegation to put an end to this crisis."
However, an administration official pushed back, telling Fox News Digital that President Biden is "focused on real solutions" and pointed to data the administration says suggests that recent border measures targeting Venezuelans, Cubans, Nicaraguans and Haitians have led to a drop in encounters among those nationalities."
"Unlike Operation Lone Star, which has put national guardsmen and law enforcement in dangerous situations and resulted in a logistical nightmare needing our support, President Biden's border enforcement measures have led to a dramatic drop in the number of migrants attempting to enter the country unlawfully," the official said.
BIDEN BLAMES GOP FOR SCORING 'POLITICAL POINTS' ON IMMIGRATION, AS BORDER NUMBERS HIT NEW HIGH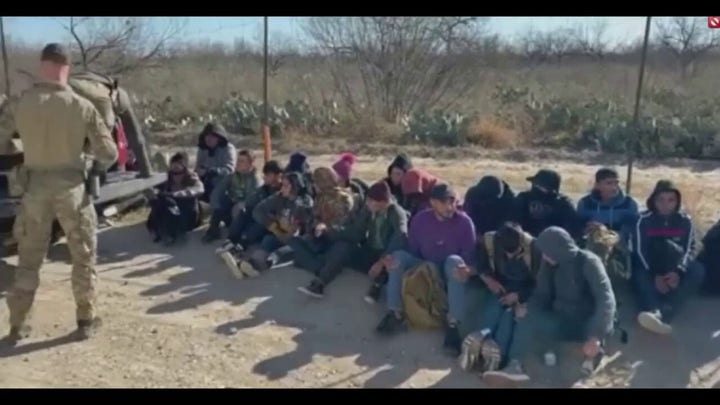 Video
The official also pointed to "unprecedented" anti-smuggling operations which had led to more than 7,000 arrests since they began in mid-2022.
"And his work to secure record levels of funding for border security and management are allowing us to catch record levels of fentanyl before it even crosses our border, support the 23,000 agents and officers dedicated to securing our border, and hire hundreds of new border agents for the first time in years," the official said.
The pushback from the White House is the latest sign that the battle over border security and immigration policy is likely only to heat up in the months ahead. Republicans, now having taken the House, have pledged to ramp up investigations — even raising the possibility of impeaching Homeland Security Secretary Alejandro Mayorkas.
Meanwhile, the White House has continued to raise the pressure on Congress to pass the immigration reform bill — which has failed to gain any Republican support due to its inclusion of a pathway to citizenship for millions of illegal immigrants already in the U.S.
CLICK HERE TO GET THE FOX NEWS APP
Biden said earlier this month that the work to secure the border can only be completed if "Congress enacts and funds a more comprehensive immigration plan that I proposed on day one."
He renewed that push at the weekend before the U.S. Conference of Mayors.
"The first bill I introduced was comprehensive reform legislation on immigration. But because of some in the Congress, they refused to consider it. They found it a better issue to campaign on than an issue to solve," he said.