EXCLUSIVE: Republicans on the House Natural Resources Committee warned several federal agencies in a letter Wednesday that they were planning sweeping oversight into various climate and energy programs.
The letter — which was led by Chairman Bruce Westerman, R-Ark., and signed by every other GOP member of the committee — was sent to Interior Secretary Deb Haaland, Agriculture Secretary Tom Vilsack, Commerce Secretary Gina Raimondo and White House Council on Environmental Quality Chair Brenda Mallory. It stated that, while they expected the agencies would cooperate with any investigations, committee Republicans were prepared to also employ compulsory processes.
"Our Republican majority will be using every available resource at our disposal to prevent waste, fraud, and abuse in the departments and offices under your purview," Westerman and the other Republicans wrote. "We will rigorously pursue information to best guide our policy decisions, and satisfy our obligations to hold Executive Branch officials accountable for any mismanagement of their delegated authority on behalf of the American public."
According to the letter, between 2021-2022, Republicans on the Natural Resources Committee received just 61 responses to their more than 230 collective document or information requests to the four agencies addressed in the letter. The Interior Department and its subagencies had the highest number of "outstanding and delinquent documents and information due" to the committee, they added.
REPUBLICANS SLAM DEMS FOR ABRUPTLY POSTPONING KEY HEARING WHERE INTERIOR SECRETARY SET TO TESTIFY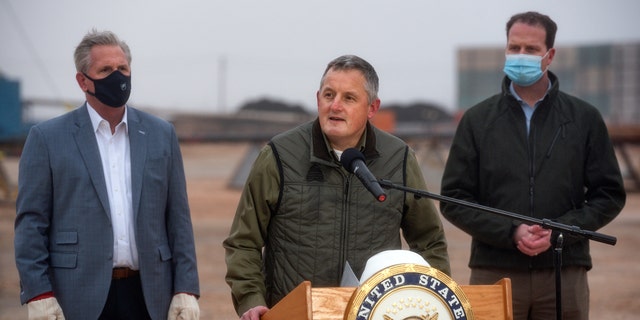 House Natural Resources Chairman Bruce Westerman, R-Ark., speaks alongside House Speaker Kevin McCarthy, R-Calif., and Rep. August Pfluger, R-Texas, on Feb. 10, 2021, in Midland, Texas.
(Eli Hartman/Odessa American via AP, File)
"Nearly 75 percent of our requests for transparency went ignored or unsatisfactorily answered," the lawmakers wrote.
"We intend to pull back the curtain and show how each taxpayer dollar is being spent by this administration and how this administration's failing policies are impacting American families."
HOUSE REPUBLICANS PREPARING TO GRILL JOHN KERRY OVER HIS OFFICE'S GREEN GROUP TIES, INTERNAL OPERATIONS
The committee Republicans also listed a series of programs — including the administration's 30×30 conservation initiative, the environmental harms from the migrant crisis at the southern border, environmental funding priorities, efforts to address economic security for Native American tribes and policies that curb fossil fuel production on federal lands — they would consider conducting oversight into.
They stated in the letter that the federal government's implementation of the programs "remain a black box to us and to the American people."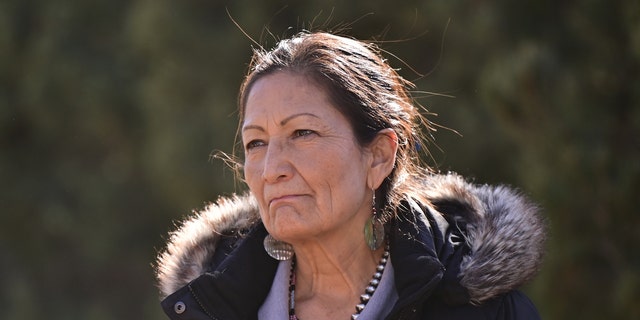 Interior Secretary Deb Haaland is pictured in Granada, Colorado, on Feb. 19, 2022. 
(Hyoung Chang/MediaNews Group/The Denver Post via Getty Images)
"President Biden and his administration have gotten far too comfortable with a lack of congressional oversight," Westerman told Fox News Digital in a statement. "That's about to change as Republicans get to work in the majority. Today's letter is the first of many from the Natural Resources Committee, highlighting that nearly 75% of our requests from the previous Congress have been ignored."
CLICK HERE TO GET THE FOX NEWS APP
"We've sought essential information on everything from the administration's energy plans to how they're using taxpayer dollars to fix our national parks, yet much of their projects and processes remain undefined, vague, or nebulous," he continued. "It's time to shine a long-overdue spotlight on the inner workings of our federal government."
"I have a lot of questions for this administration, and I'm prepared to use every tool at the committee's disposal to get answers for the American people," Westerman added.