White House Press Secretary Karine Jean-Pierre insisted that President Biden takes classified information seriously on Monday, just days after a fourth batch of documents with classified markings turned up during an FBI search of his home in Wilmington, Delaware.
Fox News White House Correspondent Peter Doocy asked if there is a "precedent for people running for president after the FBI searched their sock drawer?"
"Here's what the president's going to focus on. He's going to focus on continuing to deliver for the American people. That's his focus. That's what he focuses on every day," Jean-Pierre responded, adding that Biden does intend to run for president again in 2024.
In the latest discovery, the Justice Department said it seized "six items consisting of documents with classification markings" from his Wilmington estate during a 13-hour "planned, consensual search" by the FBI on Friday.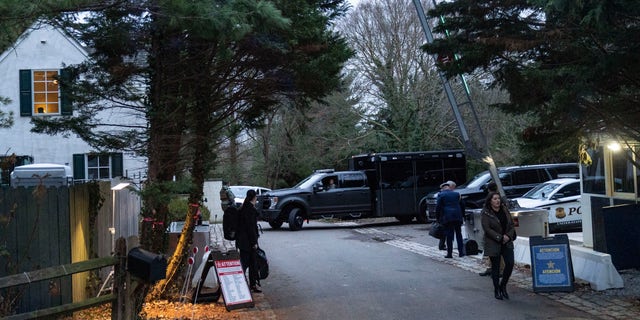 The access road to President Joe Biden's home in Wilmington, Del., is seen from the media van on Jan. 13, 2023.
(AP Photo/Carolyn Kaster, File)
Some of the classified documents were from his time as a U.S. senator, and others were from his tenure as vice president in the Obama administration.
BIDEN PREPARING FOR POTENTIAL 2024 RE-ELECTION BID BEHIND THE SCENES
Additional classified documents have also been found in Biden's garage and personal library in Wilmington, as well as at the Penn Biden Center think tank on Nov. 2, 2022.
"The president has been very clear that he takes this very seriously when it comes to classified information, when it comes to classified documents, and that his team has been fully cooperative with this legal matter," Jean-Pierre said Monday, referring other questions to White House counsel.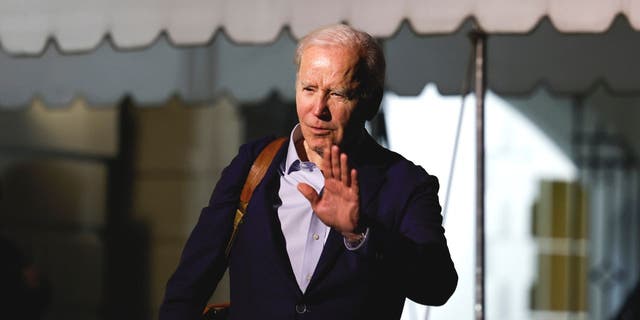 U.S. President Joe Biden walks to speak to reporters as he and first lady Jill Biden leave the White House and walk to Marine One on the South Lawn.
(Anna Moneymaker/Getty Images)
Republicans have sharply criticized the handling of classified documents by Biden, who called the discovery of classified documents at former President Trump's home "totally irresponsible" last year. Democrats have also offered milder criticism.
ROBERT K. HUR, BIDEN SPECIAL COUNSEL, OVERSAW INDICTMENTS OF TOP BALTIMORE OFFICIALS
Senate Majority Whip Dick Durbin, D-Ill., told CNN on Sunday that Biden should be "embarrassed by the situation," but that the president has been more transparent than Trump.
"It is outrageous that either occurred," Durbin told the news outlet. "But the reaction by the former president and the current president could not be in sharper contrast."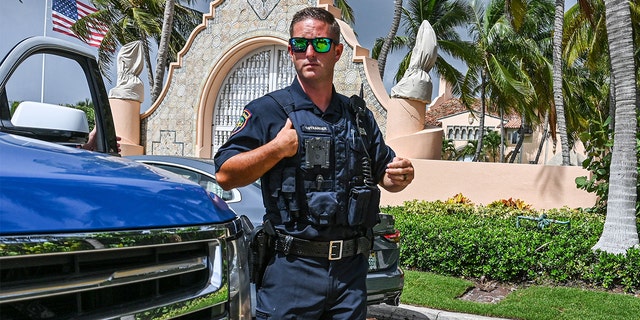 Local law enforcement officers are seen in front of the home of former President Donald Trump at Mar-A-Lago in Palm Beach, Florida on Aug. 9, 2022.
(GIORGIO VIERA/AFP via Getty Images)
Sen. Joe Manchin, D-W.Va., told NBC News on Sunday that Biden "should have a lot of regrets" and admit that he was "irresponsible."
Biden said that he doesn't regret how he's handled the ordeal while touring storm-damaged areas of California last week.
"I think you're going to find there's nothing there. I have no regrets," Biden said. "I'm following what the lawyers have told me they want me to do. It's exactly what we're doing. There's no there there."
CLICK HERE TO GET THE FOX NEWS APP
Attorney General Merrick Garland appointed former U.S. attorney Robert Hur as a special counsel to investigate Biden's handling of classified documents.