House Republicans this week will test the Democrats' stance on socialism by calling up a resolution that condemns the "horrors of socialism" and declares that the House "opposes the implementation of socialist policies in the United States of America."
The resolution from Rep. Maria Salazar, R-Fla., and House Majority Leader Steve Scalise, R-La., aims to put Congress on the record that socialism – an economic and political theory that calls for putting the means of production into the hands of a public collective – goes against America's founding principles.
Self-declared democratic socialists such as Reps. Alexandria Ocasio-Cortez, D-N.Y., and Rashida Tlaib, D-Mich., are likely to vote against it, but it's not clear whether every Democrat will follow their lead or how much it might split the party. Many Democrats in the U.S. have championed democratic socialism in what some say is an effort to make the U.S. look more like some European countries.
EX-HOME DEPOT CEO BLASTS 'SOCIALISM' FOR KILLING THE US WORK ETHIC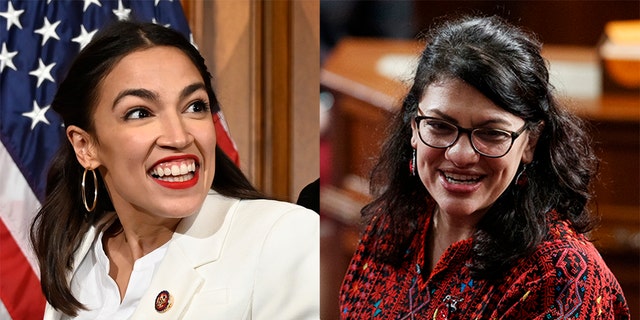 Reps. Alexandria Ocasio-Cortez and Rashida Tlaib have embraced democratic socialism, but other Democrats this week will be put the test on where they stand on socialism in the U.S.
(AP)
When asked about democratic socialism on MSNBC in 2020, Ocasio-Cortez said, "It's not about government takeover, it's about how much do workers have a say in your business. Do you have workers on the board? Do workers enjoy a decent amount of the wealth that they are creating?"
But the Republican resolution up this week says history shows that any move toward socialism "necessitates a concentration of power that has time and time again collapsed into Communist regimes, totalitarian rule, and brutal dictatorships."
It says socialist policies have led to "famine and mass murders, and the killing of over 100,000,000 people worldwide," along with some of the "greatest crimes in history" committed by Vladimir Lenin, Joseph Stalin, Mao Zedong, Fidel Castro, Pol Pot and others.
IS BERNIE SANDERS' 'DEMOCRATIC SOCIALISM' REALLY JUST SOCIALISM?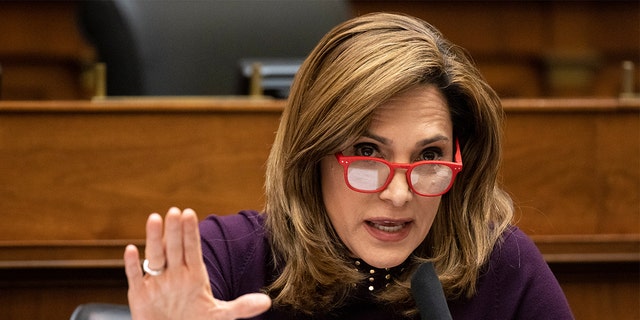 Rep. Maria Salazar will get a vote on her resolution this week that denounces the horrors of socialism.
(Getty Images)
"[B]etween 15,000,000 and 55,000,000 people starved to death in the wake of famine and devastation caused by the Great Leap Forward in China," the resolution notes. "[T]he socialist experiment in Cambodia led to the killing fields in which over a million people were gruesomely murdered."
Salazar, whose parents were exiled from Cuba, says she has firsthand knowledge of people who flee that country and others to live a better life in America.
"The district I represent is one that knows the failures of socialism all too well," Salazar said last week. "My constituents understand firsthand the consequences socialist ideology brought to our continent: misery, oppression, and exile. I am proud to introduce a resolution that makes it clear… socialism fails wherever it has been tried, and we don't want it here."
NEW HARMONY: AMERICA'S FAILED 19TH-CENTURY SOCIALIST EXPERIMENT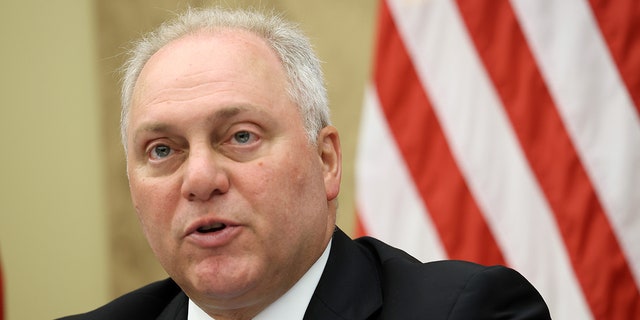 House Majority Leader Steve Scalise backs the resolution denouncing socialism, which will likely pass in the House this week.
(Kevin Dietsch/Getty Images)
Democrats and the Biden administration have been increasingly accused of pursuing a socialist agenda in the United States, and as examples critics have pointed to the trillions of dollars spent under Democrats over the last few years under laws like the Inflation Reduction Act. Last year, Senate Minority Leader Mitch McConnell, R-Ky., called President Biden's push to forgive student debt "student loan socialism."
The GOP resolution, which could come to the floor as early as Wednesday, holds that the U.S. was "founded on the belief in the sanctity of the individual, to which the collectivistic system of socialism in all of its forms is fundamentally and necessarily opposed."
CLICK HERE TO GET THE FOX NEWS APP
"Congress denounces socialism in all its forms, and opposes the implementation of socialist policies in the United States of America," it says.