close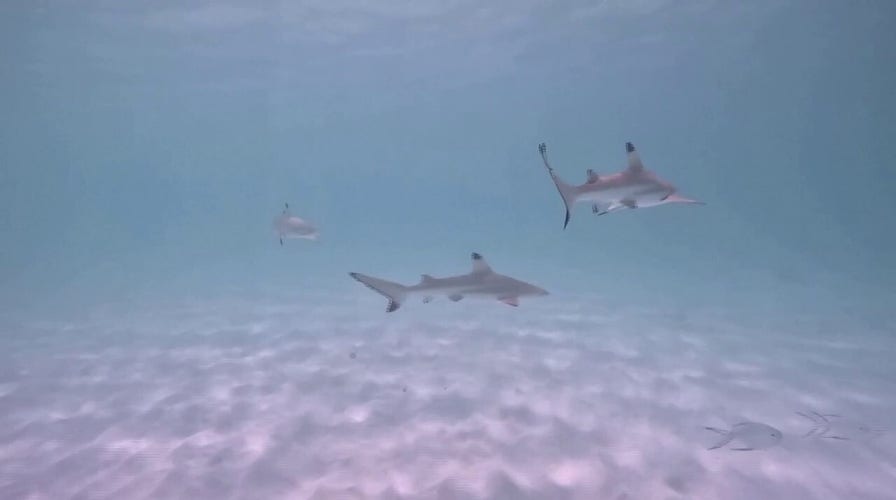 Video
Sharks and tourists compete for space on popular destination beach
Drone footage of Ko Phi Phi Leh featuring Maya Bay, longtail boat parking area, tourists watching newly born blacktip reef sharks swimming near the shore. (CREDIT: Reuters)
Sharks have returned in full numbers to a popular destination in Thailand, creating a difficult situation for an area looking to revive its tourism attraction.
Video of Maya Bay, located on the island of Ko Phi Phi Leh off the southwest of Thailand in the Andaman Sea, shows a heavy volume of beach-goers on the beaches and hesitant to walk deeper into the water as sharks swarm around in the waters just feet away.
"We don't talk about closing down everywhere or reducing the tourism numbers, but I think we are talking about managing it wisely," said Petch Manopawitr, a marine advisor to Thailand's National Parks Department.
The shark population returned and thrived over the past four years after a tourism ban and the COVID-19 pandemic restricted all visits to the area.
46-YEAR-OLD ELEPHANT EUTHANIZED AT OAKLAND ZOO DUE TO ARTHRITIS, OTHER AGE-RELATED PROBLEMS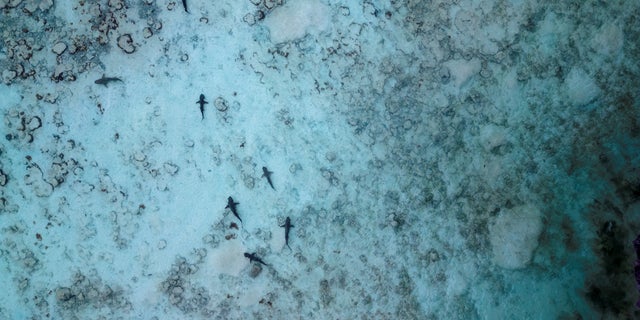 A group of eight juvenile blacktip reef sharks swim in the early morning, during low tide, in the shallow waters used as a nursery, in Maya Bay at the Phi Phi Island National Park, on Phi Phi Leh Island, Krabi province, Thailand, Feb. 27, 2023. Blacktips, named after the distinctive black colouring on their dorsal fins and tails, roam the Andaman Sea and other tropical regions in decreasing numbers due to overfishing, according to the International Union for Conservation of Nature. (Reuters/Jorge Silva)
The beaches of the island came to prominence following the Leonardo DiCaprio movie "The Beach," released in 2000. At its peak, the island saw 5,000 tourists and 200 boats a day, according to The Guardian.
Local authorities grew concerned with the extensive environmental damage caused by the spike in tourism and announced a "temporary closing" from June 1, 2018. The pause extended from four months to four years, partially due to travel bans implemented to combat the coronavirus.
US LAWSUIT SEEKS TO PROTECT HABITAT OF ENDANGERED CORALS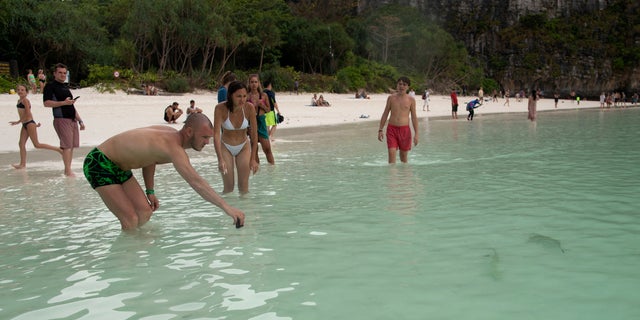 Tourists watch a newborn blacktip reef shark at the beach in Maya Bay at the Phi Phi Island National Park, on Phi Phi Leh Island, Krabi province, Thailand, Feb. 25, 2023. Under pressure from tour operators, authorities reopened Maya Bay in January 2022 after four years of closure, and visitor and revenue figures are once again rising steadily. (Reuters/Jorge Silva)
Authorities allowed limited tourism to resume in 2022, but observation through the use of drones and underwater cameras allowed researchers to track the number of sharks and notice a decline once tourism was up and running again.
Tourism accounted for 12% of Thailand's GDP before the pandemic, and revenue for Phi Phi Island National Park dropped by almost half following the tourism ban. The government remains keen to recapture that significant income, but conservationists have pressured for new restrictions, which the government has implemented.
ORANGE LADYBUGS AND THE SPIRITUAL MEANING BEHIND THE INSECT: WHAT TO KNOW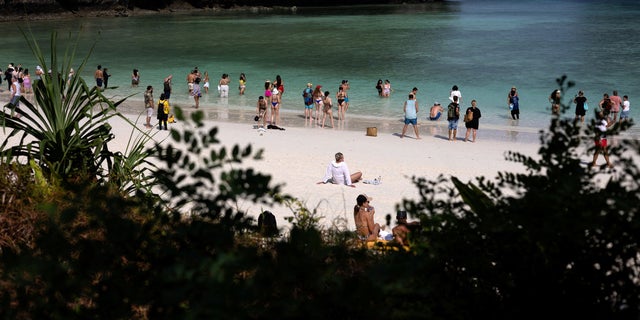 Tourists enjoy the beach during an hour-long visit, where swimming is forbidden and people are only allowed to enter water up to their knees, in Maya Bay at the Phi Phi Island National Park, in Phi Phi Leh Island, Krabi province, Thailand, Feb. 24, 2023. On any given day in Maya Bay, up to 40 blacktip reef sharks cruise in the cyan shallows while about 4,000 tourists visit its white-sand beach flanked by towering cliffs. (Reuters/Jorge Silva)
"We are hoping that with the restrictions in place, we can mitigate the disturbance to (the sharks)," marine researcher Metavee Chuangcharoendee said of the situation. "We are doing this research in hopes that we can find the best way to manage and the best way for tourism and the environment to coexist."
Tour boats must dock on the other side of the island from the beach; visitors must walk to the beach; the number of visitors allowed every hour is capped at 375, and they are allowed to wade only knee-deep into the water.
CLICK HERE TO GET THE FOX NEWS APP
"If you can create a new image of Maya Bay as a nature reserve … I think that is actually going to create a new tourism scheme as well and we (are) going to benefit from it overall," said National Parks Department advisor Petch.
Reuters contributed to this report.
Peter Aitken is a Fox News Digital reporter with a focus on national and global news.