close
Video
Shark circles near unsuspecting swimmers
Beachgoers at Hillary's Dog Beach near Perth, Western Australia, on Dec. 28 enjoyed the sun and surf without any clue that a tiger shark lurked nearby. (Credit: Storyful)
Swimmers at an Australian beach remained seemingly unaware that the entire time they relaxed in the water, they were just a few feet from a very large tiger shark.
Drone footage taken Dec. 28, 2022 over Hillary's Dog Beach near Perth, Australia, showed swimmers lazing in the water as the shark swam back and forth along the shore line, at one point even approaching a swimmer before seemingly changing its mind before reaching her.
A person in a kayak passes over the three-meter-long shark without any notice for what was lurking in the water below them.
Sam Wood, one of the members of Instagram account Wanderlust_Flyer that captured the footage, told Australia's 7 News he was "worried at some stage" that the shark could attack someone.
VIDEO SHOWS MAN WHO ALLEGEDLY BEAT SHARK WITH A HAMMER, DRAGGED IT ACROSS FLORDIA BEACH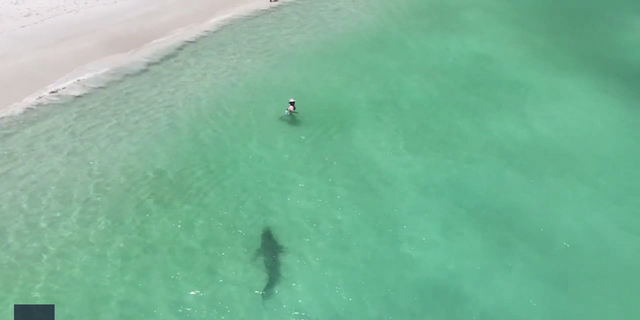 Beachgoers remain unaware that a tiger shark swims in the water near the shore.
(CREDIT: Storyful)
He showed the footage to a woman who had swum near the shark, and she was "quite stunned and couldn't believe how close it got."
"And she had no idea," Wood said. "She didn't even see it."
WOMAN SNORKELING IN HAWAII LIKELY EATEN BY 'AGGRESSIVE' SHARK WITH 'SOMETHING RED' AROUND GILLS: OFFICIALS
Australia has had 50 sightings along its west coast over the final week of 2022 alone. Authorities suggested that anyone who sees a shark should exit the water immediately and alert others to the animal's presence.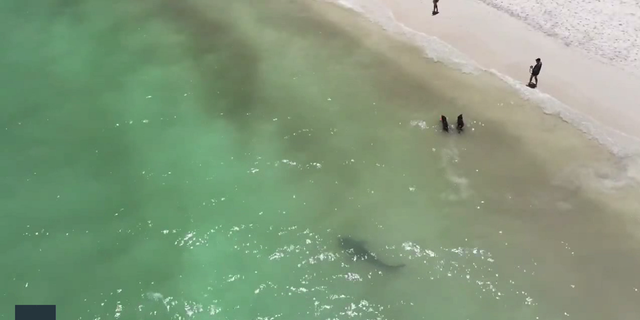 Dogs play in the water near the shark without any fear that the animal might attack them. 
(CREDIT: Storyful)
Dr. Oliver Jewell, a shark researcher, told 7 News that it is more likely that the number of sightings will continue to increase as more people use drones and social media to capture footage and spread it online.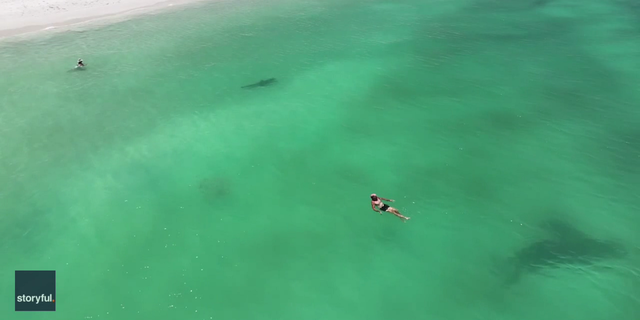 Swimmers laze in the water as the tiger shark swims back and forth along the shoreline of Hillary's Dog Beach.
(CREDIT: Storyful)
AUSTRALIAN TEENAGER SENT FLYING INTO THE AIR AFTER GREAT WHITE TAKES MASSIVE BITE OUT OF HIS SURF SKI
"I think that's a good thing because we can be more aware of where sharks are," Jewell said.
CLICK HERE FOR THE FOX NEWS APP
Australia typically records roughly 20 shark attacks per year, with most occurring in New South Wales and Western Australia, Firstpost reported, adding that two of the attacks in 2021 were fatal, along with seven that were fatal in 2020.
Fox News Digital's Andrew Mark Miller contributed to this report.
Peter Aitken is a Fox News Digital reporter with a focus on national and global news.