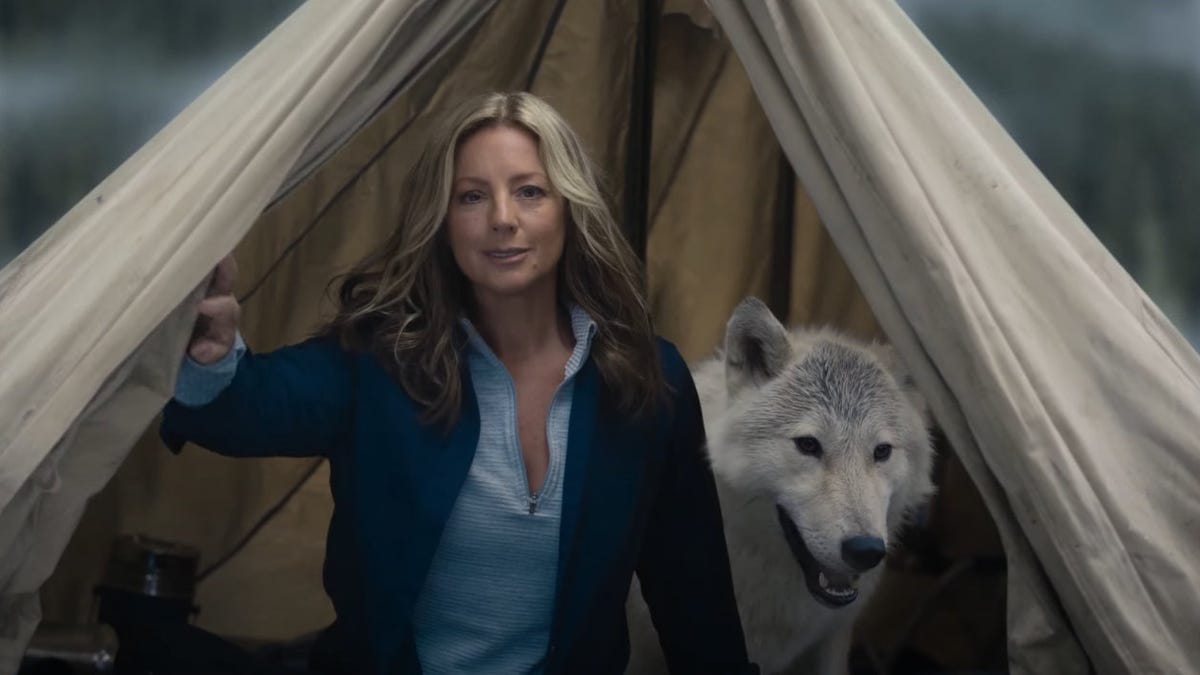 Singer Sarah McLachlan plays off her reputation for supporting animal shelters in a Busch Light ad.
Screenshot by Amanda Kooser/CNET
The Super Bowl is about much more than football. It's a showcase for companies to roll out their newest, wildest innovations, and for ad agencies to try to sell those products and services in short ads that are more like mini-movies. So far, beer company commercials are leading the charge before Sunday's game, but food brands and online services are weighing in, too.
Celebrities abound, special effects dazzle. Some ads tug at hearts, while others unleash the jokes like seltzer in a clown's face. Some of the ads are instant hits. (Alexa turning mind-reader in Scarlett Johansson and Colin Jost's home was pretty funny last year.) And others leave viewers as confused as Homer Simpson's operatic, snow-globe smashing Mister Plow commercial left him and his whole family. (Lisa: "Dad, is that your commercial?" Homer: "I don't know!")
Companies are already releasing teasers and even full versions of their ads ahead of the Feb. 12 game, which will pit the Kansas City Chiefs against the Philadelphia Eagles in Glendale, Arizona. As the big day approaches, we'll keep updating this story with as many of the Super Bowl commercials as we can find online, posting the newest releases at the top. (Here's last year's lineup.)
Pop Corners: Breaking Bad reunion
PopCorners, a popped-corn snack from Frito-Lay, features Bryan Cranston and Aaron Paul reprising their famed Walter White and Jesse Pinkman characters from the AMC hit show Breaking Bad, which has been off the air for 10 years now.
Downy Unstopables: Mystery celeb revealed
Downy released a number of teaser spots about a mystery celeb who covered his face with a hoodie, saying he'd keep sniffing it until Super Bowl Sunday, testing the claim that Downy Unstopables keeps clothing fresh that long. In the final ad, he proclaims it true and takes a wild ride through a neighborhood.
Hellmann's: Who's in the fridge?
Food puns are on the menu for Hellmann's mayonnaise. The brand trapped food-named actors Jon Hamm and Brie Larson in a giant refrigerator. Then comedian Pete Davidson shows up.
Rakuten: Clueless reunion
First, we got a short teaser of Alicia Silverstone returning to her iconic role as Cher in Clueless. Now, e-commerce company Rakuten has unveiled an extended cut of the fashion-focused ad, which pairs Silverstone with Clueless co-star Elisa Donovan. A shortened 30-second version will air during the game.
Booking.com: Somewhere, anywhere
Melissa McCarthy sings her heart out in an ad styled like a throwback musical full of bright costumes and big dance numbers. She's just desperate for a vacation booked through Booking.com.
Workday: Rock star
Workday brings some rock-and-roll glamour to enterprise software by enlisting real rockers Ozzy Osbourne, Gary Clark Jr., Joan Jett, Billy Idol and Paul Stanley to chide "corporate types" for calling each other rock stars.
Michelob Ultra: New Members Day
Beer brand Michelob Ultra is going all in on a golf theme for football's biggest day. The celebrity-studded, Caddyshack-inspired ad pits tennis superstar Serena Williams against Succession actor Brian Cox in a match for the ages. There's also an extended-cut version.
Michelob Ultra: Full Swing Gossip
Sports celebrities abound in an ad that combines beer with a promo for Netflix golf docuseries Full Swing. The ad features a QR code that unlocks early viewing of the first episode of the series for a limited time.
Bud Light: Miles Teller dancing
No one likes being stuck on hold, so actor Miles Teller, wife Keleigh, and their dog, Bugsy, decide to dance away the wait.
Oikos yogurt: Deion Sanders and family
Retired NFL star Deion Sanders and family engage in an epic strength competition at a family picnic in an ad for Oikos yogurt. Stay out of Grandpa's way, or else.
Budweiser: Six degrees of Bud
Bud passes a six pack of bottles around in an ad that plays off the six-degrees-of-separation idea. Actor Kevin Bacon (of six degrees of Kevin Bacon fame) narrates. The commercial revamps a classic Budweiser slogan: "This Bud's for you."
Busch Light: The Busch Guide
Outdoorsy Busch Light spokesperson "Busch Guy" has an amusingly confusing encounter with singer-songwriter Sarah McLachlan in an ad that hinges on the definition of the word "shelter." In the arms of the angel…
Sam Adams: A brighter Boston
Boston-based Sam Adams beer commercials often star "your cousin from Boston." In this Super Bowl ad, Sam Adams' "remastered" Boston Lager inspires the cousin to dream of a "brighter Boston," in which Red Sox and Yankee fans hug it out.
Miller Lite and Coors Light: High-stakes beer ad
One of the more complicated Super Bowl ads for 2023 comes from beer biggie Molson Coors in partnership with online betting site DraftKings. Eligible viewers can predict how the big game ad for Miller Lite and Coors Light will play out, and potentially win a share of $500,000.
Avocados from Mexico: Anna Faris 
Scary Movie star Anna Faris features in a teaser for Avocados from Mexico, an organization representing avocado growers. The movie-style trailer reminds us avocados are a fruit and teases the theme for the big ad: "The world is about to get better."
Crown Royal: Dave Grohl learns something new
Foo Fighters star Dave Grohl reads off a series of objects in a teaser for Canadian whisky brand Crown Royal. What do all those objects have in common? Crown Royal's big game ad will tell all.
Budweiser: Six degrees of Kevin Bacon
Budweiser, one of the biggest names in beer, teased its Super Bowl campaign with a brief video featuring actor Kevin Bacon saying, "They say all people are six degrees of separation away from each other, but some are just a six-pack away." What is Budweiser up to? We'll have to wait to find out.
Heineken 0.0: Ant-Man and The Wasp
Heineken will take the buzz out of Super Bowl beer commercials by advertising its nonalcoholic Heineken 0.0 in partnership with Marvel Studios' Ant-Man and The Wasp: Quantumania. The beer brand kicked off the campaign with a brief teaser starring Paul Rudd as Ant-Man.
Pringles: Made you look
At first, Pringles teased the hidden celebrity in their ad, but then revealed that it's singer Meghan Trainor, though the entire ad isn't yet out. Made you look!
FanDuel: Kick of Destiny
Sports-betting site FanDuel will bring an element of suspense with a live commercial starring four-time Super Bowl champ Rob Gronkowski. Gronk, a tight end during his career, will attempt to kick a field goal. If he makes it, FanDuel big-game bettors will win a share of $10 million in free bets.
Doritos: Jack Harlow
Doritos first teased its big ad with a vague social media post saying, "a bag of Doritos BBQ, paparazzi and a mysterious person walk into a bar…" On Jan. 12, the snack brand released a video showing rapper Jack Harlow munching a chip as someone asks him about "a love triangle." What does it all mean?
Stay tuned for more Super Bowl ads.