A Loudon County, Virginia father who was arrested in June 2021 for refusing to leave a school board meeting has been found not guilty.
Jon Tigges attended a Loudoun County School Board meeting on June 22, 2021, joining other parents to protest Critical Race Theory (CRT) and the district's transgender policies that, among other things, required district employees to use students' preferred names or pronouns.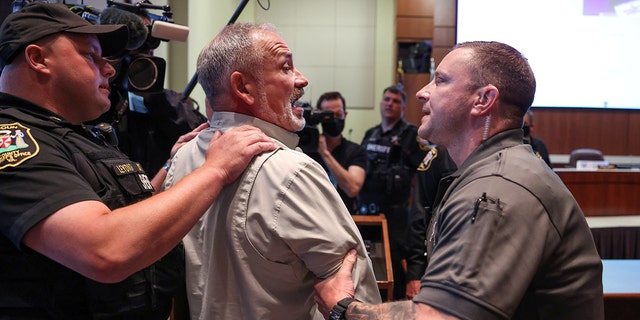 Jon Tigges is detained following a controversial Loudoun County School Board meeting which included discussion of Critical Race Theory, in Ashburn, Virginia, U.S.  June 22, 2021. 
(Reuters)
The meeting descended into chaos and the school board cut off public comments. Tigges and another parent were arrested for refusing to leave.
A total of 259 people signed up for public comments. Only 51 voices were heard.
A Virginia district judge found Tigges guilty of trespassing in October 2021. On Wednesday, Loudoun Circuit Judge Douglas Fleming Jr. dismissed the case.
HILLARY CLINTON JOINS COLUMBIA UNIVERSITY AS PROFESSOR, PRESIDENTIAL FELLOW
Fleming determined that the Commonwealth could not prove Superintendent Scott Ziegler had the authority to declare an unlawful assembly and that Tigges acted in good faith in his belief that he had a First Amendment right to be at the meeting.
Tigges celebrated the victory in a Twitter thread, but qualified that he had "serious concerns about where we are as a country."
"We've been subverted by a darkness that is spilling out in rot at all levels and in both political parties," he tweeted. "Despite the many bad actors here in Loudoun."
"It's so much bigger than school boards," Tigges told Fox News Digital on Thursday. "It's an entire local government system, that once it's been subverted by bad actors like this, the only way you fix it is getting good people to actually stop being silent."
CLICK HERE TO GET THE FOX NEWS APP
Fox News Digital reaching out to Loudoun County Public Schools for comment. The district referred all questions to the Sheriff's Office and the Commonwealth Attorney's Office.
Fox News' Michael Ruiz contributed to this report.