A Utah lawmaker has been accused of trying to "intimidate" police officers into releasing his son after he was arrested on burglary charges late last year.
Bodycamera footage obtained by KUTV shows San Juan County Commissioner Bruce Adams berating a sheriff's deputy after arriving to the scene of his son's arrest the day after Thanksgiving. Police with the San Juan County Sheriff's Office had arrested the son, Kenneth Adams, after discovering an outstanding warrant for his arrest during a routine traffic stop.
Adams arrived and immediately told officers he "wanted to see the 'mother f—ing warrant right away," Deputy Wyatt Holyoak reportedly wrote in a police report following the incident.
Holyoak responded that he "could not show him personal returns on my computer." But Adams insisted that "I better show him the goddamn warrant right away."
UTAH GOVERNOR SIGNS GENDER-AFFIRMING HEALTH CARE BAN, SCHOOL CHOICE BILLS INTO LAW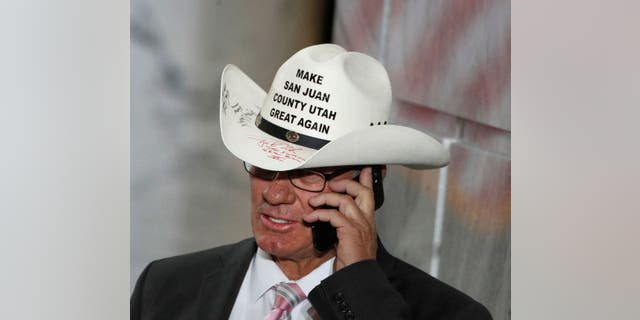 Bruce Adams, Chairman of the San Juan County Commission, talks on the phone before a event with U.S. President Donald Trump at the Rotunda of the Utah State Capitol on December 4, 2017 in Salt Lake City, Utah. (George Frey/Getty Images)
Then-US President Donald Trump holds up a pen after signing the hat of Bruce Adams, Chairman of the San Juan County Commission, after signing a Presidential Proclamation shrinking Bears Ears and Grand Staircase-Escalante national monuments at the Utah State Capitol in Salt Lake City, Utah, December 4, 2017. (SAUL LOEB/AFP via Getty Images)
Holyoak eventually received permission from his superior to share the document with Adams, however. Nevertheless, the lawmaker continued to press.
"What do you want me to do?" Holyoak asked after turning on his bodycamera.
"I want you to turn him loose," Adams responded.
"I can't turn him loose, Bruce," Holyoak said, noting the warrant.
"The warrant's false!" Adams insisted.
"The warrant's not false. The warrant's right there," the officer said.
"Do you want me to sue the son-of-a-b**** county sheriff because he arrested my kid on a false warrant?" Adams said.
UTAH POLICE ARREST 3 TEENAGERS AFTER WITNESSING DRIVE-BY SHOOTING
Holyoak later described the incident in his police report, saying "It appeared to me that [Adams] was trying to use his influence as a County Commissioner to intimidate me into showing him information that I was not permitted to do."
Adams apologized for the incident in an interview with KUTV this week, but argued that he was only "acting as a father" in the situation.
"It's embarrassing. It's embarrassing for me to act that way. I feel bad that I did that. But I was emotional," he told the outlet. "Nobody addressed me as Commissioner Adams at any time during the incident. In my opinion, I was acting as a father."
CLICK HERE TO GET THE FOX NEWS APP
Kenneth was soon released on a bail of $150 following the November arrest. The warrant for his arrest was withdrawn soon afterward as he had earlier entered a plea in abeyance. The court then returned the $150 bail fee, according to KUTV.