The president of the nation's largest Catholic civil rights organization sent a letter to the chairman of the House Judiciary Committee Monday "requesting an investigation of those responsible for attacks on churches, pro-life activists and crisis pregnancy centers, with a focus on Jane's Revenge."
According to a copy of the letter obtained by Fox News Digital, Catholic League president Bill Donohue asked Rep. Jim Jordan, R-Ohio, "to convene an investigation into the reluctance of the Department of Justice and the FBI to pursue those who have engaged in violence against churches, pro-life activists and crisis pregnancy centers."
"With the exception of the recent indictment by a federal grand jury of two persons charged with attacks on crisis pregnancy centers, little has been done to prosecute those guilty of such crimes," Donohue wrote. "Indeed, the relaxed response to attacks on those in the pro-life community who have been victimized stands in stark contrast to the aggressive pursuit of the few instances of alleged violations of the law by pro-life Americans."
Fox News Digital reached out to the Justice Department seeking comment.
LETTER SIGNED BY RADICAL ABORTION GROUP JANE'S REVENGE DECLARES 'OPEN SEASON' ON PRO-LIFE PREGNANCY CENTERS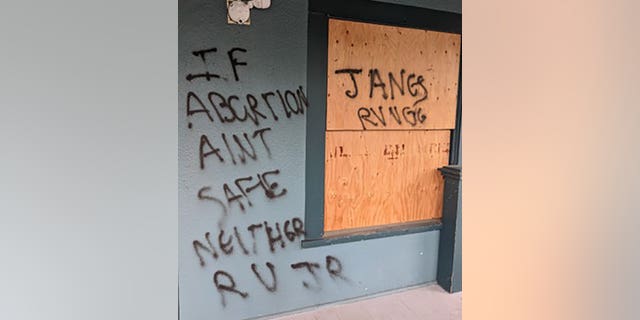 Between 4:00 p.m. on July 4, 2022, and 8:00 a.m. on July 6, 2022, an arson attack and vandalism took place at the front entrance of the Mother and Child Education Center located at 1515 NE 41st Ave., Portland, Oregon. The words, "IF ABORTION AINT SAFE NEITHER RU JR" and "JANES RVVGG" were spray painted on the front of the property.
(FBI Portland)
Jordan has been very outspoken about the lack of accountability into violent attacks on churches and pregnancy crisis centers in the aftermath of the leak of the Dobbs v. Jackson Women's Health Organization decision. In October, Jordan and Rep. Mike Johnson, R-La., launched an investigation into the use of the FACE Act against a pro-life activist while they said groups like Jane's Revenge operate with zero culpability. The committee vowed it is committed to ensuring equal treatment under the law.
The Freedom of Access to Clinic Entrances Act of 1994, a law that ensures Americans' access to pro-life and pro-choice reproductive health services, again became the center of public debate after Roe v. Wade was overturned.
Last week, FBI Portland Division said it was offering a $25,000 reward for information in connection to a series of arson attacks against three pro-life centers that occurred from May to early July 2022. The words, "IF ABORTION AINT SAFE NEITHER RU JR" and "JANES RVVGG" were spray-painted on the front of the Mother and Child Education Center in July.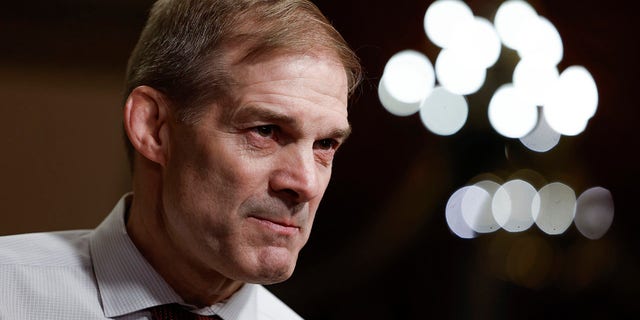 Rep. Jim Jordan, R-OH, speaks during an on-camera interview near the House Chambers during a series of votes in the U.S. Capitol Building on January 9, 2023 in Washington, DC.
(Anna Moneymaker/Getty Images)
Several Molotov cocktails were thrown through a kitchen window and ignited a fire at the Gresham Pregnancy Resource Center. Another arson attack happened at the Oregon Right to Life building in May.
Several days after the reward notice, the DOJ announced the first arrests and indictments in connection to incidents targeting pro-life centers where Jane's Revenge was implicated.
Caleb Freestone, 27, and Amber Smith-Stewart, 23, were indicted by a federal grand jury for spray-painting threats on Florida reproductive health services facilities in Winter Haven, Hollywood and Hialeah. Among the messages tagged on those three centers was Jane's Revenge calling card, "if abortions aren't safe than neither are you," according to the DOJ.
The indictment also alleges that Freestone and Smith-Stewart violated the FACE Act by using threats of force to intimidate and interfere with the employees of a reproductive health services facility.
TYRE NICHOLS: JIM JORDAN SAYS 'NO AMOUNT OF TRAINING' COULD CHANGE WHAT 5 MEMPHIS COPS DID ON VIDEO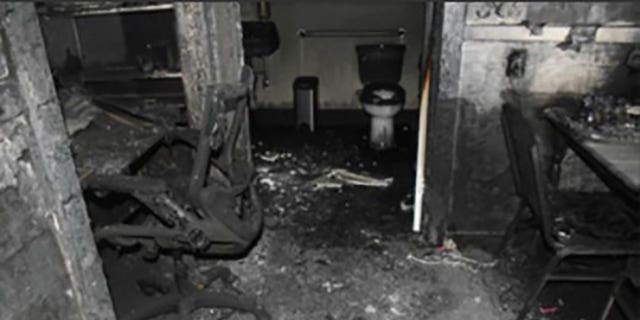 At approximately 2:30 a.m., on June 10, 2022, Gresham Police responded to an alarm at the Gresham Pregnancy Resource Center located at 104 NW 11th Street. Once on scene, law enforcement personnel found a fire inside the building. Investigators believe several Molotov cocktails were thrown through a kitchen window in order to ignite the fire, according to the FBI. 
(FBI Portland)
Donohue noted Monday that he wrote to U.S. Attorney General Merrick Garland last year regarding the same issues, specifically asking the Biden administration's Justice Department to focus on Jane's Revenge, but "received no reply."
In that letter, dated June 17, 2022, the Catholic League asked that Garland "immediately deploy the full resources of the Department of Justice to apprehend and prosecute domestic terrorists who have recently attacked Catholic individuals, vandalized Catholic churches and torched Catholic-operated crisis pregnancy centers."
Donohue wrote, "We have witnessed a rash of vandalism against Catholic churches, firebombings of crisis pregnancy centers (many of which are run by Catholics), Masses being interrupted, illegal protests outside the homes of Catholic Supreme Court Justices, and an attempted murder of one of the Catholic Justices. While there are several groups involved in these attacks, none is more dangerous than Jane's Revenge."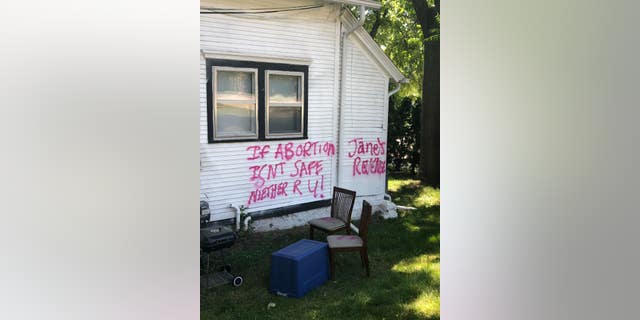 Pro-abortion extremist group Jane's Revenge targeted the wrong address at first when attempting to vandalize Jackson Right to Life's office building. (Photo courtesy of Kathy Potts)
(Photo courtesy of Kathy Potts)
Last June, Nicholas John Roske, 26, of California, was charged with attempting to assassinate Supreme Court Justice Brett Kavanaugh following the leak of the draft opinion that would overturn Roe v. Wade. The suspect allegedly showed up to Kavanaugh's Maryland with a gun, knife, zip ties and burglary tools.
The June letter also cataloged the May 8 firebombing of a crisis pregnancy center in Madison, Wisconsin, as well as Jane Revenge's online call to action on May 30 for a "Night of Rage" against pro-life centers in anticipation of the Supreme Court's final ruling overturning Roe v. Wade.
CLICK HERE TO GET THE FOX NEWS APP
"We have learned, from credible sources, that there is a link between Jane's Revenge and Antifa, the far-left anarchist group," Donohue wrote in June. "Their modus operandi and goals are very similar. Together, these two loosely organized terrorist groups pose a grave threat to democracy.