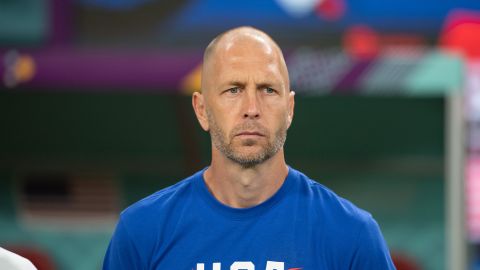 US Soccer announced an investigation into men's soccer head coach Gregg Berhalter Tuesday.
Stephen Nadler/ISI Photos/Getty Images

CNN
—
US Soccer has launched an investigation into men's national team head coach Gregg Berhalter, the organization announced Tuesday, as the coach released a statement addressing a previous domestic violence incident between himself and his-now wife.
While US Soccer did not provide details of the incident, Berhalter issued a lengthy statement on Twitter Tuesday describing the moment in 1991 when he says he kicked his wife Rosalind, who was his girlfriend at the time, during an argument. The statement is signed by Berhalter and his wife.
"There are zero excuses for my actions that night," he said in the statement, adding it was a "shameful moment" that he "regrets to this day," and Rosalind eventually forgave him.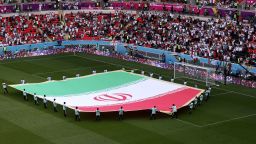 A giant flag of IR Iran on the pitch prior to the FIFA World Cup Qatar 2022 Group B match between Wales and IR Iran at Ahmad Bin Ali Stadium on November 25, 2022 in Doha, Qatar.
Catherine Ivill/Getty Images
Iran calls for US to be kicked out of 2022 World Cup after it changes Iran flag on social media to show support for protesters
The soccer coach, who led the US at the 2022 Qatar World Cup, said someone contacted US Soccer during the World Cup "saying they had information about me that would 'take me down.'"
US Soccer said it immediately hired an outside firm to conduct an independent investigation.
Berhalter said he and his wife have cooperated with the ongoing investigation. US Soccer also said it appreciated the couple "coming forward to speak openly about this incident."
The statement from US Soccer also said that during the investigation, the organization became aware of other potential inappropriate behavior from outside US Soccer.
"Through this process, U.S. Soccer has learned about potential inappropriate behavior towards multiple members of our staff by individuals outside of our organization. We take such behavior seriously and have expanded our investigation to include those allegations," US Soccer said.
The organization added that it launched a full "technical review" of the Men's National Team Program last month in addition to the investigation and said it will announce who will lead the program's January camp in the coming days.
Berhalter's future with US Soccer remains uncertain. He was appointed to the position in December 2018.
The coach's statement concludes, "While we would prefer not to speak about something so personal from so long ago in such a public forum, we are embracing this opportunity to share what has shaped us and how much we have grown and learned from this over the past 31 years."
CNN's Elizabeth Wolfe contributed to this report.