U.S. border authorities have encountered more than 718,000 migrants attempting to cross the U.S.-Mexico border in the first 100 days of fiscal year 2023, Fox News Digital has learned.
FY 2023 began on October 1, and U.S. Customs and Border Protections (CBP) has encountered more than 230,000 migrants each month since, CBP sources told Fox. Of the 718,000 encounters, just over 198,000 were immediately removed under Title 42, which President Biden's administration failed to end in December.
The data shows a shocking spike in migration compared to the same period in fiscal year 2022 when the CBP saw roughly 518,000 border encounters in the first quarter.
The most active sector of the border is the area surrounding El Paso, Texas where CBP has recorded 168,000 migrant encounters since October 1. The agency says they have also recorded 78,161 "got aways" in that sector alone over the same period.
TEXAS BORDER PATROL STOPS WRONG-WAY DRIVER DURING HUMAN SMUGGLING ATTEMPT; SUSPECT ESCAPES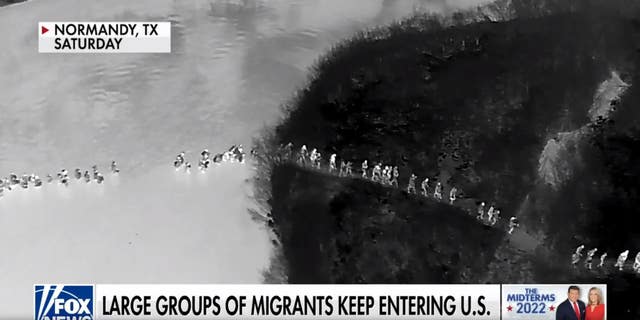 migrants cross the US-Mexico border. (Fox News)
(fox news)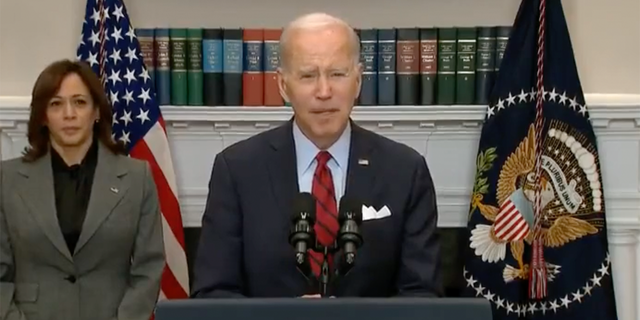 President Joe Biden took heat for a gaffe-prone address on the problems at the U.S. southern border. 
(Screenshot/Twitter)
BIDEN ADMIN FACING THIRD YEAR OF CRISIS AT THE SOUTHERN BORDER WITH UNCERTAIN IMMIGRATION POLICIES IN 2023
The new data comes as President Biden travels to visit the border for the first time in his presidency Sunday.
The U.S. has seen record-breaking border crossings throughout Biden's tenure, and especially in the final months of 2022. The White House long sought to dismiss the surge as an annual occurrence, but historical data shows the current crisis is far beyond traditional yearly surges.
The White House also unveiled a handful of policies aimed at stemming the flow at the border as Biden announced his visit. They include expanding a humanitarian parole program for Venezuelan nationals to include Haitians, Cubans and Nicaraguans, as well as increasing refugee resettlements.
Biden acknowledged the changes aren't up to the task, however.
"These actions alone that I'm going to announce today aren't going to fix our entire immigration system but they can help us a good deal in managing what is a difficult challenge," he said.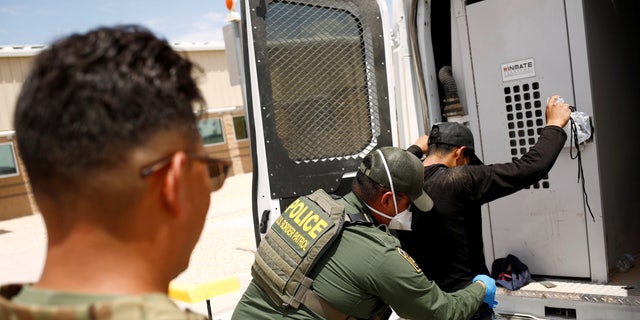 A member of the Border Patrol's Search, Trauma, and Rescue Unit (BORSTAR) observes a migrant from Central America who was detained by U.S. Customs and Border Protection (CBP) agents after crossing into the United States from Mexico, in Dona Ana County, New Mexico, U.S., July 15, 2021. REUTERS/Jose Luis Gonzalez/File Photo
(Jose Luis Gonzalez/File Photo)
Nevertheless, many border agents on the ground see Biden's visit as a futile gesture that comes as too little, too late.
CLICK HERE TO GET THE FOX NEWS APP
"We're beyond frustrated that it's taken him two years. We're beyond frustrated that he allowed this issue to get as bad as it is," National Border Patrol Council President Brandon Judd told Fox News Digital on Saturday. "He's not coming to the border of his own accord. He would have done that a long, long time ago."