close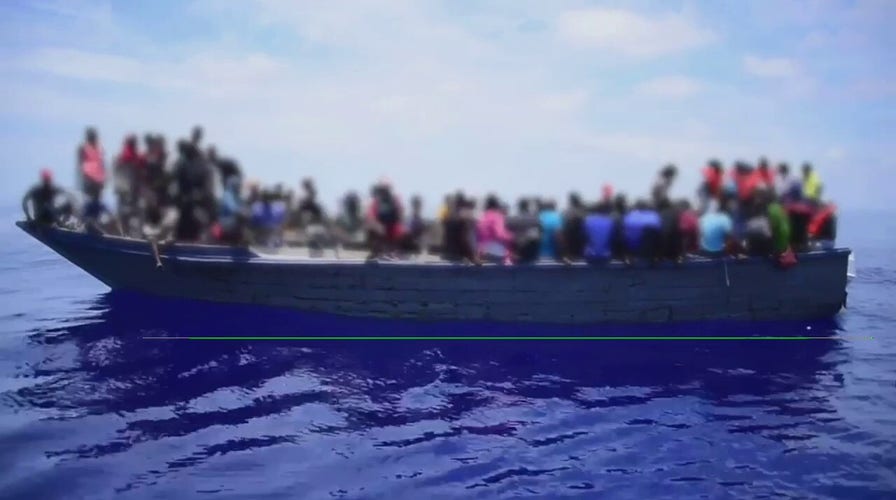 Video
U.S. Coast Guard intercepts boat carrying 309 Haitians
U.S. Coast Guard Cutter Valiant and Legares' crews repatriated 309 Haitians to Haiti after intercepting the boat off Florida's coast.
A recent change to the U.S. immigration system has fueled another crisis in the Caribbean as Haitians flock to leave the crime-ridden nation and American parents watch with tied-hands as their legally adopted children are unable to join them in the U.S.
Dozens of adopted children have been unable to obtain Haitian passports — the final step in the adoption process — as immigration offices in Haiti have become overrun since early January after the Biden administration said it would accept up to 30,000 migrants from Haiti, Cuba, Nicaragua and Venezuela per month.
Passport applications have skyrocketed with reports showing that requests went from an average of 1,500 a day to 5,000, the Miami Herald first reported earlier this week.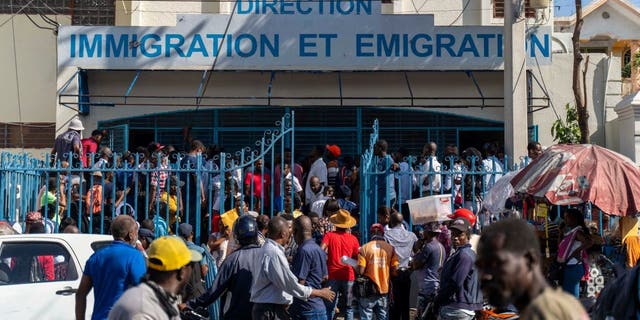 Haitians wait outside an immigration office to apply for a passport in Port-au-Prince on January 10, 2023.  (RICHARD PIERRIN/AFP via Getty Images)
COAST GUARD INTERCEPTS 309 HAITIAN MIGRANTS IN 'LESS THAN SEAWORTHY' VESSEL OFF FLORIDA'S COAST
But the U.S. policy has done more than overrun Haitian immigration facilities, it has effectively blocked children legally adopted by parents in the U.S. from being able to obtain the necessary documentation needed to board the two-hour flight from Port-au-Prince to Miami.
"I just want to be clear," one adoptive parent told Fox News Digital, "My wife and I, we really support this as an idea. I think they should give people a safe and legal way to come to the United States."
"But the issue is that this program also requires applicants to have a Haitian passport," he continued. "It's totally overwhelmed the passport office."
Bryan Hanlon and his wife Julie, who live in the Washington, D.C. area, became the legal parents of Peterson, 5, and Gina, 6, in August 2022 after starting their adoption process in 2018. The couple were matched with the brother-sister pair in May 2021 when they were respectively 3 and 4 years old.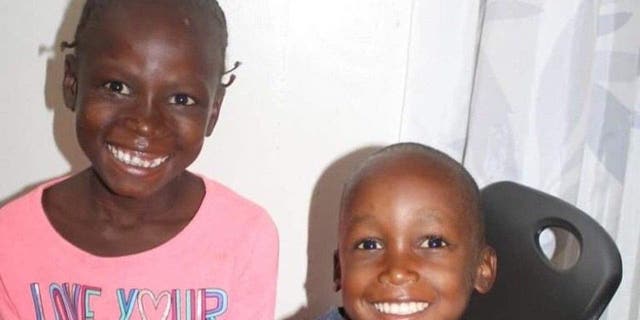 Photo of two adopted Haitian children, Peterson age 5 and Gina age 6, who await passports to be able to enter the U.S. (Bryan Hanlon of his adopted Haitian children)
HAITI SEEKS FOREIGN MILITARY ASSISTANCE TO CONFRONT GANGS BLOCKADING FUEL PORT
Adoptions out of Haiti have been notoriously difficult for years Hanlon explained but the COVID-19 pandemic and subsequent assassination of then President Jovenel Moïse in 2021 has made it all the more difficult.
Haiti has gradually fallen into state of chaos following a series of devastating earthquakes and hurricanes since 2010, and the economic situation has fallen to the extent that Haiti is now the poorest nation in the western hemisphere and gangs have taken over.
Adopted children are required to make an appointment to get a passport – which in theory should grant them priority over other Haitians lining up outside the immigration offices.
But the situation in reality has become so dire that people have begun scaling the sides of the immigration offices, climbing up stairwells to cut ahead once inside and causing such chaos that applicants with prearranged appointments are either not able to get inside the offices or have had their appointments canceled without a rescheduled date.
Haiti's Director of Immigration, Jean Osselin Lambert, told the Miami Herald this week that the crowds of people camping outside the offices have become so immense that immigration employees also cannot gain access to their offices.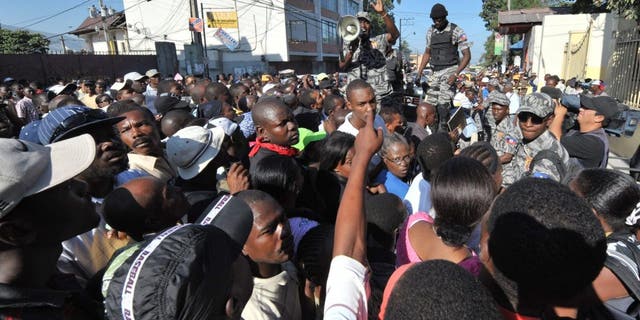 Haitians try and enter the passport and immigration centre in Port-au-Prince on January 22, 2010. Hundreds of Haitians are queuing every day to try and obtain a passport so they can enter the U.S. following an immigration policy change under the Biden administration.  (LUIS ACOSTA/AFP via Getty Image)
The boisterous crowds at the Central Bureau of Immigration and Emigration in Port-au-Prince on Friday prompted security officials to deploy tear gas inside the building in an attempt to gain control over the situation. The building was then evacuated according to local reports.
American parents and the U.S. National Council for Adoption are calling on the Biden administration to step in.
JAMAICA IS WILLING TO SEND SOLDIERS, POLICE TO HAITI AS CHAOS CONTINUES
A letter to Secretary of State Antony Blinken Tuesday, obtained by Fox News Digital, urged the department to allow adopted children to enter the U.S. without passports – a move the department permitted just three months ago.
"There is simply no rational basis for the State Department to refuse to exercise its legal authority to provide a safe, legal alternative when the Haitian passport office is functionally closed to these children," the letter said.
A crisis provision under Title 22 enabled the State Department to permit access to the U.S. for adopted Haitian children without passports between mid-October to mid-November.
The waiver was permitted in coordination with the Haitian government after the nation effectively shutdown following a months-long fuel blockade after gangs surrounded a major fuel terminal from September to November.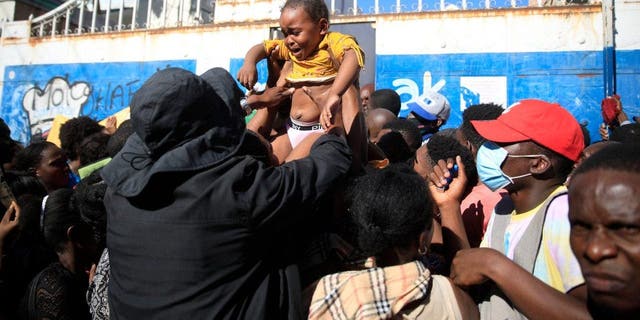 A parent tries to hand off his daughter to get her through the gate of Haiti´s immigration office as they wait their turn to apply for a passport, in Port-au-Prince, Haiti, Thursday, Feb. 9, 2023.  (AP Photo/Odelyn Joseph)
In emails reviewed by Fox News Digital, the Hanlon's have also repeatedly written to the State Department highlighting not only the dangerous situation surrounding the immigration offices but the complete inability to secure an appointment or to obtain a passport.
But the State Department maintains that the offices remain "functioning" and therefore have refused to enforce the crisis waiver.
"They say the same thing over and over," Hanlon said. "We're just asking the State Department to recognize that if Haiti won't give us a passport appointment, we can't get a passport. We are in the same situation that the families in the fall we're in, in that we can't get a passport to bring our kids home.
"We just feel totally abandoned by our government," he added. "They created this situation, and it doesn't appear that they're lifting a finger to do anything."
CLICK HERE TO DOWNLOAD THE FOX NEWS APP
A spokesperson for the State Department said it understands "it is currently difficult for adoptive parents to obtain a Haitian passport" and that it remains "committed to helping adoptive parents."
"We will continue to engage with the Haitian government on this issue and communicate updates with families, U.S. governmental agencies, U.S. accrediting entities, adoption service providers, state authorities, and the larger adoption community," the spokesperson added.
The department did not answer Fox News Digital's questions on if Blinken will respond to the letter or if the department will again waive passport requirements amid the ongoing crisis.
Caitlin McFall is a Reporter at Fox News Digital covering Politics, U.S. and World news.