close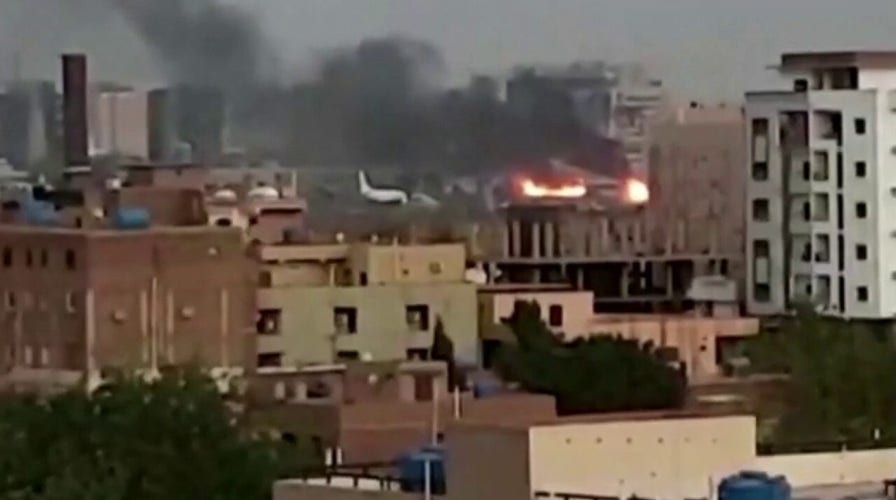 Video
US prepares embassy evacuation plans in Sudan as civil war fighting continues
Fox News national security correspondent Jennifer Griffin has more on where things stand amid escalating violence in Sudan on 'Special Report.' 
American military officials have evacuated U.S. embassy personnel from violence-torn Sudan, according to reports.
An unnamed source told Reuters that the evacuation was complete as of early Sunday morning. Diplomats and their families were successfully removed from Sudan and the capital city of Khartoum.
The Sudanese military has been working with foreign governments to evacuate diplomats as their country descends into a civil war.
The conflict between the paramilitary Rapid Support Forces (RSF) and Sudan's armed forces began on April 15. The World Health Organization reported that at least 413 people have died, while injury estimates are as high as 3,551.
BLOODY SUDAN CONFLICT CONTINUES DESPITE TRUCE, INTERNATIONAL PRESSURE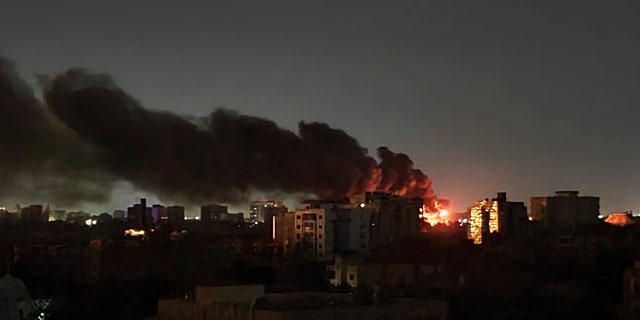 Smoke rises over the horizon as a fire burns after a strike in Khartoum, Sudan, Sunday, April 16, 2023. Washington's top diplomat said Tuesday, April 18, 2023, that a U.S. Embassy convoy came under fire in Sudan and denounced "indiscriminate military operations" as the country's armed forces and a powerful rival unleashed heavy weapons in urban areas for a fourth day.  (AP Photo/Abdullah Moneim)
The operation to remove Americans by early Sunday morning was coordinated with the RSF, according to Reuters' source.
Other foreign nationals from different countries were evacuated via a Sudanese port on the Red Sea earlier on Saturday.
The evacuations were carried out despite the onslaught of violence disabling Khartoum's airport, which has trapped large numbers of people in the city. Not only are many Sudanese citizens unable to leave, but thousands of foreigners are also trapped.
180 DEAD, ALMOST 2K INJURED AS SUDAN CONFLICT RAGES ON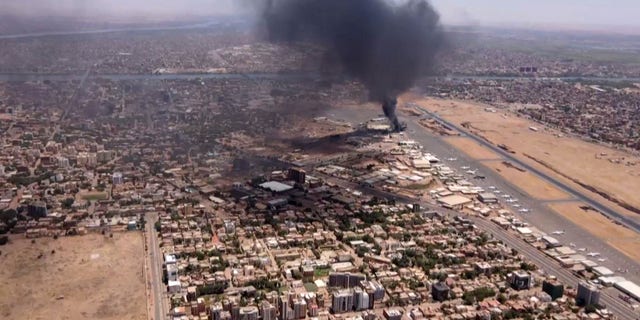 TOPSHOT – This image grab taken from AFPTV video footage on April 20, 2023, shows an aerial view of black smoke rising above the Khartoum International Airport amid ongoing battles between the forces of two rival generals. – Hundreds of people have been killed since the fighting erupted on April 15 between forces loyal to Sudan's army chief Abdel Fattah al-Burhan and his deputy, Mohamed Hamdan Daglo, who commands the paramilitary Rapid Support Forces (RSF).  (AFP via Getty Images)
Secretary of Defense Lloyd Austin said on Friday that American troops were positioned near Sudan as a safety measure.
"We always want to make sure that we're doing prudent planning, which is what we're doing," Austin added. "We've deployed some forces into the theater to ensure that we provide as many options as possible if we are called on to do something. We haven't been called on to do anything yet."
One U.S. citizen was killed during the conflict. The American, who was not identified, did not work for the U.S. Embassy.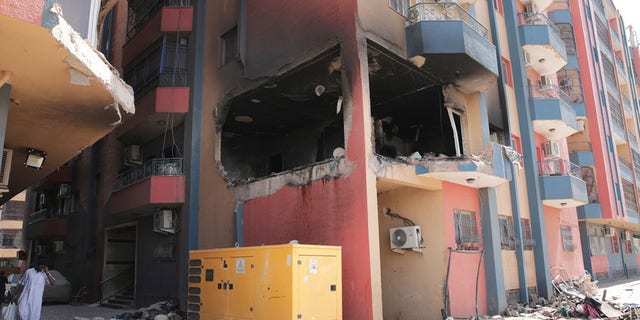 Residential buildings damaged in fighting are seen in Khartoum, Sudan, Thursday, April 20, 2023.  (AP Photo/Marwan Ali)
CLICK HERE TO GET THE FOX NEWS APP
"We can confirm the death of one U.S. citizen in Sudan," a State Department spokesperson said to Fox News. "We are in touch with the family and offer our deepest condolences to them on their loss. Out of respect for the family during this difficult time, we have nothing further to add."
Reuters and Fox News' Timothy Nerozzi contributed to this report.