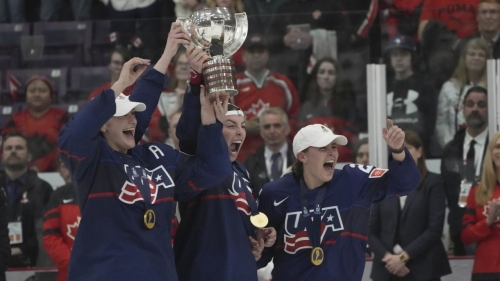 US players celebrate their victory over Canada in Brampton, Ontario, on April 16.
Nathan Denette/The Canadian Press/AP

CNN
—
Yet another brilliant performance from Hilary Knight inspired the US to a dramatic 6-3 victory against Canada in the women's ice hockey World Championship final on Sunday.
Knight scored three times to secure the US' 10th world title after yet another exhilarating chapter in the ongoing rivalry between both teams.
Sunday's win also saw the US snap an unwanted losing streak against Canada, following five consecutive defeats, including in the last two world championship finals and in the final of the 2022 Winter Olympics.
"It takes a whole village for one player to be successful on the ice," Knight told reporters after the final in Ontario, Canada.
"It's a huge honor to lead this team, but the day-to-day business hasn't changed.
"It's hard to beat Canada. It's harder to beat Canada in Canada."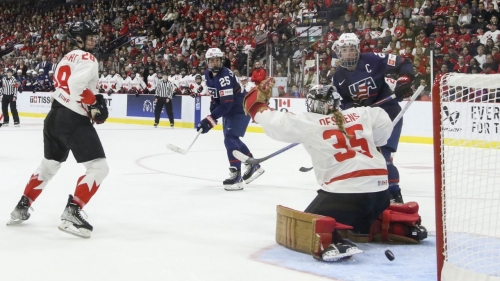 Hilary Knight celebrates her hat-trick goal during the gold medal game.
Dennis Pajot/Getty Images
Canada had initially taken a 3-2 lead in the game and looked to be heading towards a third successive world title before sloppy play handed the US all the motivation it needed.
The US leveled through Caroline Harvey, before Knight capitalized on a two-player advantage to score twice in a 27-second span.
In doing so, the 33-year-old also extended her US all-time scoring record at the world championships to 101 points.
American Cayla Barnes finished up the scoring with a shot into an empty Canadian net before the jubilant US celebrations began after the final buzzer.
"I'm just so happy that we pulled it together," Knight added in her post-game interview on the ice.
"This is a really young team. They say experience wins championships. We worked on it. We had our experience, we had our energy and it was a solid team win tonight."
No other country, apart from Canada and the US, has won a women's ice hockey world championship – a record that stretches back to the first tournament in 1990.
Only once, in 2019, has another country been in the final; on that occasion, Finland was beaten by the US.