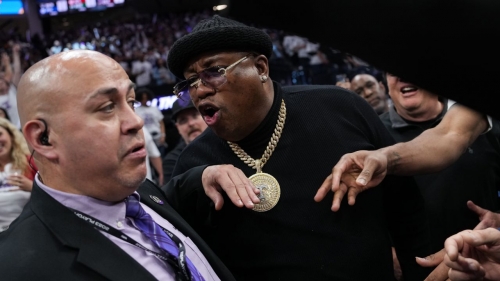 Earl 'E-40' Stevens talks to security personnel before being escorted from courtside during Game 1 of the Western Conference first round playoffs between the Golden State Warriors and Sacramento Kings on April 15.
Loren Elliott/Getty Images

CNN
—
The Sacramento Kings say they are investigating the ejection of rapper Earl 'E-40' Stevens from a playoff game on Saturday after he claimed "racial bias" for the reason behind it.
E-40, who hails from the Bay Area and is a Golden State Warriors fan, was in attendance for their Game 1 clash against the Kings at Golden 1 Center in Sacramento.
But according to a statement from Stevens – acquired by The Athletic's Shams Charania – he had been "subjected to disrespectful heckling" and, in the fourth quarter, "turned around and addressed one heckler in an assertive but polite manner."
Stevens explained that shortly afterwards, "Kings security approached me, assumed I instigated the encounter and proceeded to kick me out of the arena."
Video on social media shows E-40 being escorted away from his seat.
"Unfortunately, it was yet another reminder that – despite my success and accolades as a musician and entrepreneur – racial bias remains prevalent," he said in the statement. "Security saw a disagreement between a Black man and a White woman and immediately assumed that I was at fault."
Neither Stevens nor the Kings have responded to CNN's request for comment.
In a statement, the Kings said they would look into Stevens' claims.
"The Sacramento Kings take these claims seriously and are investigating the facts and circumstances regarding the situation, as we do anytime an accusation like this is made."
Stevens added: "I've attended countless NBA games throughout my lifetime and have always prided myself in my professionalism, so this experience has been jarring. I was absolutely humiliated by the Kings' security team and I'm calling on the franchise to investigate the appalling conduct that transpired."
E-40 has seats close to the Warriors bench at the team's Chase Center and was even part of the team's victorious championship delegation which visited the White House this year.
"It's unfortunate," Warriors guard Klay Thompson told reporters on Sunday. "I love 40. He's been our biggest supporter for years. I hope they right that ship because he deserves to be there by our bench. In my time knowing him, he's always been respectful. He's always been considerate of those around him. Very weird to see, and I hope it's resolved."