More than 200 pounds of methamphetamine was seized at a California-Mexico border station after patrol agents discovered packages concealed throughout the suspect's vehicle.
The 2020 pick-up truck belonged to a 26-year-old U.S. citizen who was returning from Mexico, US Customs and Border Protection said in a news release Friday.
When patrol agents further inspected his truck, they noticed "irregularities" throughout the vehicle and brought in canine units to investigate. They discovered 235 pounds of meth worth up to $235,000 inside the vehicle's spare tire, all four doors, tailgate, engine bay, center console, and backseat area.
"This smuggling attempt is a reminder that no matter how ingenious the ploy, our CBP officers remain vigilant and prevail over these dangerous and illegal actions," Roque Caza, Area Port Director for Calexico said.
TEXAS LAWMAKERS DISPUTE WHETHER STATE IS LIABLE FOR CHILD'S DEATH ON MIGRANT BUS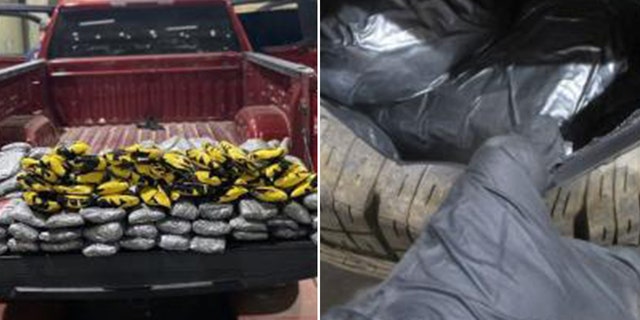 CBP officers seized 200 bags of narcotics from the trucks doors, spare tire, tailgate, engine bay, center console and backseat. (U.S. Border Customs & Border Protection)
Agents detained the driver and transferred him over to Homeland Security Investigations for additional processing.
Border patrol agents at the Calexico West Port of Entry are no strangers to drug smuggling attempts. In May, they discovered 78 packages of fentanyl, amounting to 109.17 pounds, hidden within the rear quarter panels, doors, seats, and even the speaker box of a vehicle.
DESANTIS DECLARES WILLINGNESS TO EMPLOY MILITARY FORCE AND DRONE STRIKES TO ELIMINATE MEXICAN DRUG CARTELS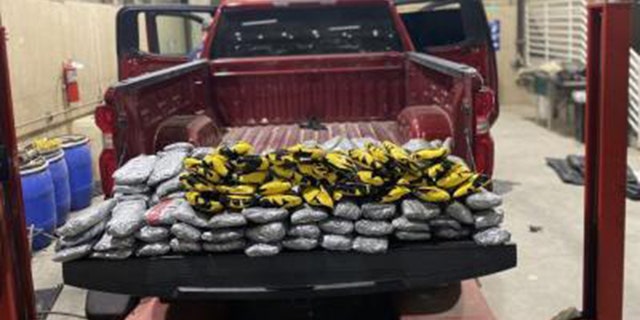 The 200 packages discovered by the CBP weighed a total of 235.37 lbs and the street value was $235,370. (U.S. Border Customs & Border Protection)
Also in May, Calexico agents seized three packages of methamphetamine weighing a total of 15.30 pounds concealed in a vehicle's undercarriage, with an estimated street value of $100,600. Six packages of methamphetamine weighing 7.45 pounds were found inside a traveler's backpack, with an estimated street value of $16,390, just a few days later.
CLICK HERE TO GET THE FOX NEWS APP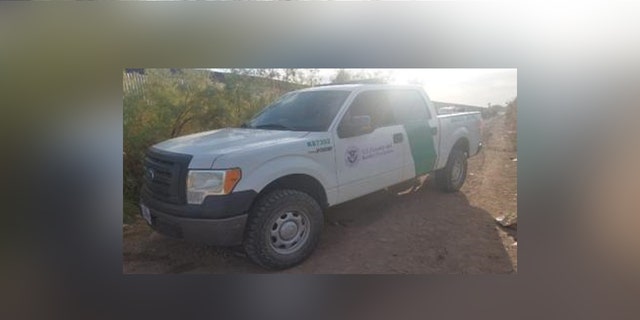 A cloned U.S. Border Patrol vehicle was seized south of the border by Mexican authorities after agents overserved suspicious activity nearby. (U.S. Customs and Border Protection)
As of the end of June 2023, Border Patrol so far this year had encountered nearly 1.8 million illegal entrants. According to recent statistics, agents seized 43,600 pounds of drugs in June, amounting to 412,000 pounds for the year so far.