Hunter Biden's longtime attorney Chris Clark withdrew as counsel amid "recent developments in the matter"—specifically in case he is called to be witness in ongoing matters related to the failed "sweetheart" plea deal the Justice Department offered the president's son.
In a court filing obtained by Fox News, Clark motioned to withdraw as counsel, saying the move was "necessitated by recent developments in the matter."
DOJ SENDS RESPONSE TO HOUSE GOP ON HUNTER BIDEN 'SWEETHEART' PLEA DEAL
Under Delaware Rule of Professional Conduct, which Clark points to in his filing, "a lawyer shall not act as an advocate at a trial in which the lawyer is likely to be a necessary witness unless..disqualification of the lawyer would work substantial hardship on the client."
"Based on recent developments, it appears that the negotiation and drafting of the plea agreement and diversion agreement will be contested, and Mr. Clark is a percipient witness to those issues," the filing states.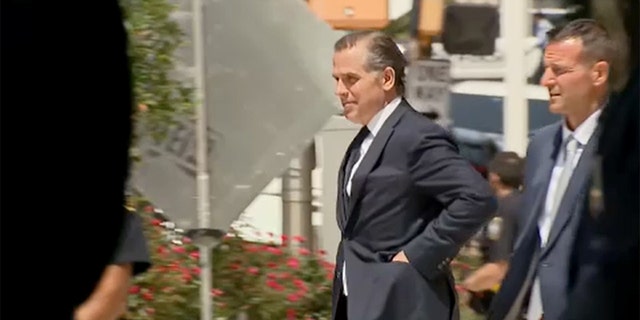 Hunter Biden
Hunter Biden was expected to plead guilty to two misdemeanor tax counts of willful failure to pay federal income tax, as part of plea deal to avoid jail time on a felony gun charge.
GOP INVESTIGATING DOJ'S 'SWEETHEART' PLEA DEAL WITH HUNTER BIDEN AFTER JUDGE'S REJECTION
But Judge Maryellen Noreika of the United States District Court for the District of Delaware declined to accept the plea and pretrial diversion agreements with Hunter Biden during his first court appearance related to federal tax and gun charges he faces. She described the DOJ's deal as unconstitutional, "not standard" and "different from what I normally see."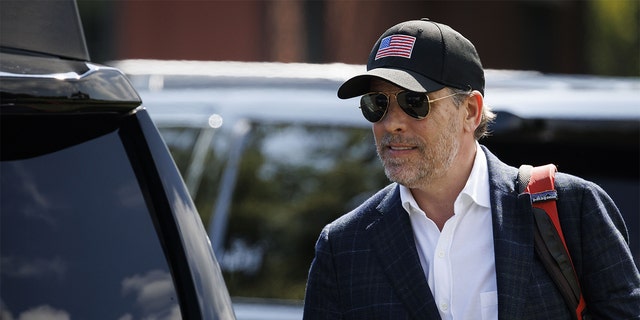 Hunter Biden arrives at Fort Lesley J. McNair in Washington, DC, US, on Tuesday, July 4, 2023. (Ting Shen/Bloomberg via Getty Images)
Hunter Biden was forced to plead not guilty to two misdemeanor tax charges and one felony gun charge.
House Republicans, like Judiciary Committee Chairman Jim Jordan, Oversight Committee Chairman James Comer, and Ways & Means Committee Chairman Jason Smith are investigating the DOJ's move to strike that failed plea agreement with the president's son, amid a joint-congressional investigation into the alleged politicization impacting the years-long federal investigation into Hunter Biden.
HUNTER BIDEN PLEADS 'NOT GUILTY' AS PLEA DEAL FALLS APART DURING DELAWARE COURT APPEARANCE
"Under the 'witness-advocate' rule, it is inadvisable for Mr. Clark to continue as counsel in this case," the filing continues, adding that the withdrawal "will not cause a substantial hardship" for Hunter Biden, as he has other lawyers to represent him.
Hunter Biden lawyer Abbe Lowell, who has been representing the president's son, officially added himself as counsel in the federal case on Monday.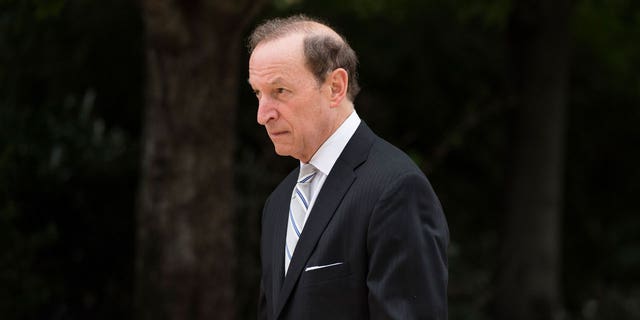 High-profile attorney Abbe Lowell has taken Hunter Biden as a client in his newly-waged legal battle over his infamous laptop. ( Tom Williams/CQ Roll Call)
HUNTER BIDEN TRIAL IS 'NOT INEVITABLE,' HIS LEGAL TEAM SAYS
Lowell, appearing on CBS News' "Face the Nation" this weekend, maintained that a trial for the president's son is "not inevitable," and said another plea agreement could still be negotiated.
"It's not inevitable," he said, adding that "we were trying to avoid [a trial] all along, and so were the prosecutors who came forward to us and were the ones to say can there be a resolution short of a prosecution.
Lowell's comments came just days after the Justice Department appeared to indicate that a trial was imminent.
"At the hearing on July 26, 2023, the Defendant did not plead guilty and therefore did not waive venue," the Justice Department's filing reads. "After the hearing, the parties continued negotiating but reached an impasse. A trial is therefore in order. And that trial cannot take place in this District because, as explained, venue does not lie here."
Meanwhile, Attorney General Merrick Garland on Friday appointed U.S. attorney for Delaware David Weiss to serve as special counsel with jurisdiction over the Hunter Biden investigation and any other issues that have come up, or may come up, related to that probe.