close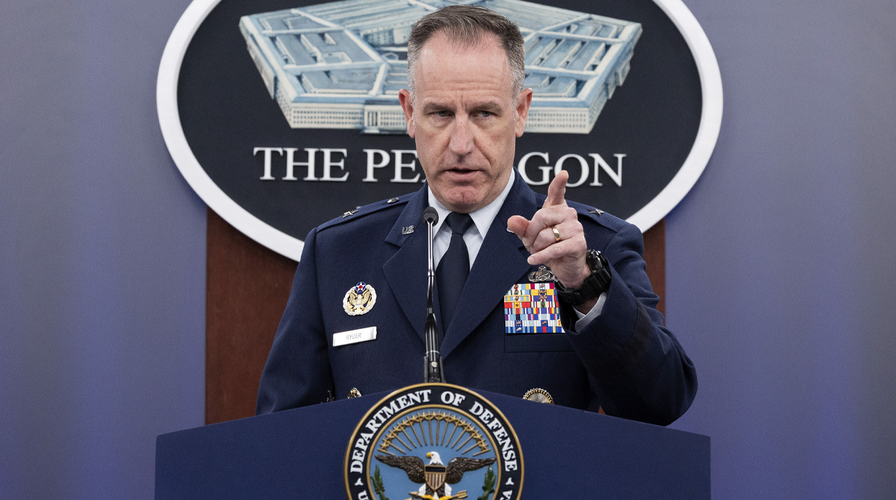 Video
WATCH LIVE: Pentagon addresses deadly tit-for-tat after US and Iran exchange rockets in Syria
The attack and the U.S. response threaten to upend recent efforts to de-escalate tensions across the region.
The main air defense system at a coalition military base in Northeast Syria was not working Thursday when one American contractor was killed after a suspected Iranian drone hit the base and injured six other servicemen, a senior U.S. defense official told Fox News Friday.
U.S. intelligence has assessed that the drone that struck the base was Iranian.
The injured U.S. service members are in "stable" condition and have been transported to a hospital in Landstuhl, Germany the senior official added.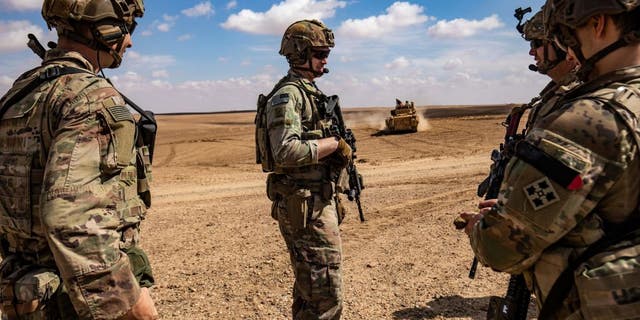 Troops from the Syrian Democratic Forces (SDF) Special Operations and the U.S.-led anti-jihadist coalition take part in heavy-weaponry military exercises in the countryside of Deir Ezzor in northeastern Syria, on March 25, 2022.  (Photo by DELIL SOULEIMAN/AFP via Getty Images)
US BASE IN SYRIA ATTACKED BY IRANIAN PROXY FORCES AFTER RETALIATORY AIRSTRIKES
In testimony on the Hill Thursday, Gen. Erik Kurilla said in that Iranian-backed forces have been behind 78 attacks on U.S. bases in Iraq and Syria since January 2021.
Questions around why the defensive system was down remain unanswered, and an investigation into the system failure is ongoing.
The New York Times, which first reported that the electronic counter-defense system was "not fully operational," said it also remains unclear whether opposition forces had been aware of the vulnerability when they fired upon the base.
Pentagon Press Secretary Brig. Gen. Pat Ryder had nothing more to add regarding the system failure but told reporters Friday that U.S. Central Command "will conduct a review of what happened."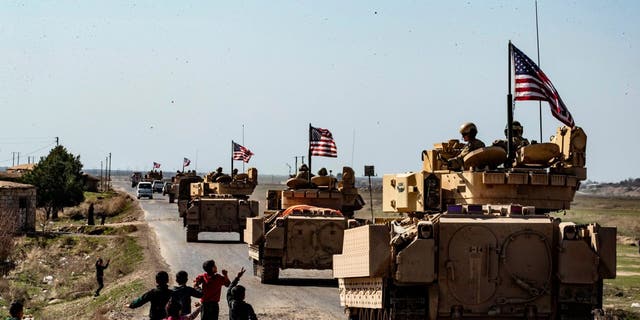 U.S. Bradley Fighting Vehicles (BFV) patrol in the Suwaydiyah oil fields in Syria's northeastern Hasakah province on February 13, 2021.  (Photo by DELIL SOULEIMAN/AFP via Getty Images)
"This is a dangerous part of the world. The work that we do is inherently dangerous," he told Fox News. "That's why you have the military in these types of places conducting these type of operations.
"We've seen rocket attacks, mortar attacks in the past from these kinds of groups. Again, CENTCOM will do an assessment in terms of the attack. But the fact is that these [Islamic Revolutionary Guard Corps] IRGC-backed groups conducted this attack."
BIDEN ON BACK FOOT AS IRAN PROXIES HIT US TROOPS IN SYRIA, CAN 'EXPECT MORE, NOT LESS ATTACKS'
The IRGC – Iran's primary branch of its armed forces – has backed Syrian forces under Bashar al-Assad for the last decade following the breakout of the civil war in 2011.
The U.S. has since aided the Syrian Free Army in eastern Syria in what some have argued has become a proxy war between the U.S. and Iran.
Ryder on Friday said that in response to the Thursday attacks, President Biden approved precision strikes to be carried out against two "facilities" in eastern Syria utilized by groups affiliated with the IRGC.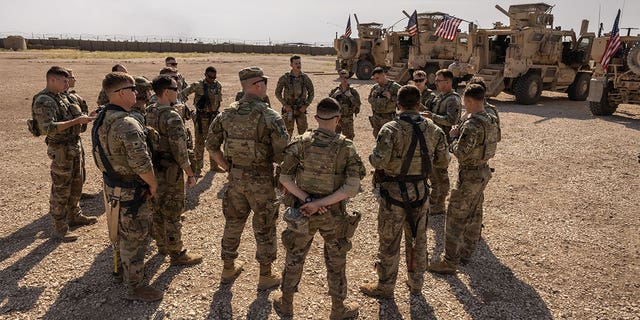 U.S. Army soldiers prepare to go out on patrol from a remote combat outpost on May 25, 2021, in northeastern Syria. U.S. forces, part of Task Force WARCLUB, operate from combat outposts in the area, coordinating with the Kurdish-led Syrian Democratic Forces (SDF) in combatting residual ISIS extremists and deterring pro-Iranian militia.   (John Moore/Getty Images)
CLICK HERE TO GET THE FOX NEWS APP
"Our focus in Syria is on the defeat ISIS mission, and that will remain our focus. We do not seek conflict with Iran," Ryder said. "But the strikes that we took last night were intended to send a very clear message that we will take the protection of our personnel seriously and that we will respond quickly and decisively if they're threatened."
In response to the two precision strikes by U.S. CENTCOM, Iran proxy forces launched 10 rockets at another U.S. base in Northeast Syria near the coalition base of Green Village.
A U.S. defense official told Fox News that there were no U.S. casualties and that no damage was caused to the base.
Jennifer Griffin currently serves as a national security correspondent for FOX News Channel (FNC) and is based out of the Washington D.C. bureau. She joined the network in October 1999 as a Jerusalem-based correspondent.