close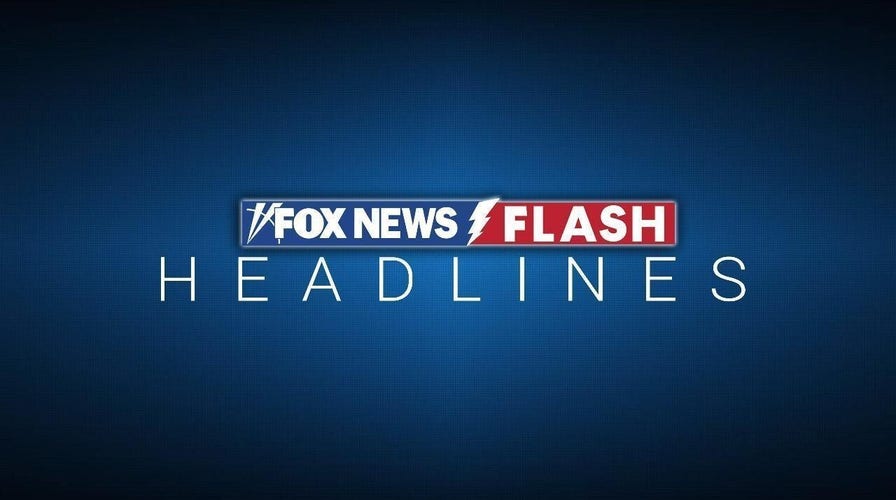 Video
Fox News Flash top headlines for March 16
Fox News Flash top headlines are here. Check out what's clicking on Foxnews.com.
United States Indo-Pacific Command chief Adm. John Aquilino said Thursday that Washington does not seek to contain China, nor seek conflicts in the region, but it would take action to support the region against coercion and bullying by authoritarian regimes.
Speaking at a lecture in Singapore, Aquilino said the era of globalization has evolved into one of "renewed great power competition" where the security environment influences economics, trade and investment.
"My concern is that this foundation of this rules-based international order … is under direct assault by authoritarian regimes," he said, without naming any nations, though he noted recent actions by China to "grab a foothold" in the Solomon Islands.
A security alliance between China and the Solomon Islands a year ago sent shudders throughout the South Pacific, with many worried it could set off a large-scale military buildup.
US MOVING TO INCREASE MILITARY PRESENCE IN AUSTRALIA AS CHINA CONTINUES TO FLEX INFLUENCE IN INDO-PACIFIC
Aquilino also addressed China's protests over U.S. vessels and aircraft in the Taiwan Strait, where Beijing has renewed its threats against Taiwan, which China claims as its own territory to be brought under its control by force if necessary.
While the U.S. is not seeking conflicts nor supporting Taiwan's independence, he said the military will continue to "fly, sail and operate" in the region to uphold the navigational rights and freedom of all nations.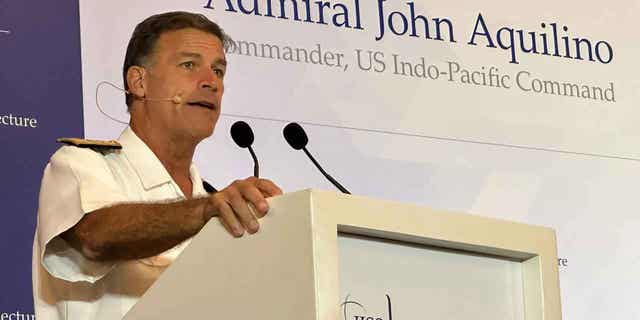 Admiral John Aquilino delivers a speech in Singapore on March 16, 2023. Aquilino said that Washington does not seek to contain China, but it would take action to support the Indo-Pacific region against bullying by authoritarian regimes. (IISS via AP)
"Revisionist powers seek to disrupt and displace the current system in ways that benefit themselves, and at the expense of all others. They use coercion, intimidation to achieve their objectives and they justify their action under a theory of 'might equals right,'" he said.
DEFENSE SECRETARY AUSTIN SAYS US 'WILL NOT LET' CHINA RESHAPE INDO-PACIFIC REGION
"They make illegal excessive territorial claims not based on anything other than revisionist history. They empower law enforcement entities to harass nations operating legally within their own exclusive economic zones. They break formal commitments. They ignore international legal rulings. They avoid requirements delivered under the U.N. Charter," he said, in a reference to aggressive Chinese actions in the South China Sea and rising Chinese incursions into Taiwanese air defense zones.
Aquilino said China has a role to play in the world if it adheres to the rules-based order, especially in regards to North Korea.
In 2022 alone, Pyongyang launched 70 missiles, which Aquilino called the most provocative action in history. He noted that earlier Thursday, North Korea launched an intercontinental ballistic missile hours before the leaders of South Korea and Japan were to meet at a Tokyo summit.
CLICK HERE TO GET THE FOX NEWS APP
Pyongyang's actions have threatened South Korea and Japan and it has "developed the capabilities to threaten the United States as well," he said.
"It is destabilizing, it's unpredictable, it's continuing, it's not slowing down. The potential for the People's Republic of China to help to dissuade the DPRK from executing these events would be helpful," Aquilino added, using the official names of China and North Korea.