close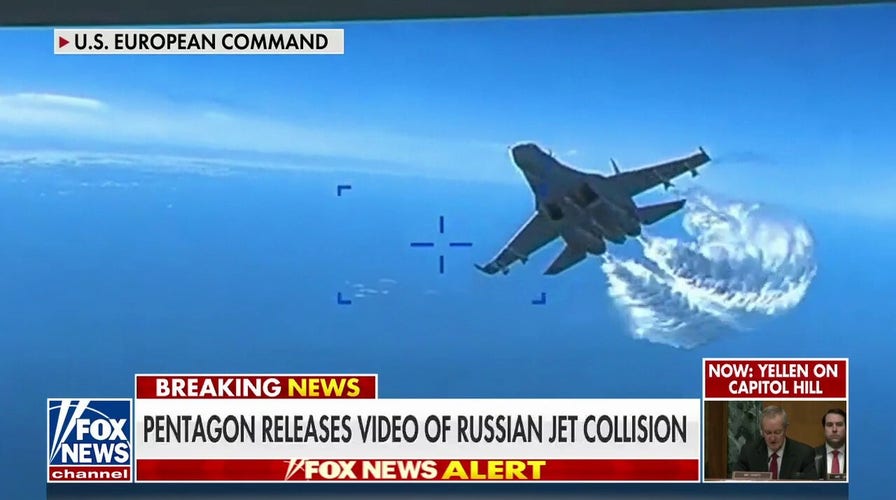 Video
Russian fighter jet colliding with US drone is 'unacceptable behavior': Kurt Volker
Former U.S. Amb. to NATO Kurt Volker says the Russian fighter jet collision was 'intentional' and requires a 'firm response' from the U.S.
Polish authorities on Thursday said they had broken up an alleged Russian spy ring that was planning to attack railroad routes used to supply Ukraine with goods and weapons.
Nine people were arrested by Poland's Internal Security Agency on suspicion of spying for Moscow, Warsaw's Interior Minister Mariusz Kamiński announced during a new conference.
Three people were first detained on Wednesday.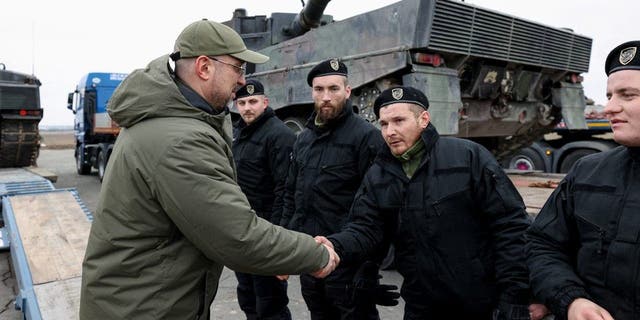 Ukrainian Prime Minister Denys Shmyhal greets Polish service members delivering Leopard 2 tanks on the first anniversary of Russia's attack, in Ukraine on Feb. 24, 2023. (Ukrainian Governmental Press Service/Handout via Reuters)
POLAND REVAMPING MILITARY, MORE THAN DOUBLING ITS ARMY TO COUNTER RUSSIAN THREAT: REPORT
Kaminski said the group was planning "sabotage actions aimed at paralyzing the supply of equipment, weapons and aid to Ukraine."
Cameras, electronic equipment and GPS transmitters – which were reportedly meant to be placed on shipments set for Ukraine – were also seized by Polish security officials.
"The threat was real," Polish Defense Minister Mariusz Błaszczak said while also detailing how the group entered Poland.
The officials did not clarify if the individuals were Russian nationals, but said they were believed to have entered Poland through Belarus, a chief ally nation to Russian President Vladimir Putin.
The planned sabotage mimics tactics already carried out by Belarusian rebels who oppose the war in Ukraine and who have attacked Russian equipment, planes and rail systems in Belarus used to transport arms to Russian troops.
Ukrainian Prime Minister Denys Shmyhal and Polish Prime Minister Mateusz Morawiecki shake hands during the delivery of tanks to Ukraine, Feb. 24, 2023. (Ukrainian Governmental Press Service/Handout via Reuters)
POLAND PLANS TO SEND MIG-29 FIGHTER JETS TO UKRAINE FOLLOWING URGENT REQUESTS FROM THE WAR TORN COUNTRY
A local radio station that first broke the news said the ring was discovered to be operating out of southeastern Poland around the military airport in Jasionka – which has been used to transport military equipment from NATO allies to Ukraine.
Poland has been a top supporter of Ukraine in its fight against Russia and has led the charge in pushing NATO allies to send more military aid, including more advanced defensive aid like tanks, to the war-torn nation.
Polish President Andrzej Duda also said Thursday that he will send four Mig-29s to Ukraine after Kyiv has been asking for such air defenses for more than a year.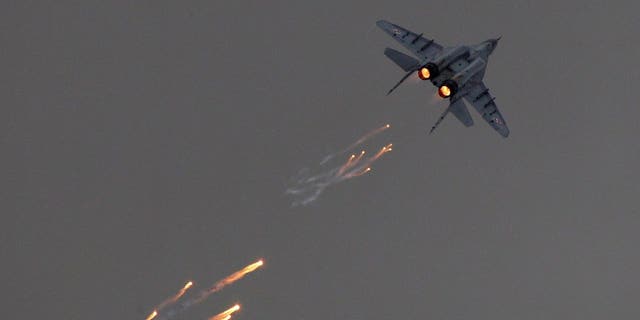 A Polish MiG-29 fires flares during a performance at the Radom Air Show on Aug. 24, 2013. (Reuters/Kacper Pempel/File Photo)
CLICK HERE TO DOWNLOAD THE FOX NEWS APP
The move would make Poland the first NATO nation to supply Ukraine with fighter jets.
Poland's interior minister told reporters Thursday that more details will emerge regarding the spy ring, but that the investigation remains ongoing.
The Associated Press contributed to this report.
Caitlin McFall is a Reporter at Fox News Digital covering Politics, U.S. and World news.