close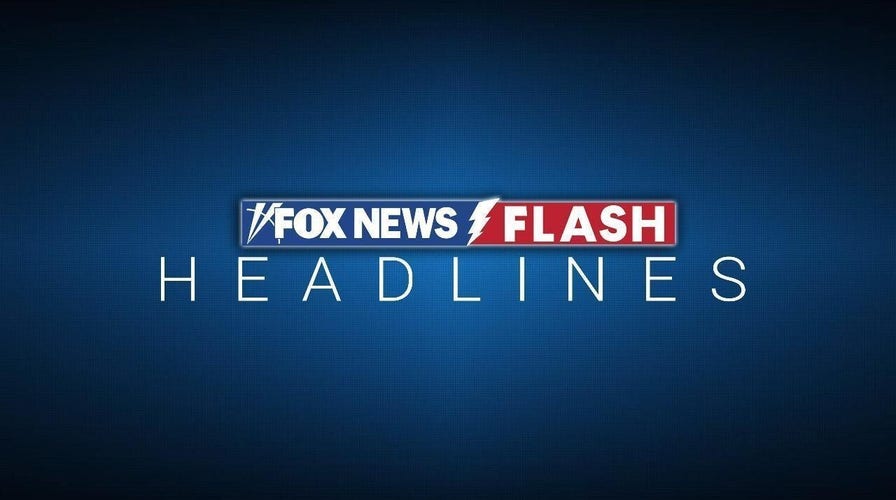 Video
Fox News Flash top headlines for March 10
Fox News Flash top headlines are here. Check out what's clicking on Foxnews.com.
As extremist violence in West Africa's Sahel region spreads south toward coastal states, the United States military has launched its annual military training exercise aimed at helping armies contain the jihadi threat.
Soldiers from several African countries are being trained in counter-insurgency tactics as part of the annual U.S.-led exercise known as Flintlock, that began this week.
Some 1,300 military personnel from 29 countries are training in Ghana and Ivory Coast, amid surging jihadi violence linked to al-Qaida and the Islamic State group that's killed thousands, displaced millions and plunged countries into crises.
While most of the extremist activity is concentrated in West Africa's inland Sahel region in Mali, Burkina Faso and Niger, the violence is rapidly spreading to coastal states like Ghana, which is experiencing an upsurge in attacks by unidentified groups, which could have links to jihadis. Ghana had just one violent attack in 2021 but that figure rose dramatically to 17 in 2022, according to the Armed Conflict Location & Event Data Project.
This year's U.S. Flintlock, a two-week event, is taking place amid growing anti-French sentiment in West Africa. Mali and Burkina Faso have ended their military cooperation with France, complaining that the French military presence over several years has done little to stem the growth of Jihadi violence. The military juntas ruling Mali and Burkina Faso are now getting military support from Russia, and Mali is also working with the private mercenary outfit, the Wagner Group.
AT LEAST 36 PEOPLE KILLED BY EXTREMISTS LINKED TO IS GROUP IN EASTERN CONGO
The U.S. says it wants to help African countries stem the extremist threat before it spreads further across the the region.
"If the instability gets too broad or too bad then it opens the aperture for other malign actors to try and influence and try and corrupt the messaging to gain access to some of these governments," said U.S. Col. Rob Zyla, deputy commander for Special Operations Command Africa.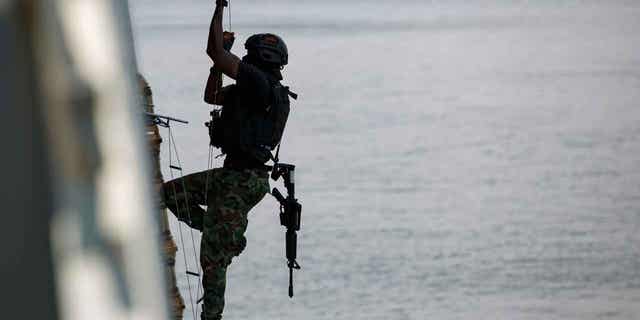 A Ghanaian soldier performs hook and climb drills at Tema port, Ghana, on March 9, 2023. Around 1,300 military personnel from 29 countries in Africa are training in Ghana and Ivory Coast, amid surging jihadi violence. (AP Photo/Misper Apawu))
While the U.S. isn't expanding the number of its soldiers in West Africa, U.S special operations forces will continue to conduct joint trainings with partners based on their needs and requests, he said.
For the first time at Flintlock there is a site dedicated to maritime training where military forces practice search and seizure and other tactics, in order to stave off the growing threat of piracy in the Gulf of Guinea.
6 DEAD AFTER NIGERIAN TRAIN COLLIDES WITH PASSENGER BUS
Ghanaian military officials say they worry jihadis will soon work with the pirates to make the waters unsafe which would limit economic activity for the coastal countries.
"We already know that they have intent to link up with piracy and enhance operations," said Col. William Nortey with the Ghanaian army. "That would be a game changer for the littoral (coastal) states so we need to prevent this at all costs," he said.
As the extremist violence spreads south, Ghana is investing money to beef up security along its border, buying more than 100 armored personnel carriers, among other equipment, President Nana Akufo-Addo said in his State of the Nation address this week.
"The reality of the state of affairs in our neighborhood demands that the government goes to great lengths to ensure the security, safety and stability of our nation," he said. Ghana is also part of the Accra Initiative, a military platform involving Burkina Faso and nearby coastal countries to battle the further spread of extremism in the Sahel.
CLICK HERE TO GET THE FOX NEWS APP
The spread of extremist violence across the Sahel region shows that more than a military solution is needed to prevent the insurgency from infecting the coastal area, regional experts say.
Widespread poverty, high inflation and the shortage of jobs for young men provide favorable conditions for jihadi recruitment, said Rukmini Sanyal, a Ghana analyst for the Economist Intelligence Unit.
"A worrying example is the ongoing conflict (over chieftaincy) between the Mamprusi and Kusasi ethnic groups in the Bawku region, in northern Ghana, wherein widespread dissatisfaction could create space for militant infiltration," she said. "(The) government needs to adopt a multi-pronged approach focused on building community resilience alongside more traditional security approaches," she said.