close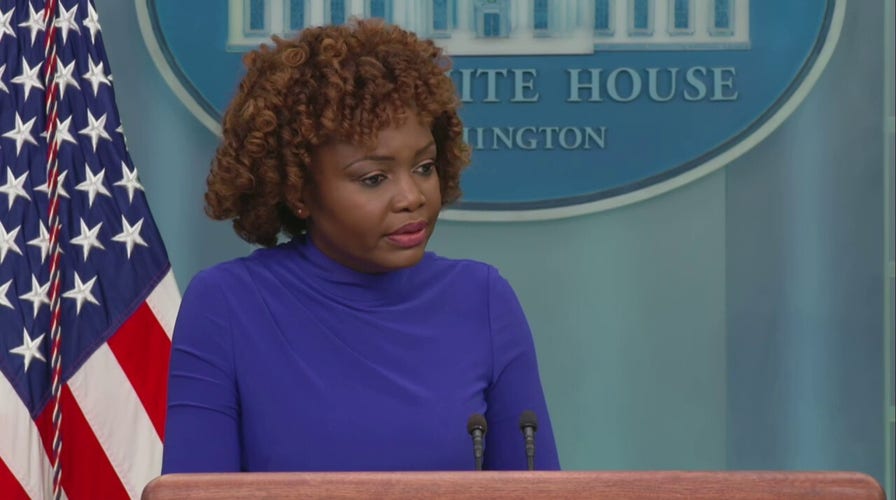 Video
White House responds to China: 'We do not want conflict'
White House press secretary Karine Jean-Pierre responded Tuesday to warnings from China of conflict with the U.S., saying, "We do not want conflict."
Concerns over a Chinese invasion of Taiwan continue to mount with Beijing now suspected of involvement in damaging some of the island nation's undersea internet cables this week in another show of deliberate harassment.
The disruption to Taiwan's internet was not only a nuisance for the island's inhabitants and visitors, it also revealed significant implications for Taiwan's national security.
There is no definitive evidence that China purposefully cut the internet lines, but the incident brought renewed attention to what an attack on Taiwan might look like and whether the U.S. would be able to adequately stop it.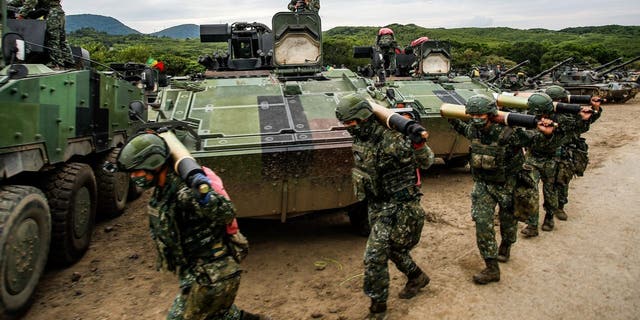 Taiwanese soldiers carry shells past armored vehicles during a two-day live-fire drill on Sept. 7, 2022. (Ceng Shou Yi / NurPhoto via Getty Images)
U.S. INTEL COMMUNITY WARNS OF 'COMPLEX' THREATS FROM CHINA, RUSSIA, NORTH KOREA
U.S. war games involving a Chinese takeover of Taiwan generally involve a large-scale amphibious attack that would attempt to quickly and efficiently take the island and its international allies by surprise.
President Biden has said he will send troops to counter a Chinese land invasion, which would likely prompt responses from other regional U.S. allies and could make this form of assault costly and deadly for all parties involved.
But it has also prompted questions over whether the U.S. is capable of engaging with China in a traditional kinetic attack like the ongoing war in Ukraine.
"China does have a military advantage," retired Gen. Jack Keane, a Fox News senior strategic analyst, said. "They have more ships, more airplanes, more offensive and defensive missiles than the United States has."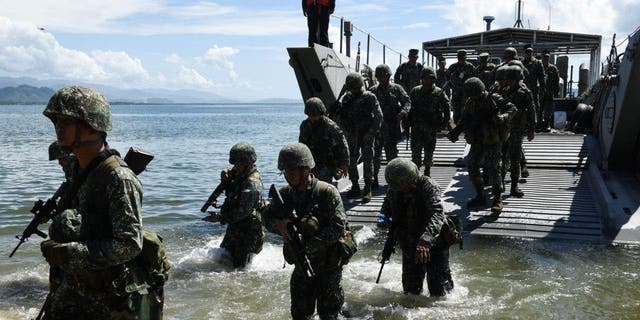 Marines from the U.S. and Philippines hold joint military drills, May 15, 2017. (Dondi Tawatao / Getty Images)
A war game conducted by the Center for Strategic and International Studies (CSIS) earlier this year simulated what would happen following an amphibious attack on Taiwan by the People's Republic of China, and it revealed that the U.S. likely would run out of long-range precision-guided missiles within a week.
"The only advantage militarily that we have are our nuclear submarines," Keane said, pointing out that even with that advantage, the U.S. still needed more of these specialized subs.
But, Keane argued this form of warfare was unlikely to be how China actually would carry out an assault, which Chinese President Xi Jinping is said to have slated for 2027, according to U.S. defense officials.
CHINA'S XI DEMANDS RAPID MILITARY UPGRADE TO 'WORLD-CLASS STANDARDS'
"A more likely scenario would be a quarantine or a blockade of Taiwan where China would attempt to control the airspace, as well as the sea lanes, and gain control of it without firing a shot," the retired four-star general said.
China regularly has harassed and intimidated Taiwan by sending warplanes and naval ships off the island, which one commander of the U.S. Pacific Air Forces said this week will play a key role in stopping China if it were to launch a kinetic attack against Taiwan.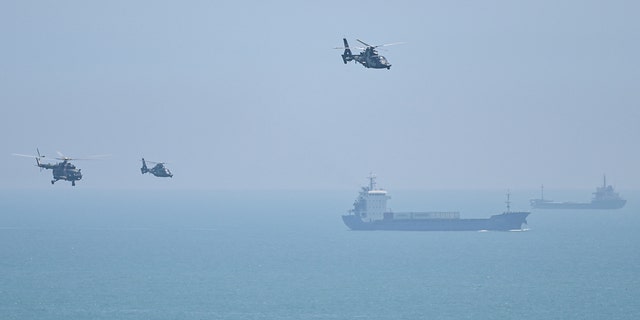 Chinese military helicopters fly past Pingtan Island, one of mainland China's closest points from Taiwan, in Fujian province on Aug. 4, 2022, ahead of military drills off Taiwan. (Hector Retamal / AFP via Getty Images)
Speaking to reporters at the Air & Space Forces Association Warfare Symposium in Colorado on Wednesday, Gen. Kenneth Wilsbach said, "You saw when Speaker Pelosi went to Taiwan what [China] did with their ships. They put them on the east side of Taiwan … as a sort of blockade.
"We've got to sink the ships," he added, according to Military.com.
How the U.S. would respond to a blockade on Taiwan or the slow takeover of smaller islands connected to Taiwan remains unclear.
"[It puts] the onus on the adversary, in this case Taiwan, the U.S. and our allies," Keane explained, adding that in this scenario, the principle of deterrence would play an immense role.
"We're in a position here where we have to build up our deterrence capability," he said. "We want that to prevent a war."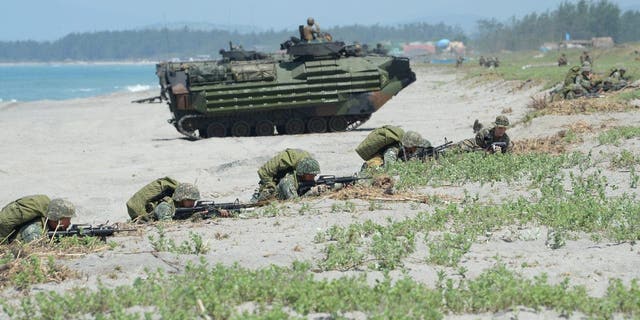 Philippine marines take position near U.S. Marine Corps amphibious assault vehicles during an exercise in the San Antonio region of the Philippines on Oct. 6, 2018. (Ted Aljibe / AFP via Getty Images)
WHITE HOUSE RESPONDS TO CHINA, SAYS 'WE DO NOT WANT CONFLICT'
Keane said in order to successfully deter China from prompting a war that would involve two major superpowers, the U.S. would need to drastically ramp up its arms production, weapons stockpiles and the development of advanced missile systems like hypersonic missiles.
But, the U.S. also would need to better arm Taiwan and fill the current backlog of arms that America has owed to the island, he added.
"Taiwan by themselves could never defeat the Chinese military, but they could impose significant costs on China," Keane said. "We've got a $19 billion backlog on military equipment that Taiwan has already purchased."
He continued, "Taiwan doesn't need a handout in terms of military equipment, they can buy it themselves."
The U.S. is not the only nation in the region with a vested interest in making sure Beijing does not take control of the island.
Australia, South Korea, Japan and the Philippines, which have endured overt Chinese aggression for years, have thrown their weight behind the U.S. as well.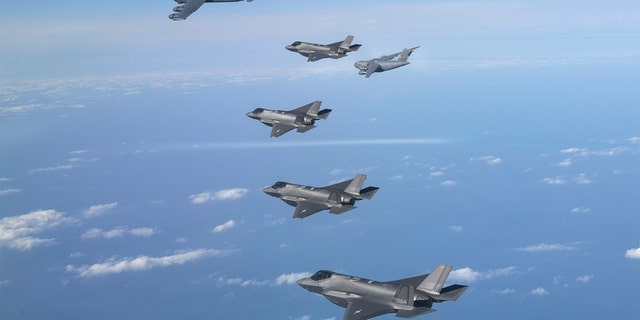 A U.S. B-52, C-17 and South Korean F-35 fighter jets fly over the Korean Peninsula during a joint air drill in South Korea on Dec. 20, 2022. (South Korean Defense Ministry via AP)
"This is all necessary," Keane said, "because when we bring the aggregate coalition together with the United States, we begin to match China's capability. Their willingness to engage in this with us is very significant in terms of deterrence."
Some estimates suggest that it could take the U.S. nearly a decade to adequately fill its stockpiles to fend off a Chinese invasion – a time frame that may not be enough to tamper Beijing's ambitions for Taiwan.
Not only would "reuniting" Taiwan with mainland China give Beijing a geopolitical boost and effectively supersede the U.S.'s influence in the region, it would subject the South China Sea to even more Chinese dominance.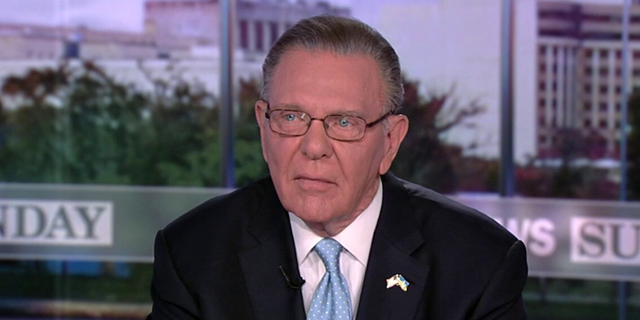 Fox News senior strategic analyst Gen. Jack Keane (ret.) speaks on "Fox News Sunday" with Shannon Bream. (FOX NEWS)
CLICK HERE TO GET THE FOX NEWS APP
"Every one of our allied countries in the region would have to work out some kind of a deal with China," Keane said. "Secondly, Taiwan is a high-tech base. Every country in the world, to include the U.S., is completely dependent on Taiwan."
He continued, "And if China takes control of that, then they take control of the major influence that drives our automobiles, our iPhones, our military capabilities – that gives them enormous economic control."
Caitlin McFall is a Reporter at Fox News Digital covering Politics, U.S. and World news.