close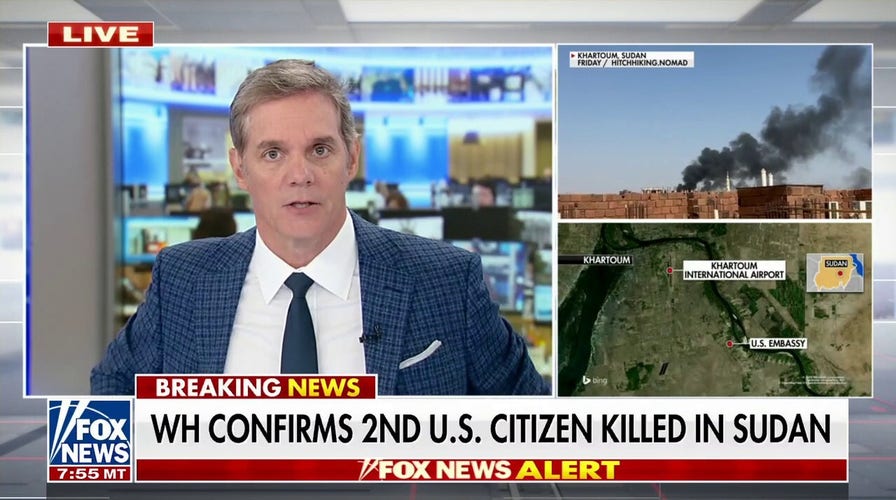 Video
White House confirms second US citizen killed in Sudan
The Biden administration confirmed a second American was killed war-torn Sudan.
Crowds continue to gather at Sudan's border with Egypt and in the seaport city of Port Sudan after days of fighting between the army and paramilitary groups have threatened to push Sudan into a full-blown civil war, reports said Wednesday.
The capital city of Khartoum saw relative calm by mid-week as the nation entered its second day of a U.S.-brokered 72-hour truce between the waring parties, allowing residents to leave their homes for the first time in days to get food supplies and water, though gun fire and explosions could still be heard throughout the city.
"There is a sense of calm in my area and neighborhoods," one tea vender from the southern neighborhood of May told the Associated Press. "But all are afraid of what's next."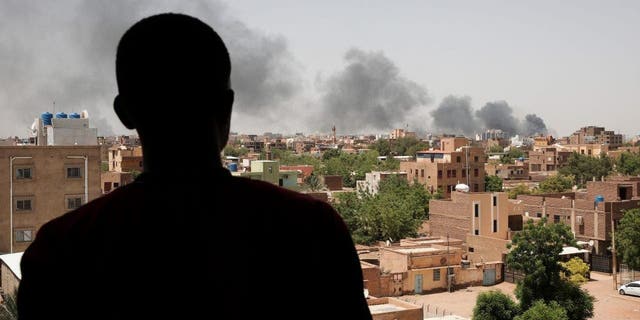 Smoke is seen in Khartoum, Sudan, Saturday, April 22, 2023. The fighting in the capital between the Sudanese Army and Rapid Support Forces resumed after an internationally brokered cease-fire failed.  (AP Photo/Marwan Ali)
SECOND AMERICAN DEAD IN SUDAN, WHITE HOUSE NATIONAL SECURITY COUNCIL SPOX JOHN KIRBY CONFIRMS
Clashes on Wednesday in the capital appeared to centered largely around strategic targets like the Republican Palace in the city's center and around military bases just across the Nile River in the neighboring city of Omdurman.
The fighting that broke out earlier this month saw a near immediate response from citizens looking to flee Sudan's borders as quickly as they could.
But it is not just the Sudanese who are looking to flee the threat of a massive civil war.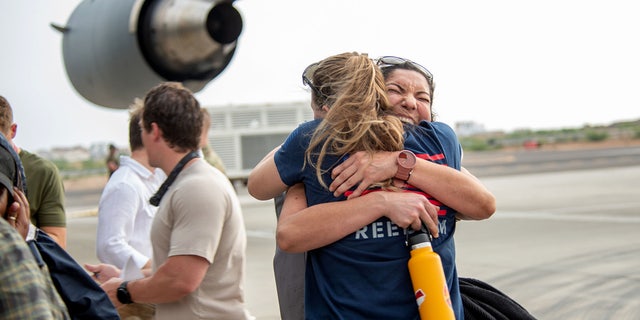 In this handout provided by the U.S. Navy, U.S. government personnel from the U.S. Embassy in Sudan embrace as they evacuate to Camp Lemonnier on April 23, 2023 in Djibouti. At the direction of the President, the U.S. military conducted a successful operation to safely evacuate U.S. government personnel out of Sudan.  (Mass Communication Specialist 1st Class Maria A. Olvera Tristán /U.S. Navy via Getty Images)
At least three U.S. Navy ships have been dispatched to the Red Sea with at least two of them arriving in Port Sudan this week as the Navy prepares for potential orders at the direction of the State Department to help with the evacuations of American citizens, according to Al-Monitor.
It is unclear how many Americans are currently in Sudan, though an estimated 16,000 private U.S. citizens are registered with the embassy there.
According to White House National Security Council spokesperson John Kirby Wednesday "several dozens of Americans" have made their way to Port Sudan "on ground routes that the U.S. military is providing."
The State Department has also refused to detail how many Americans are in Sudan and when pressed by reporters on claims made by the Secretary of State Antony Blinken this week who said that "dozens" have express interest in leaving the turbulent country, deputy spokesperson Vedant Patel said Tuesday that he was "not going to get into specific numbers" and noted that the situation "is quite fluid."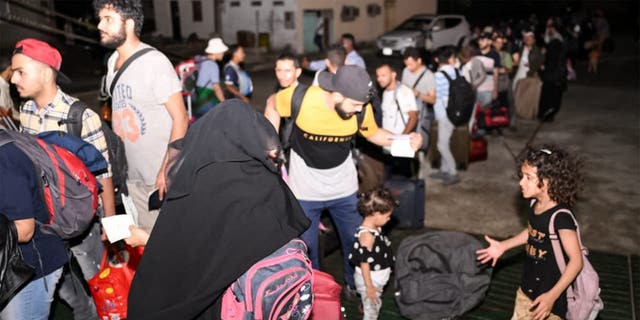 People board a ferry passenger ship as they evacuate from Port Sudan on April 25, 2023. – Foreign nations pushed with evacuations of their citizens from chaos-torn Sudan which, the UN chief warned, is "on the edge of the abyss" after 10 days of brutal fighting between army and paramilitary troops.  (AFP via Getty Images)
"We don't ask American citizens to register when they travel to any country, when they arrive in a country, when they're residing in a country, or when they depart," he said. "What I can say is that we continue to remain in close touch with American citizens."
FIRST IMAGES FROM SUDAN EVACUATION EMERGE, AS US PULLS OUT ALL DIPLOMATIC STAFF
Other nations like Saudi Arabia have begun evacuating foreign citizens from Sudan, including at least two Americans.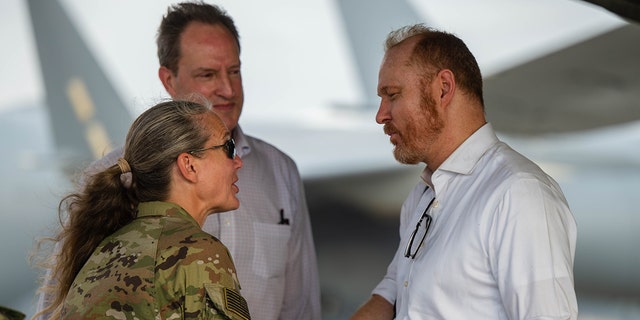 Maj. Gen. Jami Shawley, the commanding general of Combined Joint Task Force-Horn of Africa, left, greets John T. Godfrey, the U.S. Ambassador to the Republic of Sudan, right, at Camp Lemonnier, Djibouti, April 23, 2023.  (U.S. Air Force photo by Staff Sgt. Joseph P. LeVeille)
According to a press release from the Saudi Embassy in the U.S. on Monday, some 357 people from 27 countries had been evacuated by the Saudi Navy.
One hundred and one of the evacuees were Saudi citizens while another 255 belonged to 26 other nations like the United Kingdom, Italy, the Netherlands and Turkey, though by Wednesday that number had jumped to 1,674 people from 56 countries.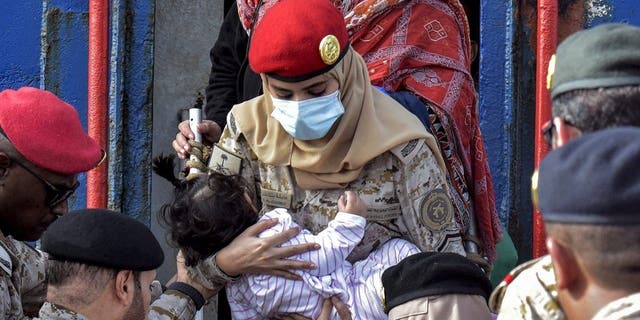 A Saudi Navy sailor carries a child while disembarking off a ferry passenger ship after arrival at King Faisal navy base in Jeddah on April 26, 2023 following a rescue operation amid a US-brokered ceasefire between the country's warring generals.  (AMER HILABI/AFP via Getty Image)
The British government said it had apparently airlifted some 300 people out of Sudan, with four more flights planned for Wednesday.
CLICK HERE TO GET THE FOX NEWS APP
The UN health agency reported that at least 459 people have been killed since fighting broke out with another 4,000 wounded.
At least two Americans have been killed since the fighting began earlier this month.
The Associated Press contributed to this report.
Caitlin McFall is a Reporter at Fox News Digital covering Politics, U.S. and World news.